The Mokare Reserve Adventure Playground has something to offer for all ages!
Adults and kids will both enjoy climbing the 12m treehouse tower to reach the slide.  The climb is made up of a mix of steps and rope ladders.  Smaller children may need a hand getting up the steps. The slide is worth the climb, quite fun!
There is a Ninja Obstacle course perfect for racing your friends or just building your strength and working on your monkey skills.
The playground offers traditional swings that include a baby harness and also a bird nest swing which is always fun with a friend.
  There is lots of slopping to do at the water and sand table.  Turn the pump wheel for the water to flow down onto the leaf designed tables.
The toddler area has been designed with local artist Jahne Rees, it includes a lovely little slide built into rocks and fantastic wooden fort that includes a little rock climbing wall just like the big kids have.
Mokare Reserve Adventure Playground has been beautifully designed with the natural surroundings in mind.  Throughout the playground there are natural wood balance beams, seats, leaf impressions and animal footprints on the pathways.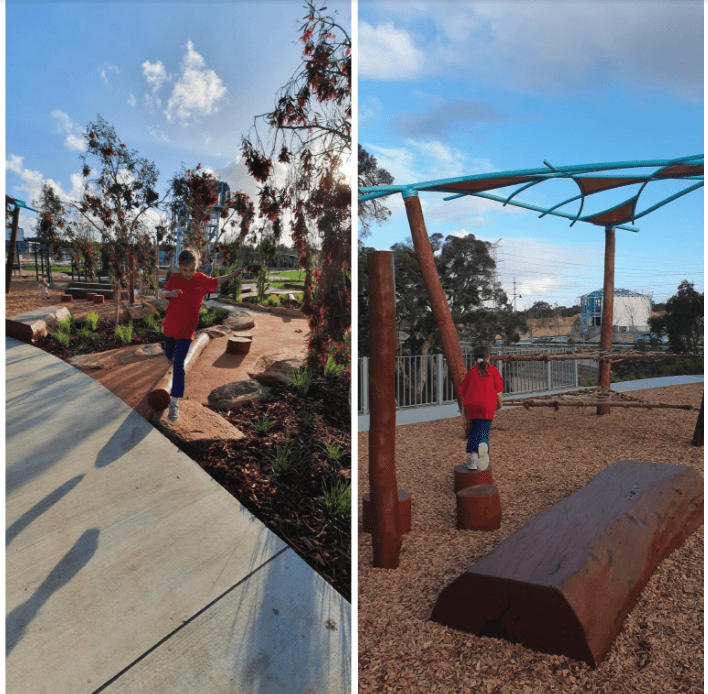 There is also a rope climbing nest, musical pipes and an all abilities roundabout.  The ground covering is a mix of soft fall, wood chips, sand and concrete footpaths.
 Don't forget your basketball or netball for a game on the half-court or your cricket bats and footy balls for a game on the huge grassed area that is also perfect for picnics.
There are 2 areas that have free double gas BBQs along-side covered tables & seating with water fill up stations.
The footpaths are perfect for scootering or skateboarding and there is plenty of parking at the 2 car parks across the road from the playground in front of the display houses.
Like other local playgrounds, there are no toilets on site and the nearest public toilets would be about a 10 minute drive.
Mokare Reserve Adventure Playground
Mokare Entrance (Rowley Road roundabout)
Mandogalup  WA  
https://goo.gl/maps/JfBgcQ2Guzq1Esdn6
Location
No Records Found
Sorry, no records were found. Please adjust your search criteria and try again.
Google Map Not Loaded
Sorry, unable to load Google Maps API.
Member Reviews