Mirror Park in Ocean Reef is a large oval field and play area consisting of a playground suitable for toddlers, a skate park and toilet block.
Parking surrounds the oval as well as set off from the main road in front of the playground.  It's not fenced or shaded so not suitable for toddlers prone to running off or during the height of summer.  There are a few mature trees providing shade around the park and playground if you want to grab a picnic.
There is a water fountain near the Playground and Skate Park but no BBQs.
The playground is suitable for toddlers and includes slides, climbing walls and nets, a bridge, monkey bars, see-saw and swings.
The Mirror Park Skatepark is open 7am – 7pm Monday to Saturday and 9am – 7pm on Sunday.  It is designed for use by skateboards, scooters and BMX bikes and it is compulsory to wear protective headgear and clothing.
This is a busy skate park with kids of all ages and abilities using it to its full potential.  It's actually a great way to introduce the sport to young kids who love to just watch the older kids.  However, you need to be careful and use the easier areas for younger kids/beginners.
The kids move very fast and it's hard to tell who's turn it is and where other kids are going (well at least I thought so!).  So sit and watch how it works for a while before giving it a go if it's your first time.
If you want to chat to other skaters who use Mirror Park, join their Facebook page: www.facebook.com/OceanReefSkatepark
Find more playgrounds in Perth
Find more skate parks in Perth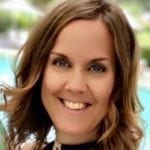 Lorraine is co-owner of Buggybuddys and is a mother to Blake (9) and Lollie (6).
Lorraine is co-owner of Buggybuddys and is mother to Blake (10) and Lollie (8).  Lorraine is passionate about health and fitness and loves exploring Western Australia in her Caravan.
Location
No Records Found
Sorry, no records were found. Please adjust your search criteria and try again.
Google Map Not Loaded
Sorry, unable to load Google Maps API.
Member Reviews