Manning Park in Spearwood is the perfect spot to take the kids out for a picnic and play in the park. The reserve is huge with four car parks in total and plenty of wide open grassed areas.
The playground itself is quite amazing, plenty for all ages, stages and abilities. There are shade sails over each section and plenty of trees to pull up under too. The day we went it was 40 degrees but the shade and grass definitely brought the temp down. The only negative I would have is the placement of the drinking fountain which was conveniently near the play equipment but directly in the full sun. The kids nearly burnt themselves turning it on but a very minor gripe!
There are three sections of the playground, with fantastic forts for climbing, walking and sliding down. My kids really got their imaginative groove on with plenty of opportunities provided by clever planning.
Manning Park is the ideal place to bring elderly family members or those in wheelchairs as it is very accessible with plenty of ramps and user-friendly facilities. It's a great, cheap option for everyone to enjoy having fun with the littlest family members.
The grounds seem to go on forever and there are so many options for enjoying the lush grass and beautiful outdoors. Plenty of spots for rugs and byo chairs as well as scattered gazebos, tables and bbq facilities.Manning Park surrounds a lake I can only imagine is thriving during the winter months, unfortunately it was very dry and a bit sad when we were visiting.
The toilet facilities seemed quite new and were operated with the electronic doors which always make me a little nervous when my 4-year-old ploughs on ahead with eager button-pressing fingers! But they were very clean and functional.
There are often events the City of Cockburn holds at Manning Park like the Spring Fair and the annual Teddy Bears Picnic. The council was setting up a rather impressive stage the day we were there. Check out what's coming up at www.cockburn.wa.gov.au/Things_to_See_and_Do/Events_Diary
The history of Manning Park is also very interesting and for a gold coin donation, you can visit the very impressive Azelia Ley homestead and the amazing museum adjacent to the park. If you are short on time, keep an eye out for the ruins on the outskirts of the park of some of WA's first pioneers.
Manning Park  – Manning Lake Reserve
Azelia Road Spearwood
Find more playgrounds in Perth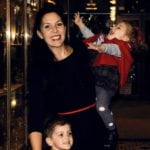 Stephanie Rae - Mother of Dragons, Writer, Bollywood Dancer
Stephanie Rae - Mother of Dragons, Writer, Bollywood Dancer
Location
No Records Found
Sorry, no records were found. Please adjust your search criteria and try again.
Google Map Not Loaded
Sorry, unable to load Google Maps API.
Member Reviews