The beautiful Lake Jualbup playground is located in the leafy suburb of Shenton Park, and is surrounded by a lovely well-kept park with rolling green lawns.
"Jualbup" is an aboriginal term meaning 'a place where water rises in the season of spring'. The lake can dry up during the summer months, but when we visited it was full and had a variety of pretty birdlife including Black Swans and assorted ducks.
Under the trees, there is an older small playground that is suitable for toddlers, as well as two sets of conventional swings. But the most exciting part of Lake Jualbup is the play area near the lake, which boasts some of the best climbing equipment around!
The fabulous dome-shaped climbing structure will tempt any child to explore it and test their climbing skills. A suspended bridge of planks links to different ropes in web-like patterns with tricky ladders and platforms to take a break on while you ponder your next move through the labyrinth of ropes.

Other elements for your monkey to explore include lava and mountain-like mounds to sit on or climb over; a zig-zag balancing beam; a see-saw with a view; a small spinning cup-chair; and a flat round net-swing that can fit a couple of kids on at a time.
The play structure is sand based and has several shade sails in lovely tones of blue that blend perfectly with the Perth Summer sky.
The park has a few public barbeques and old sheltered picnic tables, as well as a Gazebo available to hire for special events. There is no fencing around the lake so be extra vigilant with toddlers. There is a pathway suitable for prams to take a  pleasant stroll all the way around the lake.
The only downside to Lake Jualbup playground is the lack of toilets.
Find more playgrounds in Perth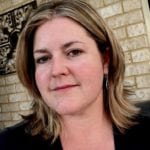 Georgia Millad is a busy mum of two gorgeous girls. She contributes reviews of kid-friendly places and events around Perth, and has a mild obsession with grammar rules and spelling. Georgia has recently qualified as an EA, expanding on her mum skills to support kids in the classroom.
Location
No Records Found
Sorry, no records were found. Please adjust your search criteria and try again.
Google Map Not Loaded
Sorry, unable to load Google Maps API.
Member Reviews