Stage 1 of the 3.6 ha Campground Adventure Park recently opened in December 2015. It is located on the corner of Summerhome Parade and Campground Road in the Beachside precinct of Capricorn Yanchep, in the far northern suburbs of Perth.
The new playground has been designed so that it reflects the past heritage of the former camping ground – the Club Capricorn Resort – on which it is built. For example, the picnic shelter is constructed in the shape of a retro caravan, as well as another smaller "caravan" in the toddler area.
The main attraction is the long yellow dune slide, which is a tunnel slide that snakes halfway down the hillside, providing a decent pace for thrill seeker kids. They exit onto a softfall surface at the base of the slide.
You face a hefty amount of steps to climb up to the top of the slide. It then starts from a platform/deck on the hilltop that also provides a gorgeous view of the ocean. It looks across the vacant land below that will be the extension of this public area when it is developed. Timber walkways flow down the hill and will eventually continue into the new areas.

Another attraction is the incline net climber consisting of nets and tyres for balancing and climbing on. This play area is covered in wood chip.
There is a round basket swing that rotates, under the shade of the large trees with softfall surface under the swing. Several timber logs provide a bit of nature-based play too.
The toddler area is on ground level so to speak and has good shade sail coverage, as well as being sand based. The age appropriate play equipment includes a smaller straight double slide, a retro open caravan structure, sand tipping apparatus, a colour coded table for sand play with 4 stools, a dolphin rocker, and a small baby safe swing.
Campground Adventure Park has retained many beautiful mature trees, which provide plenty of natural shade. There are extensive grassed areas under these trees, so bring a picnic blanket and you can relax while the kids play. There is currently only one picnic shelter with a table and benches. There are lovely smooth pathways that are good for scootering.
The only negatives are: no toilets, no water fountains, no BBQs, and only one bin. There is also only limited streetside parking alongside the park.
Campground Adventure Park is a great contribution to the Capricorn Yanchep community, and we look forward to seeing what Stage 2 will bring to the area.
Find more playgrounds in Perth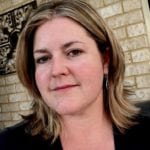 Georgia Millad is a busy mum of two gorgeous girls. She contributes reviews of kid-friendly places and events around Perth, and has a mild obsession with grammar rules and spelling. Georgia has recently qualified as an EA, expanding on her mum skills to support kids in the classroom.
Location
No Records Found
Sorry, no records were found. Please adjust your search criteria and try again.
Google Map Not Loaded
Sorry, unable to load Google Maps API.
Member Reviews