Surrounding by a road and houses this sleepy hollow park is a gem of a find!
It looks like many other parks in Perth with a playframe, slide, climbing, fireman's pole, rocker, seasaw, swings etc..
There's even a fully fenced pond/water feature
What makes this park truly interesting is this!!
Yes it's a Hobbit Hole and tunnel!
Set alongside the playframe is a dome shaped mound/hill with a very long tunnel through it! Great for the older kids to run through and play in.  There was a cut down tree ontop of the hill when I went so not sure if this was a feature or not?
I think this is a great little park for some alternative supervised play and to allow your kids to let their little hobbit imagination run wild 😉
Tennis course and basket ball hoop and mini court are also available the other side of the park and a toilet block.
Find more playgrounds in Perth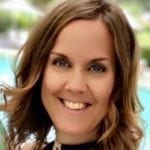 Lorraine is co-owner of Buggybuddys and is a mother to Blake (9) and Lollie (6).
Lorraine is co-owner of Buggybuddys and is mother to Blake (10) and Lollie (8).  Lorraine is passionate about health and fitness and loves exploring Western Australia in her Caravan.
Location
No Records Found
Sorry, no records were found. Please adjust your search criteria and try again.
Google Map Not Loaded
Sorry, unable to load Google Maps API.
Member Reviews