Middleton beach playground is a fantastic spot to take the kids to burn off some energy. It is located right on the Middleton beach in Albany.
The main play structure is a large wooden pirate ship. I am sure there are plenty of children who would love to pretend they are pirates on this playground! The ship comes complete with a rope climbing frame, a small rock climbing wall and a large metal slide at one end. Miss 3 thought it was pretty cool that she could go underneath and have a look through the port holes.
For children who love to dig in the sand, there is a sand wheel. You scoop up the sand to fill the large bucket, pull the plug and watch the sand flow through and spin the wheel underneath.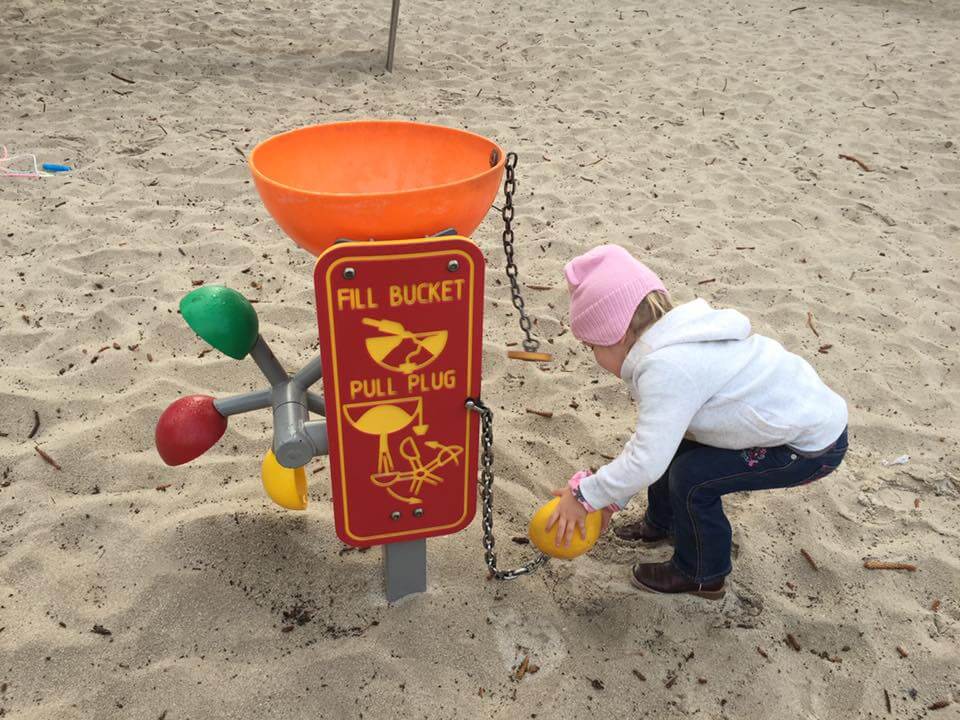 One thing I really liked about this park is that is was all made of wood. There are some stepping stones and beams for the children who want to test their balancing skills, as well as a range of different swings.
One of the swings is a really unique rope swing. Children (and even the big kids) can all stand up on this and have a swing together.
If your children are one of those kids that like to make themselves so dizzy that they get sick, this park caters for them with one of those things they can stand on and spin themselves around till their hearts content.
The playground is surrounded by a large beautiful grassed area with a few barbecues scattered around. It would be a lovely spot to come for an afternoon play on the park or beach and have a barbecue dinner. It is also lit up at night time.
While we were there, we saw quite a few people riding their bikes or walking their dogs on the boardwalk that wraps around the bay and overlooks some of the Islands out in the ocean. It truely is an amazing view.
If it is a nice warm day, then you can pack your bathers and have a swim in the ocean. There is a large area that is protected by a shark net and even a floating pontoon that you could swim out to.
Located right next to the playground is the Three Anchors cafe. You could grab a coffee or a bite to eat, sit outside and watch the kids have a play.
Penny is a stay at home mum and photographer who homeschools her 2 children. She is a self confessed stationary nerd and a bit of a journal junkie. She also enjoys blogging about her homeschooling journey on www.learningthroughlife.com.au
Location
No Records Found
Sorry, no records were found. Please adjust your search criteria and try again.
Google Map Not Loaded
Sorry, unable to load Google Maps API.
Member Reviews