This weekend saw the opening of Mandurah Foreshore's Winter Wonderland, 23 days celebrating everything you love about winter! So dig out your winter woolies, get on your finest Christmas jumper and check out perhaps the only place in WA where you can ice skate and see dolphins at the same time!
There is a great family-friendly atmosphere and there is so much going to be happening throughout the course of this years winter wonderland season. We checked out the skating first. There is an alpine cosy feel as you enter the Winter Wonderland through Flic's cabin bar with friendly staff and the smell of warm spices from the mulled wine on offer! There are plenty of seating areas inside Flic's cabin bar and outside by the fire pit to enjoy food and drink throughout the day.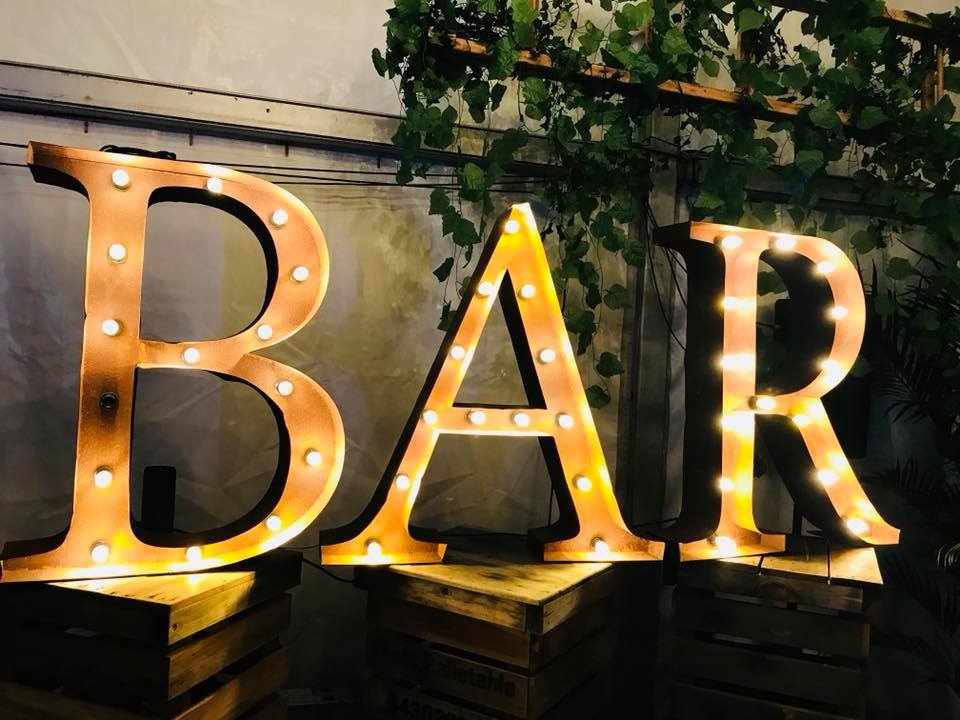 There is also a cool kids play area with a sandbox and plenty of digging tools that will keep the little ones occupied while you relax and take in the view or recover from skating with a toddler!
Tickets for skating can be purchased online from www.ticketbooth.com.au this is a quick and easy process, the organisers request that you bring your tickets either printed out or saved to your phone or iPad on the day. There are plenty of sessions to choose from, running most days from 9am till 7pm. The sessions run every hour on the hour with 45mins of skating per session. A peak Family ticket (2 Over 15s & 2 Under 15s ) is $65 the same ticket is $45 during off peak times skate hire is included in the ticket price (check out the website for further booking details and prices).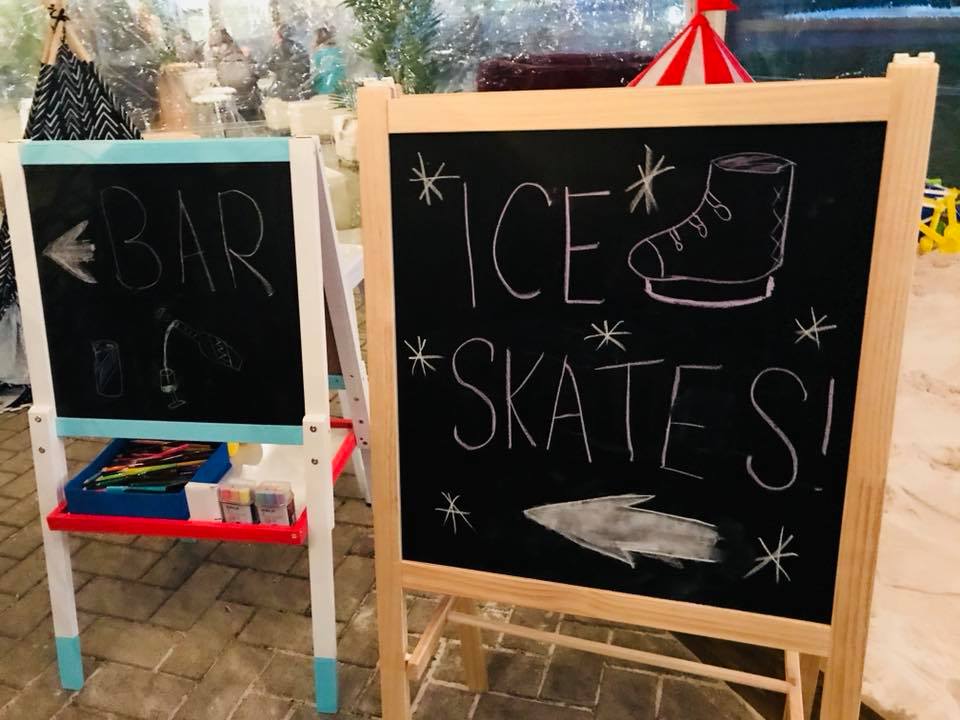 Your skate hire is included in the price of ticket and there are lots of friendly staff on hand to help you choose the right skate size and advise you on children's sizes. The boots start at a AU 12 child size and go up to an AU 13 adult size, there are also double runners available. These strap onto the outside of your child's enclosed shoe giving more stability and balance for little ones who have smaller feet or have not been on the ice before. We used these and I was very grateful for the advice. Miss 4 seemed much more stable than she would have been on ice skates with a single blade. Top tip wear or take thick socks! Don't worry if you do forget they sell them behind the bar…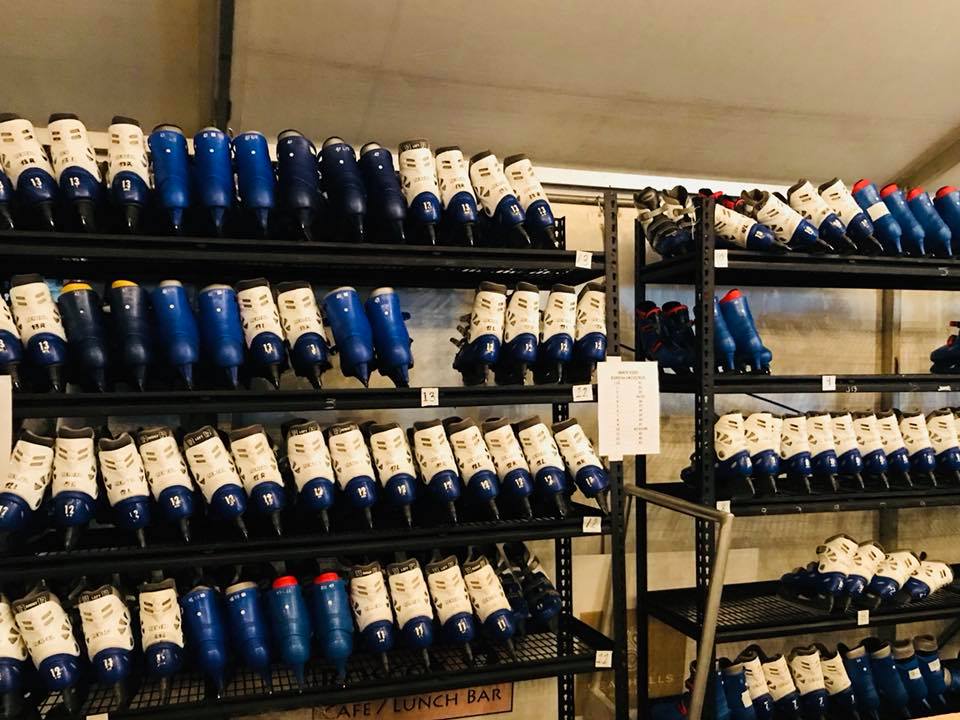 The rink itself is very picturesque and you feel like you are truly in a winter wonderland when the snow falls on your head as you skate around the rink, which is especially magical for the little ones! I would highly recommend using a penguin if you are taking a young child and for $10 they will make the experience not only fun but safer, it's pretty slippy out there!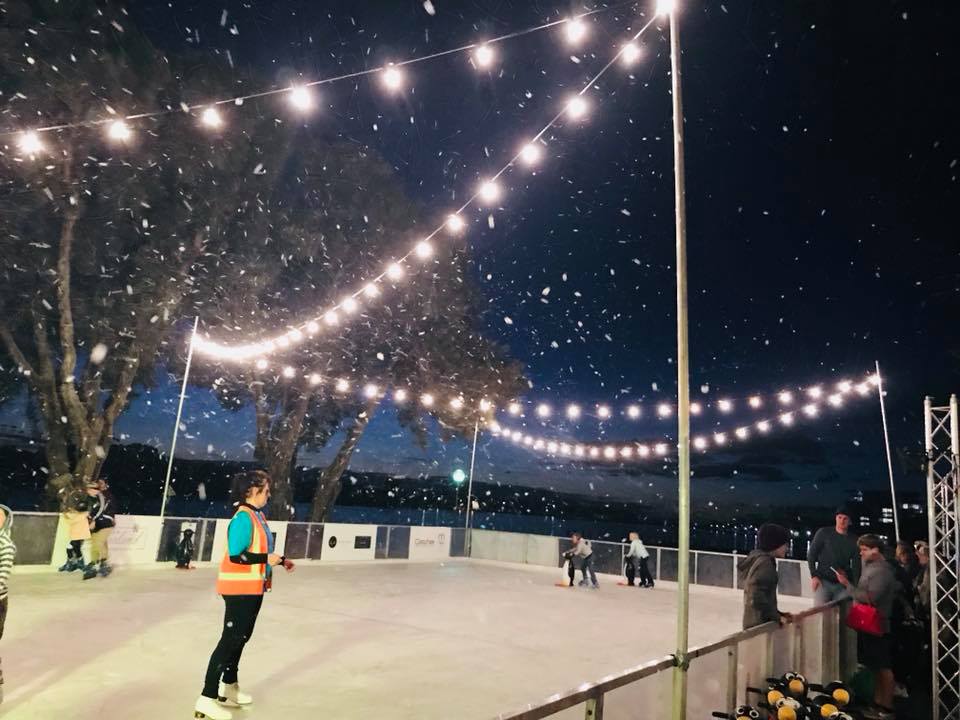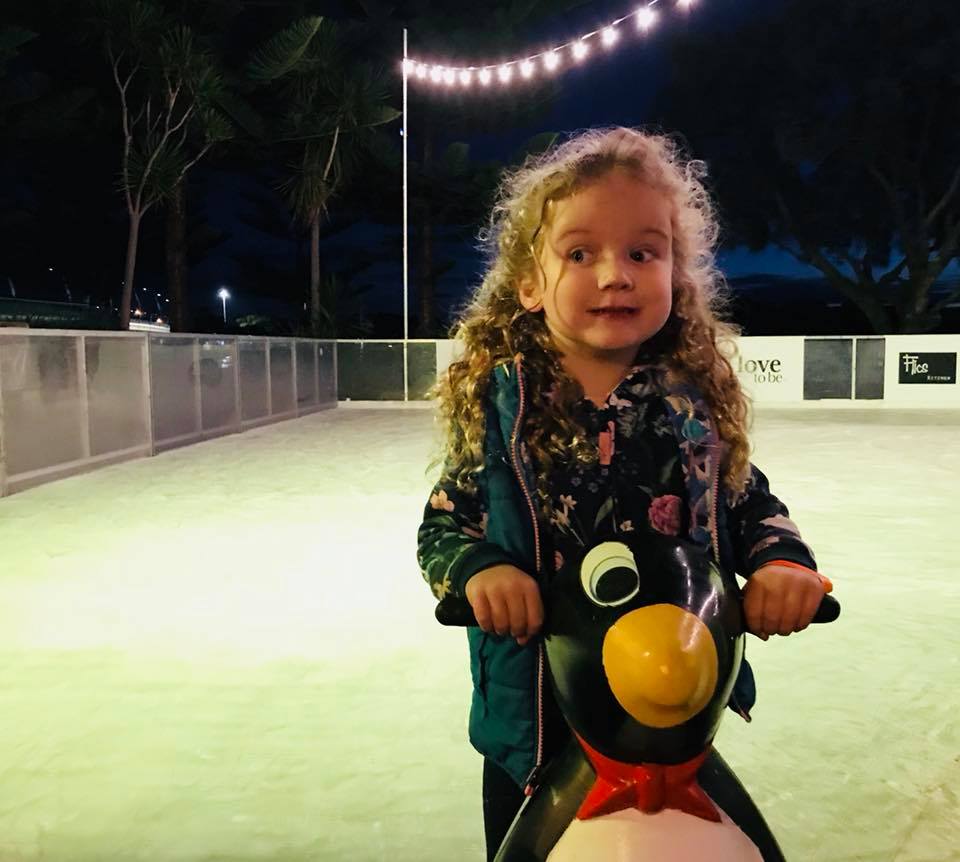 We found the 45min session more than enough and there is accessibility ramp at one side of the rink so you can easily get on and off the rink for toilet, drink, snack or short rest periods. There is also a very helpful skating steward on the ice at all times helping out or giving advice when you first head onto the ice. There is plenty of room in Flic's cabin bar and round the edge of the ice rink for spectators, so if the whole family is not skating there is plenty to do and see while the others are. The lovely volunteers from St John's Ambulance are on hand for safety and reassurance or a chat as you are waiting for your little one to decide they are ready to give it a go.
The winter festivities don't stop there! There are plenty of family-friendly activities including free face painting at the weekends from 11am – 3pm in the winter village tent. Mandurah winter markets will be on at the weekends every Saturday from 12-7pm and Sunday from 10-5pm.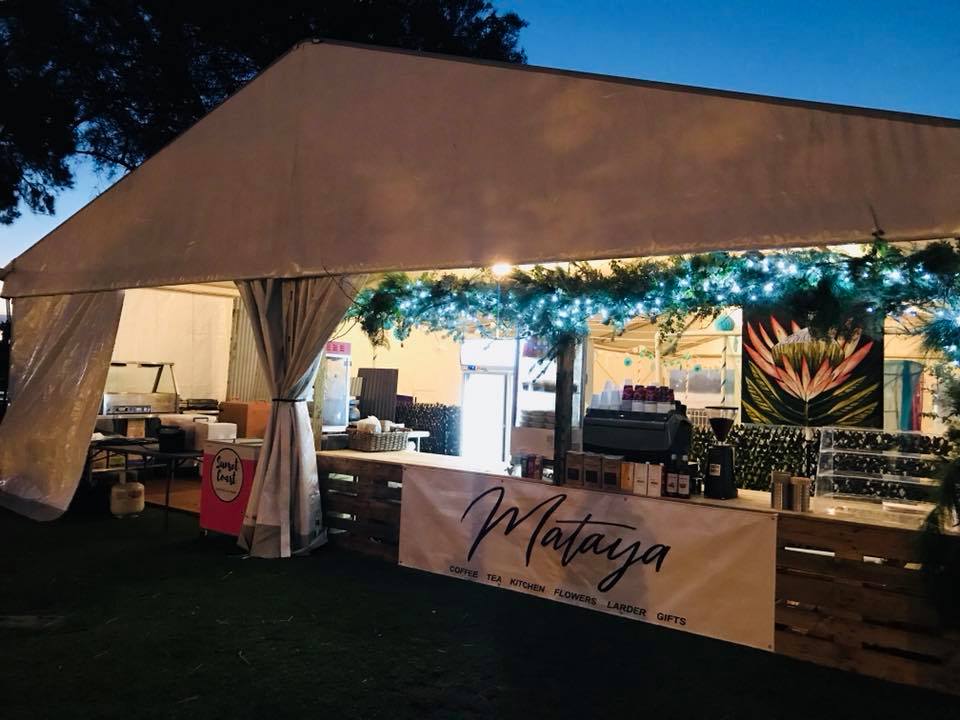 The winter carnival including rides will be running along the Eastern Foreshore and over 20 local businesses and restaurants from the Peel region will all be working together to bring you the very best in food, arts, craft and entertainment during this seasons winter wonderland.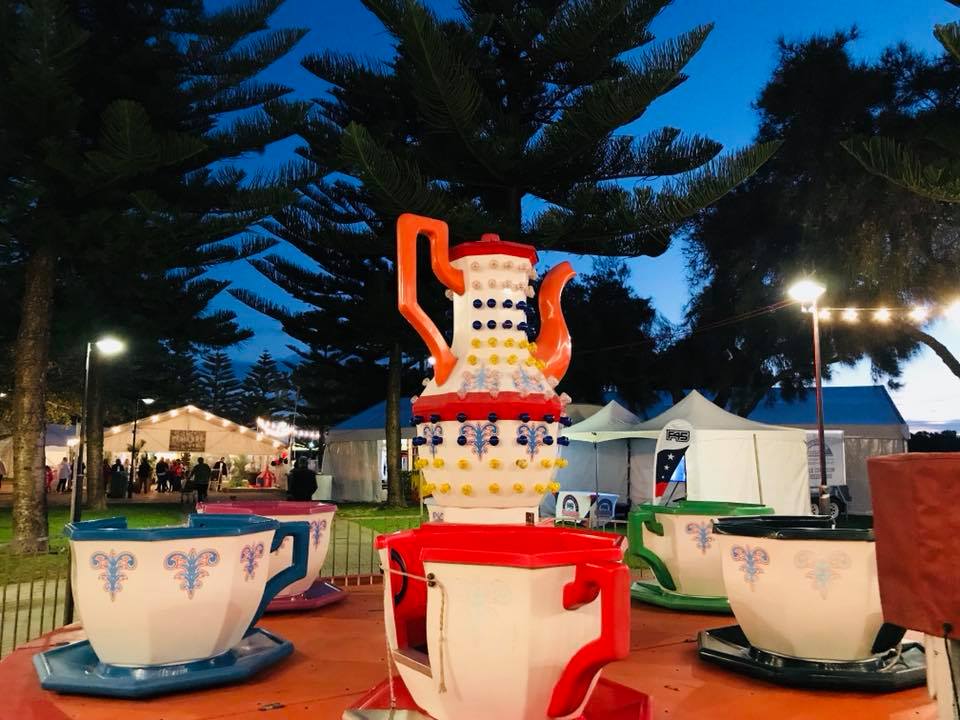 Be sure not to miss out head to Mandurah's Winter Wonderland its a magical local experience for all the family!
Winter Wonderland runs until 28th July 2018. For more information visit www.mandurah.wa.gov.au