Westfield Innaloo Play World – If you're dropping by Westfield Innaloo for shopping and the kids are bursting with energy, keep in mind they have a playground area near the Reject Shop and Vodaphone store, near the front entrance, called Play World.
Play World is recommended as suitable for kids up to age 6. It's fenced with netting, so you can keep an eye your children as they play. At the front where the kids go in is a padded, double-sided bench. It's a good spot to sit and have a coffee or snack while the kids explore.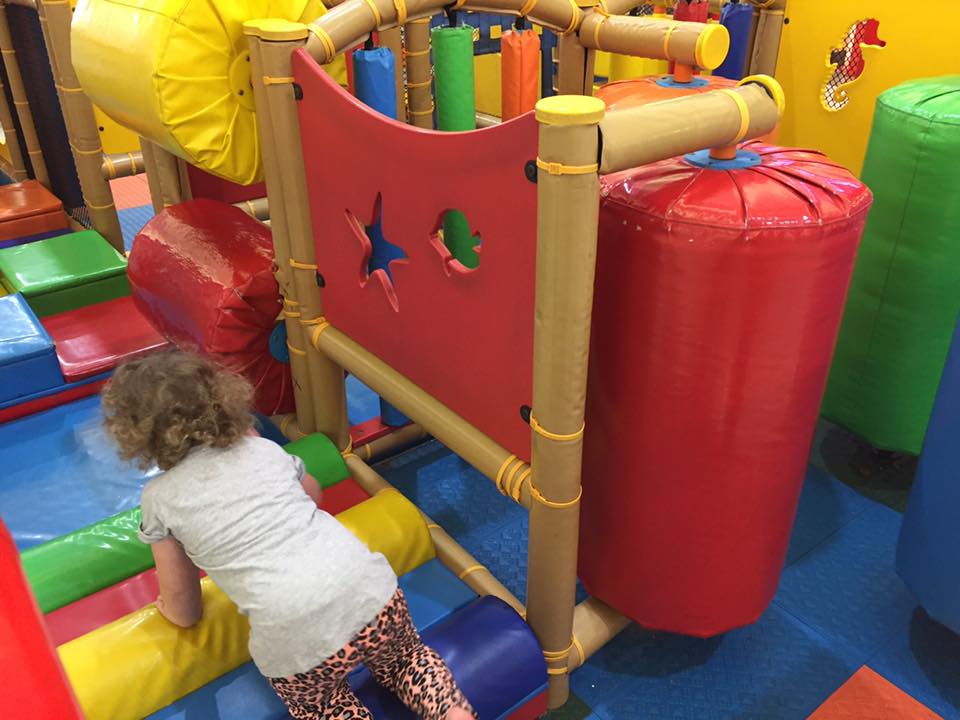 This play area features rubber softfall matting, and has a soft padded obstacle course with steps and humps to climb over, and gaps and padded rollers to climb through.
There are three puzzle games wall mounted at the front entrance. These are especially popular with toddlers and littler ones just pulling up.
Two similar games are also set up in the larger parents room by the Foot Locker entrance, off Oswald Street. Handy if you're needing to feed or change another child.
To use their play area, there is a short list of rules for play which are just common sense things really:
• Children must be supervised
• No shoes, socks must be worn
• No food or drink or chewing gum in the play area
• No sharp objects
• Do not climb the netting;
• And please be aware of others and keep the noise to a reasonable level
All very fair and reasonable I think.
On the day we came to review, we grabbed a takeaway coffee and a couple of muffins from Muffin Break on our way through. Miss almost 3 had nearly finished hers by the time we hit the playground! She happily played on her own and with other kids for a good half hour to 45 minutes before we moved on to get groceries, and I got to enjoy my coffee while it was still hot.
The playground seems to be well-maintained and clean, and all the kids we saw playing seemed to be having a great time. So much so that some didn't want to leave when mum or dad said it was time to go – Miss almost 3 included!
Westfield Innaloo Play World is located on Ellen Stirling Boulevard, Innaloo.
Find more Shopping Centre play areas