West Coast Heli Scene offer scenic helicopter flights from Yanchep National Park on Sundays. Flights operate from Bull Banksia Oval between 10am – 4pm. Fees apply for vehicle entry to Yanchep National Park, $13 per vehicle.
There are several set flights to choose from which include a circuit of the park and the coastline between Yanchep and Two Rocks. Longer flights are available along the coast and even around the Perth City and Swan River.
Flights start from $210.00, all prices are per flight not per person. Flights can take 3 adults + 1 infant under 3 years of age seated on an adults knee or 2 adults + 2 children under 13 years with a combined weight of less than 77kg (shared seat).
As a Christmas gift, I booked my family a Park flight, booking online was really easy; choose your day and time, enter your information, book and pay via credit/debit card.
All passengers must arrive at the helicopter landing site 5 minutes prior to the flight to receive a safety briefing and fill in the appropriate paperwork. We arrived about 20 minutes early, the kids enjoyed watching the helicopter take off and land.
Before our flight, we were introduced to our pilot, Mike and given the opportunity to take a couple of photos.
Inside the helicopter, each passenger is belted in and given a noise-cancelling headset with mic. My 2 children aged 11 & 7 shared a seat comfortably.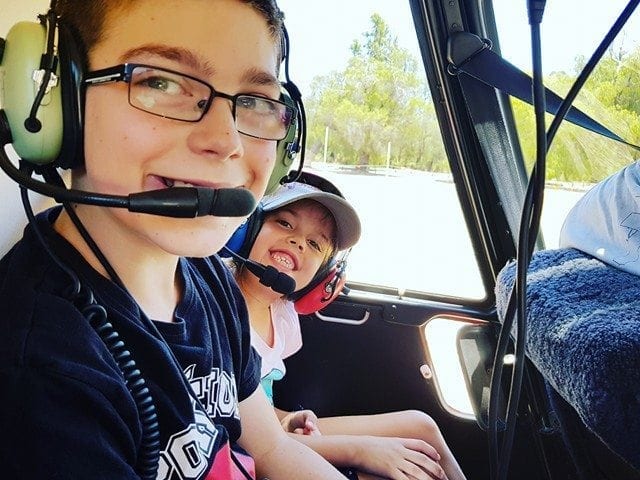 Our flight was AMAZING! Such a beautiful way to see the park and the coastal views are absolutely breathtaking!
Mike is very knowledgeable, has a great sense of humour and is very passionate about flying – as we flew over different areas he would tell us interesting facts and was happy to answer any questions (even very random ones from the kids).
It was my first time in a helicopter and I was really nervous because I don't overly enjoy flying but it was such an incredible experience, and highly recommend it for other families or couples.
There is no minimum or maximum age for passengers. Maximum weight per passenger is 125kgs.
In addition to scenic flights West Coast Heli Scene also offers private charter, wedding proposals, wedding transport, birthdays and sporting events.
After our flight, we enjoyed a picnic lunch within Yanchep National Park.
West Coast Heli Scene
0427 757 663
www.westcoastheliscene.com
www.facebook.com/WCHeliScene