Our family is a big fan of V Burger and we often visit their store at Floreat Forum. Earlier this year they opened their third outlet at Elizabeth Quay (there's also another V Burger in Vic Park). Little Chef and I have had a bite to eat here a few times, after we'd been to a live show at PCEC and other events at Elizabeth Quay.
V Burger is found at the city end of the quay, near to the water playground and ferry terminal. It is more of a kiosk than a restaurant, there's seating outside with most tables undercover.

I chose the "Piggy Back" ($15.50). Finger lickin off the bone pork ribs, house aioli and bbq sauce, pickled jalapeños slaw & crispy onion rings are all jammed inside this buttery brioche bun. I really love this burger and it's not the first time I've eaten it.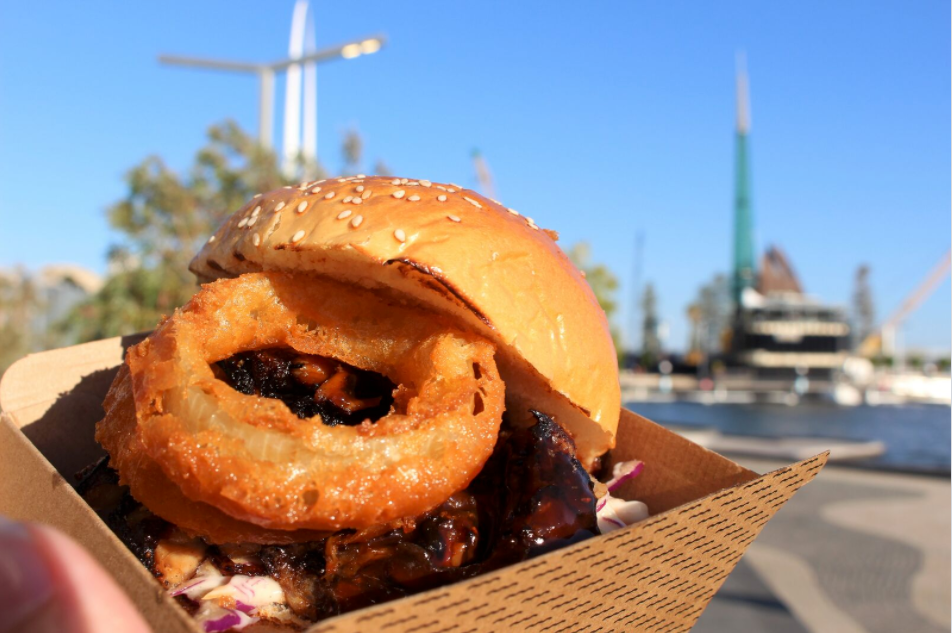 Little Chef chose the "Mini V" ($10.50) which is a slider sized beef burger with tomato, lettuce, onion, house aioli & relish and chunky chips on the side. Rather than having pick apart his burger I asked for it to come without the tomatoes, but unfortunately we still got them. Besides that, Little Chef really enjoyed it.
There's also chicken and vego burger options. And V Burger has a great range of sides too, including squid rings, halloumi bites, onion rings and more. If burgers are not your thing, luckily for finicky kids (and adults) fish and chips are also on the menu. Little Chef has had a mini portion of the battered fish fillets, chips & house tartare sauce ($10) here in the past. He loved these, they were fresh and good quality.
V Burger is a great option for a casual family meal at Elizabeth Quay. Afterwards, we went for a stroll over the bridge to walk off our burgers and play at the playground. Little Chef even had enough room for some Gusto Gelato!