My Little Miss just recently turned three. We celebrated with a party, inviting all her friends, and we surprised them when a visit from Rapunzel from Unreal Kids Parties. It was a big hit!
Rapunzel arrived, as planned, about 30 minutes after the guests arrived. One girl was so surprised to see her, she literally dropped what she was doing and raced over to hug her. I wish I'd got a photo of that moment.
After greeting all the children, Rapunzel read a story of one of her adventures. This was followed up with two songs from Tangled and some dancing, which this children all loved!
Next up, Rapunzel painted the older children's faces or arms, depending on their preferences. My little Miss decided she wanted a dinosaur, which looked so cool with little Miss' mouth used as the dinosaur's mouth.
Other children chose to be an ice princess, a butterfly, a superhero, or have flowers painted. Each child was given a number and knew they had to wait their turn. It worked really well, and actually built the excitement of getting the painting done.
Once the face painting was finished, Rapunzel went outside with the children to hide some "Royal Jewels" for the children to find. There were shiny rings for the girls and lollies for the boys. The kids found this very exciting!
Everyone came back inside and there was more dancing before Rapunzel posed for some photos and said goodbye. All the kids gave her hugs and kisses and were super excited to have shared their party with a princess.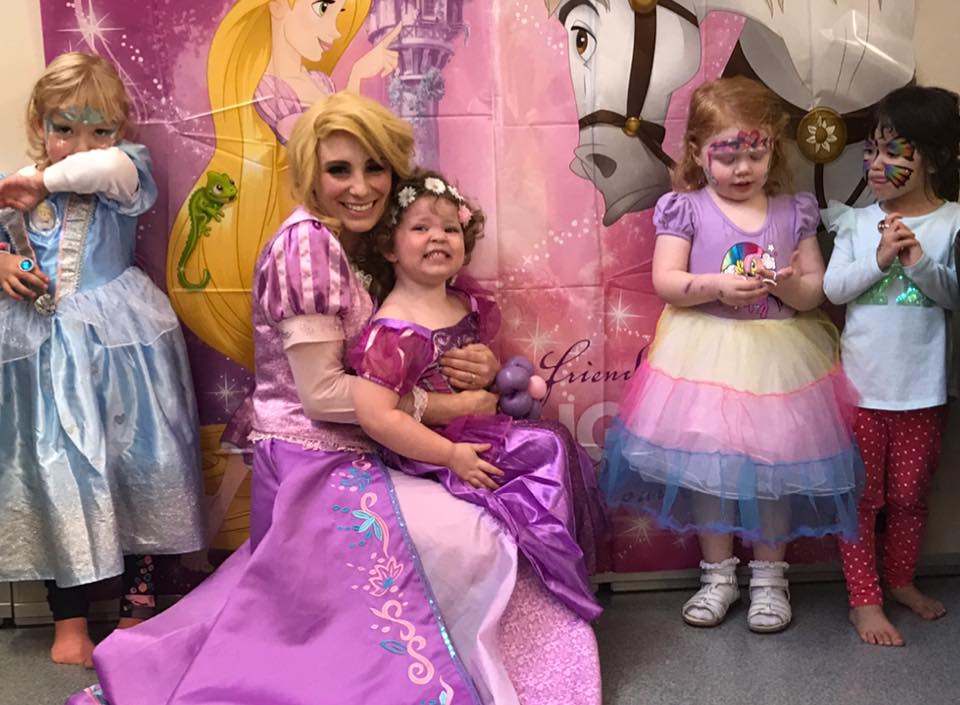 Rapunzel was performed by Terri-lee from Unreal Kids Parties. She and her husband Rob have extensive experience working with children, including childcare, teaching and running a youth program. They have worked together in stage productions and Terri-lee is a vocally trained performer.
Unreal Kids Parties can provide a number of different characters, depending on the theme you're planning. These include Princesses such as Ariel, Belle, Moana and The Snow Queen, superheroes such as Spider-man, Batman and Jedi Masters, and other popular characters such as fairies, a pirate and Paw Patrol. There is even a Poppy from Trollz character in the works.
Party activities are tailored to the children's age group and interests. We chose a story, singing and dancing, and face painting as these work really well with the preschool age group. Characters can also play games, such as tug-of-war, Hide and Seek, Follow the Leader, or Walk the Plank. These all vary depending on which character you choose. Some performers are able to do balloon twisting, while others face paint. Some performers such as the fairies may lead the children in a craft activity.
We found the experience of having Rapunzel join our party to entertain the children was fantastic, taking the pressure off of us in organising games for the kids while trying to serve food and talk to all the parents.
The costumes and wigs the entertainers wear are of amazing quality. With all the tiny details included, they look the real deal. I had to keep reminding myself Rapunzel was a performer, not a real princess come to visit! For the kids, it was a truly magical experience. My little Miss has been singing the songs and talking about Rapunzel since. I know she felt really special on her party day.
Pricing is available on the Unreal Kids Parties website. However, Terri-lee advised me parties can be customised to meet your party budget.
Visit the Buggybuddys kids parties page