Tucked away in the rear of a small unassuming antique shop in Guildford is a treasure trove of toys known as the Trading Treasures Toy Museum.
Housed in what was once The Grand Vaudeville Theatre, the toy museum features everything from dolls to puppets to action figures and robots and lunchboxes and everything in between.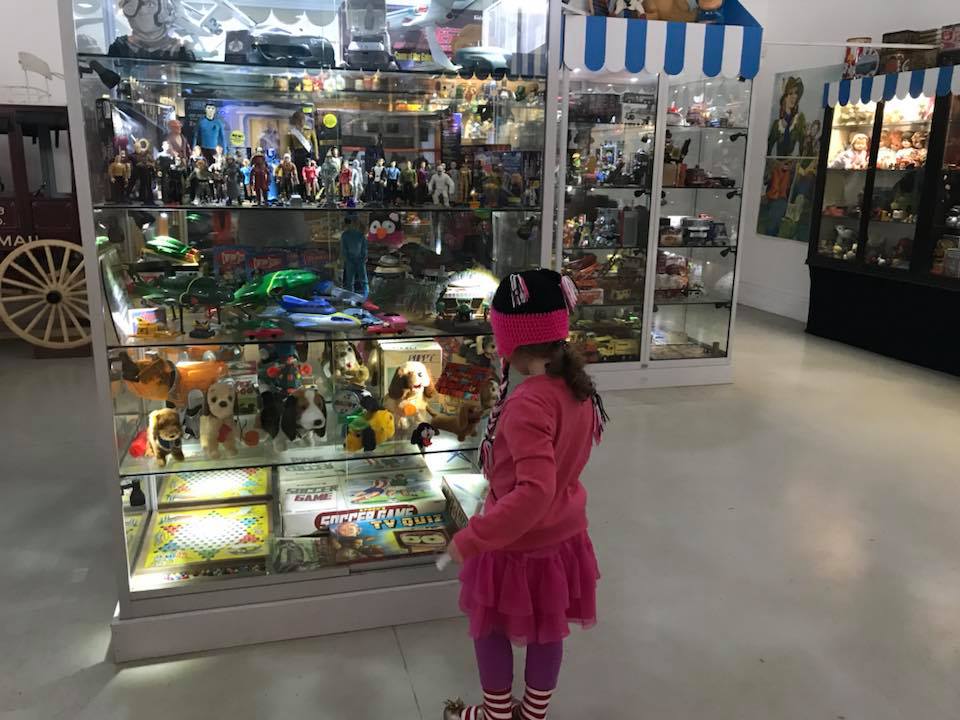 One walking in we were greeted by old favourites Sooty and his friend Sweep and, on a higher shelf, the Duracell Bunny. Characters my daughter didn't know about until now, apart from being told she had the energy of the bunny!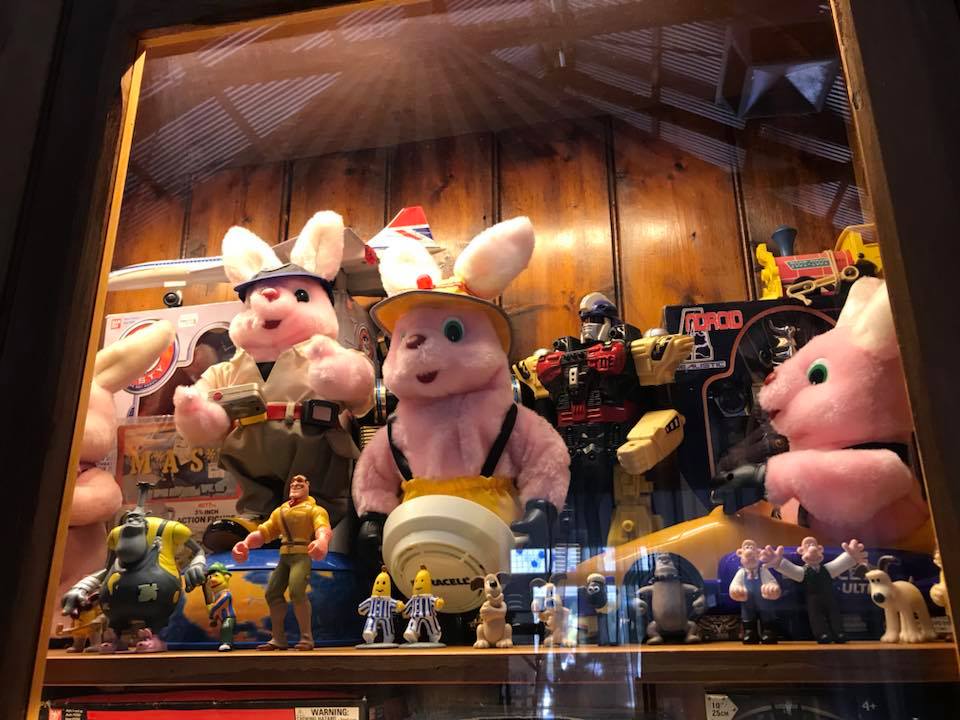 Around the corner from the entrance, in the centre of the museum, is a vintage coin-operated ride on horse. I'm sure this old fellow has given many children rides over the years. Miss 4 was happy to sit up on him, but said he wasn't too comfortable now.
Behind the horse, along the back wall, is a beautifully restored Cobb & Co stagecoach. Kids cannot sit it this one, but it is lovely to see and I was able to explain to Miss 4 that this is how people got around before cars.
The back wall also features two sideshow clowns that kids can play over and over to their hearts content for free. A movie projector also shows vintage cartoons on the wall above the stagecoach such as might have played in the theatre's heyday with a row of seats available on the other side of the horse ride on if you'd like to sit and watch.
Exploring the toy collection, we came across many modern toys and characters kids today will recognize such as Mickey Mouse, Superman, Shrek and Sponge Bob. All are lovingly preserved in glass cases. Miss 4 was a little disappointed she couldn't touch or take them out, but loved seeing them none the less. Each case holds a new discovery.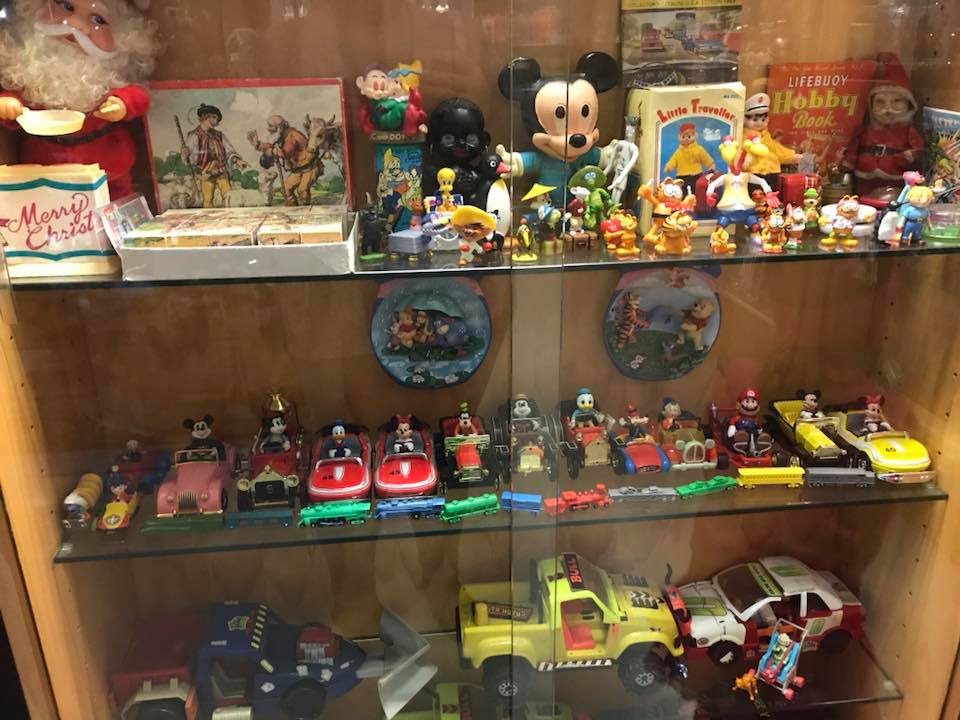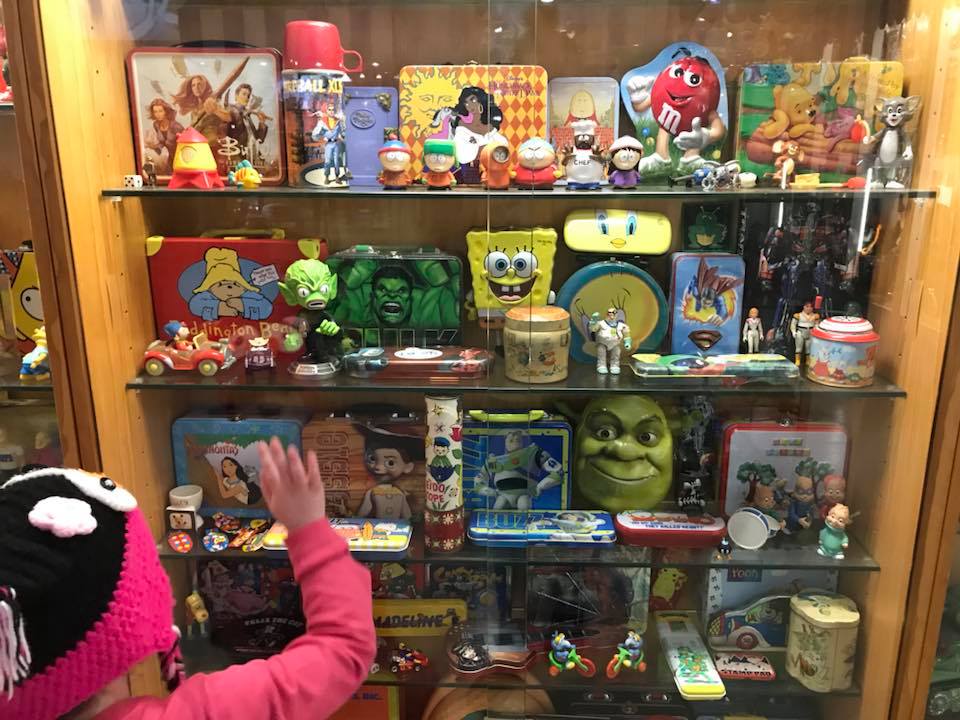 This collection is sure to bring back many nostalgic memories to parents and grandparents as it did for myself. So many of our childhood favourites are on display, from 1980s favourites He-man and the Master of the Universe to the Ghostbusters, to more recent characters from The Simpsons and Rugrats. I myself was delighted to see figures from Dinosaurs, Astroboy and The Muppets. There was also a Mr Squiggle on a bike, Fat Cat and a Humphrey B. Bear, who were all big favourites in my house growing up.
Going even further back in time, we spotted figures from Lost in Space, Paddington Bear and Noddy. Characters my own parents loved and shared with my brothers and I.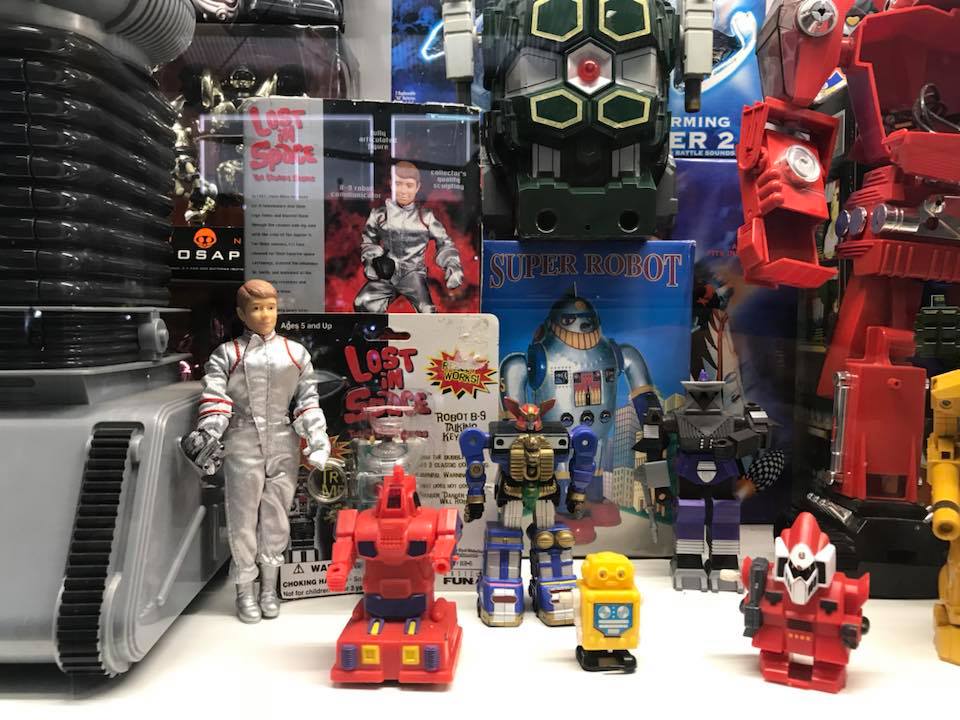 For geekier amongst us, there is a collection of Star Wars and Star Trek figures to look through, as well as a big collection of old-school hand-held games, including a 1980's style Donkey Kong with a dual screen which my husband had as a boy. Miss 4 was most disappointed she couldn't have a crack at these!
We followed up our walk around the museum with a visit to Tubs Gourmet Gelato at 133 James Street. We enjoyed a kids scoop of vanilla and a single scoop mint choc chip. This cost just over $8, and the service was super fast and friendly.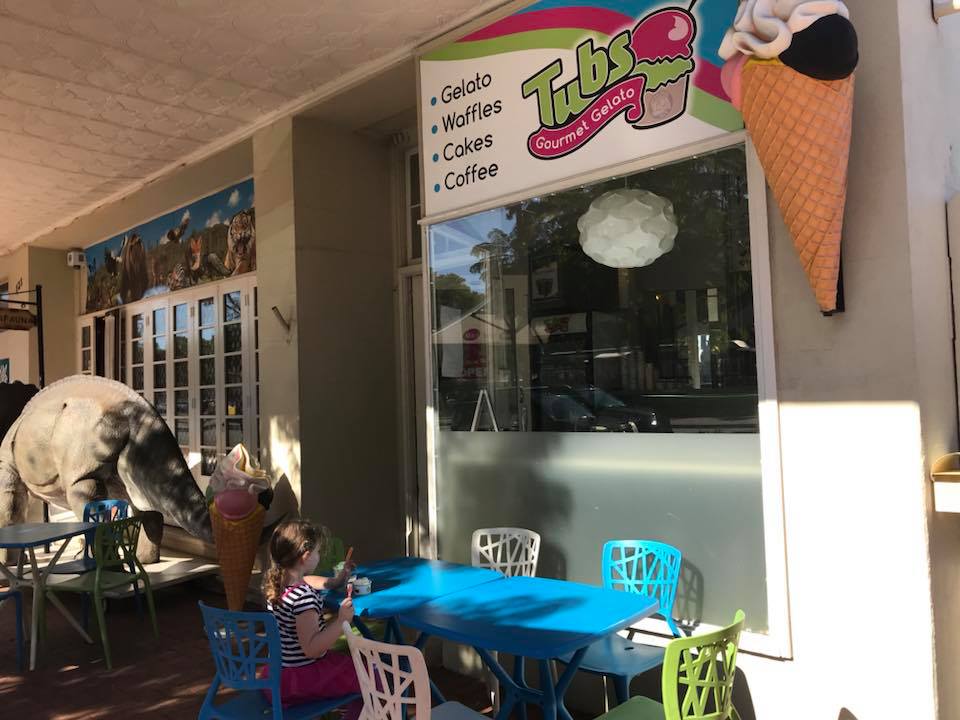 All in all, a fun and inexpensive morning out. We spent probably an hour or so exploring the treasures of the toy museum and would happily do so again.
Trading Treasures Toy Museum
Located at 163 James Street, Guildford, next door to The Guildford Hotel.
Open Saturday and Sunday from 10am to 4pm.
Entry is $5 each for adults and $2 each for children.
You could also combine your trip to Trading Treasures Toy Museum with a visit to the nearby Museum of Natural History located at 131 James Street.