Vale Adventure Park is Aveley's newest playground, located on Egerton Drive it is walking distance to the local IGA and cafes, including a favourite of mine Mecca Gourmet. 
As we arrived my oldest children ran straight to the dual flying fox, they were all smiles racing each other to the end. Miss 7 (she's a bit of a shorty) struggled to bring her flying fox back to the start, so smaller children will need some help, although I found the next kid in line was pretty keen for their turn so they would also help her out.  
Next, we explored the woodchip area behind the flying fox, there we found a wooden maze, a small roundabout, lots of wooden stepping logs, and a pyramid climbing net. 
There are two slides, a small tunnel slide and a roller slide – I haven't seen one of these before, it was a big hit with the kids especially toddlers as it offers a smooth and easy sliding experience. The slides are embanked on soft fall mountains that are easy for confident toddlers to climb.  
In the large sandpit, you'll find 3 wooden spring rockers, a wooden snake carving and dinosaur fossils hidden beneath the sand.  
To the left of the sandpit there is another wooden maze, stepping and balancing logs, rocks to climb, and a tunnel to crawl through.  
The water play area at Vale Adventure Park was a highlight for my kids, the water comes from a push button tap, the water travels through three wooden troughs before spilling into the rocky creek below. There are wooden stepping logs along the two higher troughs so the smaller kids can reach too.  
The musical instruments are lots of fun – the best part is none are too noisy 😉 
To the side of the musical instruments is a net swing, much to the delight of my children! 
Keep a look out for the cute wooden sculptures. 
There are two things I really loved about Vale Adventure Park, the first being the play equipment caters for children of all ages, which is a win for me given my eldest is 11 and youngest active child is 18 months. The second is the entire playground is accessible by pram or wheelchair which meant I could follow my toddler around while pushing my baby in his pram.  
Vale Adventure Park is surrounded by beautiful parkland, including a lake with bridges and fountains. The play area is partly fenced along the lake, you will still have to keep a good eye on wondering children as the lake is still accessible and Egerton Drive can be fairly busy.  
There are BBQs, a drinking fountain and picnic tables and benches available. There are public toilets located at IGA, 400m walk away. There are limited parking bays on the side of the road. 
Dogs are allowed on leash, there is also a fully fenced dog park where dogs are allowed off lead. 
Bring your bike or scooter, take a walk around the lake or have a play at the small skate park.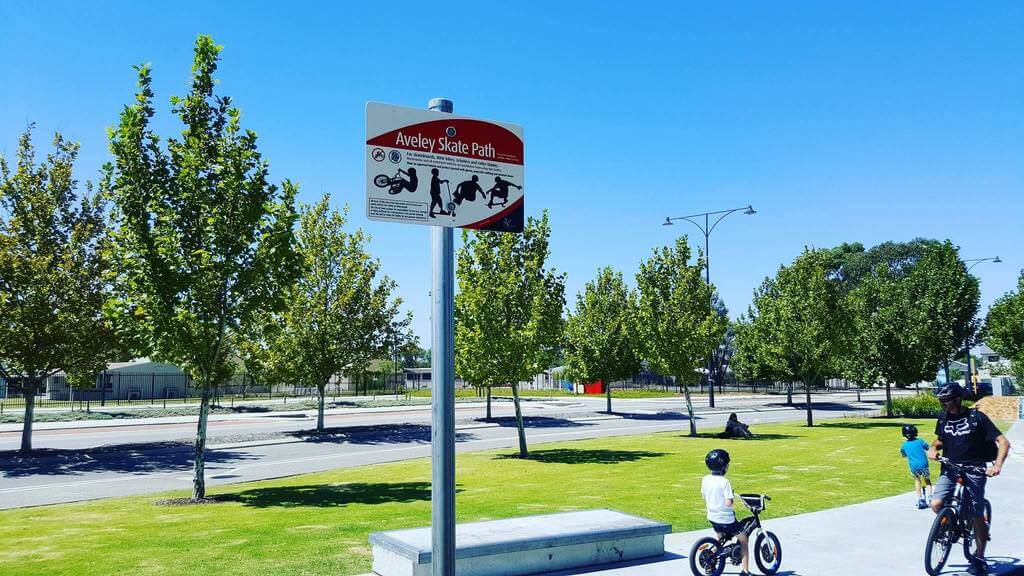 With the combination of water and sand play… expect to bring home some wet sandy kids! 
Discover more playgrounds in Perth here.
Kellie Elliott is a stay at home mum of 4 she enjoys adventuring around Perth with her children and sharing her journeys and experiences on Instagram at Perth Mum Adventures.
Kellie Elliott is a stay at home mum of 4 she enjoys adventuring around Perth with her children and sharing her journeys and experiences on Instagram.
Location
No Records Found
Sorry, no records were found. Please adjust your search criteria and try again.
Google Map Not Loaded
Sorry, unable to load Google Maps API.
Member Reviews