The Sweet Remedy Cafe, Leederville
If you're looking for a family-friendly cafe for coffee and a treat with small kids, The Sweet Remedy Cafe, Leederville, ticks all the boxes. Not only do they boast great coffee and delicious cupcakes, they also have a playground in their backyard to keep the kids entertained.
We visited Sweet Remedy in the school holidays on a lovely sunny day. Miss 5 was keen to decorate her own cupcake. This activity is available anytime without a booking, but especially during the school holidays. We'd recommend going early in the day to make sure plain cupcakes are available.

Miss 5 had a wonderful time decorating her cake. A cake arrived on a board with a small bag of lollies and fondant shapes. Miss 5 took her time carefully placing her decorations. The decorating probably took longer than the eating!
While Miss 5's cake was a classic vanilla cupcake, there are many other delicious flavours to choose from. These include Lemon Meringue, Red Velvet, Coconut Paradise, Salted Caramel and Sticky Date just to name a few.
While Miss 5 was decorating, I enjoyed a latte and a ham and cheese jaffle. This toasted sandwich was probably one of the best I've had at a cafe in a long time! The coffee is also excellent; very smooth and full of flavour.
In addition to cupcakes and coffee, The Sweet Remedy Cafe also sell muffins, wraps, paninis, pies, bagels and croissants. There are sweet and savoury options. Everyone is provided for with gluten-free and vegan options also available.
The cafe is also known for its colourful kids milkshakes. These come in tall mason jars with a generous topping of whipped cream. They also make Kiddie Koffees, a warm flavoured milk topped with a sweet marshmallow.
Taking the milkshakes to the next level, The Sweet Remedy also make their signature Fully Loaded 'Cupshake'. 'You pick it we shake it' is their motto! Turn your favourite cupcake into a milkshake, plus it is decorated with a second cupcake.
Other drinks include cold pressed juice and smoothies. These come in delicious flavours such as Summer Bliss (Watermelon, strawberries, coconut water and mint), Tropical Breeze (Pineapple, mango and coconut water) and Jack Rose (apple, lemon, strawberry, mint).
When we'd eaten, we headed out to the backyard for a play. There is a deck here with tables and seating where diners can sit and enjoy the sunshine. High chairs are available for littler diners. This is covered by shade sails to keep it cooler in the hotter weather.
A slide comes down adjacent to the wooden steps. A more exciting way for kids to get to the play equipment. 😉
A playhouse with seats inside is at the centre of the play area. A plastic rocker suited to one or two small children sits just outside. There is a smaller toddler slide available on the grass as well.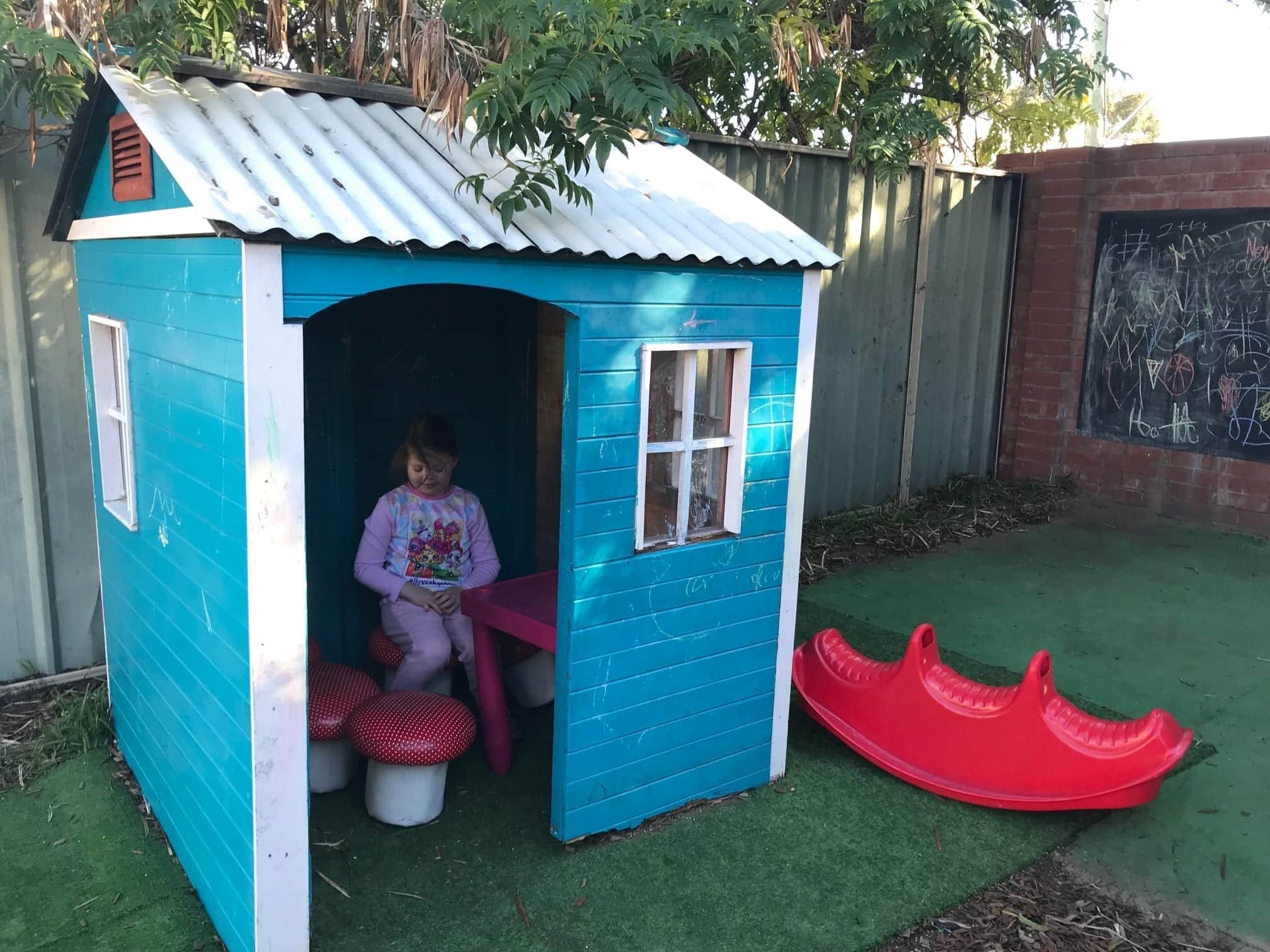 The other big draw card is the chalkboards. Kids can draw to their hearts content all over the two boards that are mounted to the fence and the back wall of the cafe. The backyard area is secure, the gate locked, so kids can play while adults can relax and enjoy a chat and a cuppa on the deck.
If you're planning a birthday or special event, and you're looking for that special treat, The Sweet Remedy also makes custom cupcakes for any occasion. Contact The Sweet Remedy for a quote.
Whether you're just passing by on your morning walk and need a pick me up or looking for a cafe with a playground for a play date, The Sweet Remedy Cafe has something for everyone.
The Sweet Remedy Cafe, Leederville
Located at 255a Oxford Street, Leederville, on the corner of Bourke Street.
The Sweet Remedy is open 7am to 3pm Monday to Friday, and 8am to 3pm Saturday. Closed on Sunday.