The Kiosk Fremantle is a happy sunny spot by the Swan River – and also very close to the famous Rainbow Shipping container! Little Chef and I popped along for lunch, after enjoying 18 holes at Goanna Mini Golf – about 10 mins drive away.
The café is busy, but we easily found a table by the window. We first enjoyed a coffee and chocolate milkshake.
The kids menus has a few choices. There's breakfast, lunch and dinner menus, so if you fancy a brunch, be sure to arrive well before the cut off time. We just missed it, but were happy to settle for lunch.
Little Chef chose the fish n Chips – because who can visit Freo without eating that, right?! He portion was super generous, and a welcome change from tiny kids portions. At the age of eleven, he's close to graduating to adult portions. The fish was fresh and very crisp.
I loved the rainbow bowl – named after it's fresh, colourful ingredients, and I suspect the neighbouring container rainbow. Roast pumpkin, beetroot, avo, brown rice, dukka and more are packed into this delicious bowl.
There are a couple of board games around for the family to enjoy, as well as high chairs for little ones. After a big lunch we walked up the hill to the rainbow container for a couple of happy snaps. Its so bright and colourful. Be mindful of little ones, as it's right next to the busy highway.
From here you can also cross Canning Highway at the lights and enjoy Tuckfiled playground – or go for a walk or cycle along the river.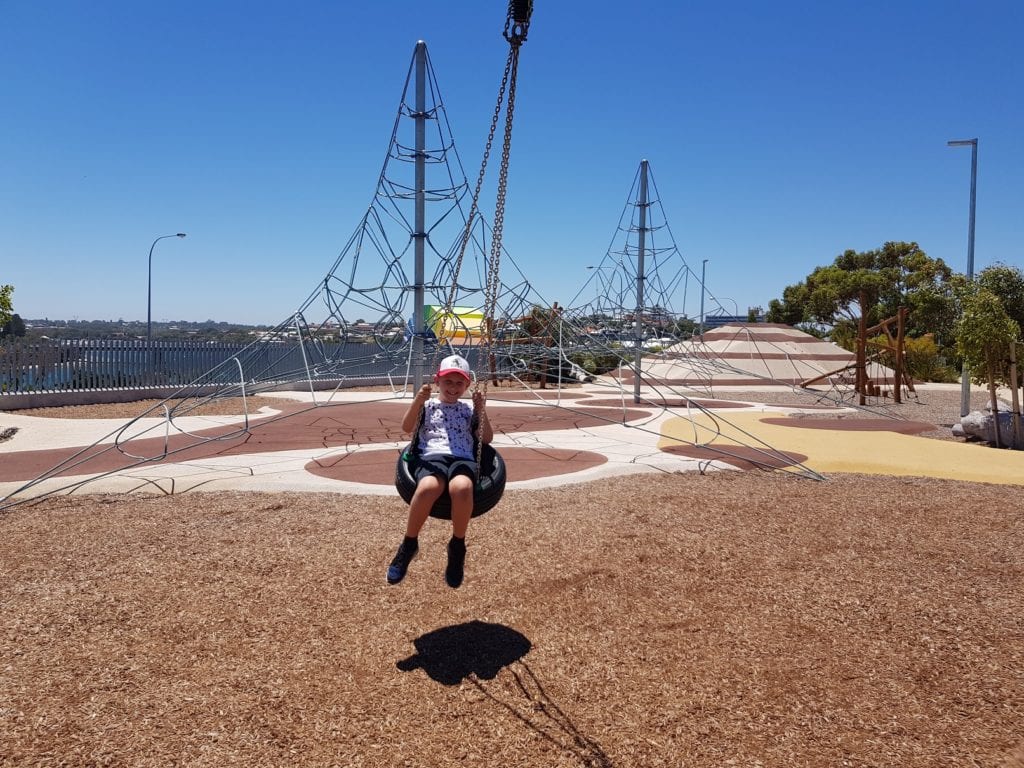 On the way down the hill, Little Chef couldn't resist the grassy slope and rolled down!
The Kiosk Fremantle offers tasty brunches and lunches for the whole family, as well as takeaways. There's plenty of paid parking across the street and spots to park your bikes too. And if you love the Kiosk – be sure to visit their sister café at Floreat.
Find the Kiosk at 123 Beach Street, Fremantle.
Get more info on their website. 
See more family friendly restaurants in Perth here.