Solo Cafe is the new kid on the Beaufort Street strip. It's not your traditional pasta joint at all. It brings to the dinner table a fresh and fun new concept of ordering "pasta by the metre". I'd never really put that much thought into how much pasta, in length, that I ate! At Solo Pasta, their standard sized pasta dishes come in three metre serves, which is the average amount a person eats, if they laid out their pasta end to end!
The dining room is light and bright, overlooking the bustling Beaufort Street. The staff are very welcoming and friendly, happy to explain how idea behind the new restaurant works.
The menu is made up of share plates and pasta dishes, which are ordered in three steps.
First you choose your type of pasta – classic, beetroot or spinach.
Next choose your length of pasta, we chose the standard three metres. For those of us with big appetites, you have the option of adding extra pasta to your bowl for $4.50 per metre. Kids serves are two metres.
Then you choose your sauce. There are options of tomato based sauces (like meatballs, bolognaise, chorizo and chilli and more), cream based (like carbonara, mushroom and more) and olive oil/jus based sauces.
To begin Chef and I shared the tender and tasty lemon pepper calamari, served with aioli and a wedge of lemon.
There's no kids menu at Solo Pasta. Children get to pick their pasta dish from the whole menu. They simply receive a smaller pasta serve of two metres. Children also receive a soft drink and vanilla ice cream along with the pasta.
Little Chef chose the spaghetti and meatball dish, though he was also tempted by the yummy sounding chorizo pasta too. He absolutely loved his super long pasta, served in thick, flat strips. It was topped with pork and kale meatballs and parmigiana reggiano. I loved that there was kale in his meatballs and he didn't even notice! Many of Solo Pasta's dishes have hidden veggies and their beetroot and spinach pastas are packed with nutrients too.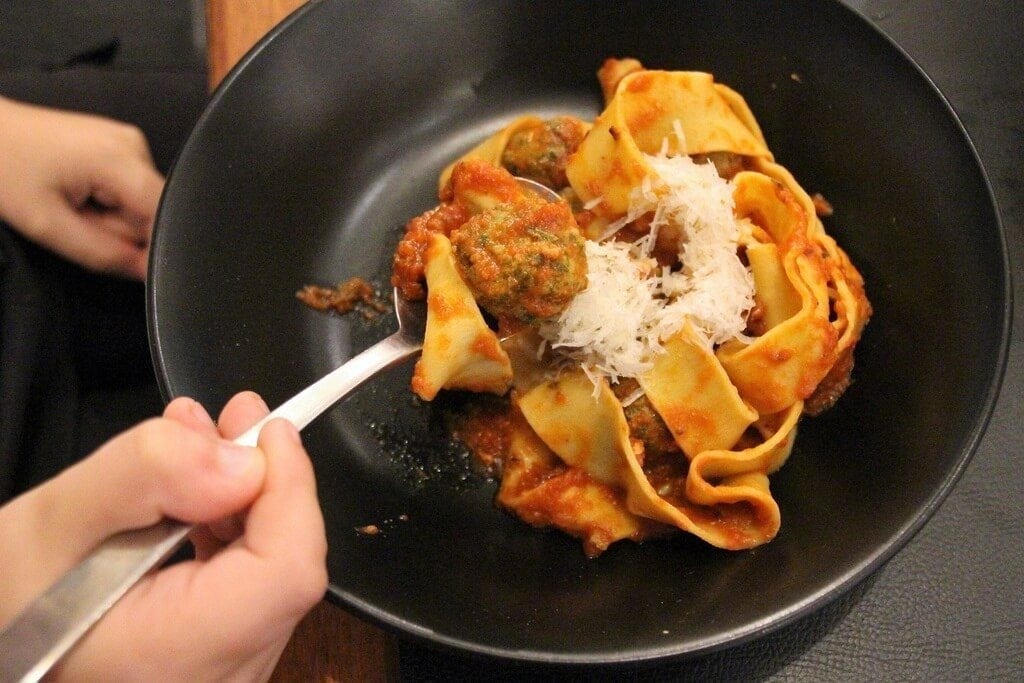 To keep little hands busy there's fun pasta craft and colouring in to get creative with.
Little Chef really enjoyed making and decorating a dried pasta bracelet for me! There's also plenty of textas and colouring sheets. This family friendly eatery has a bench for changing babies in the bathroom (or there's room to take your stroller in there) and also high chairs for little ones.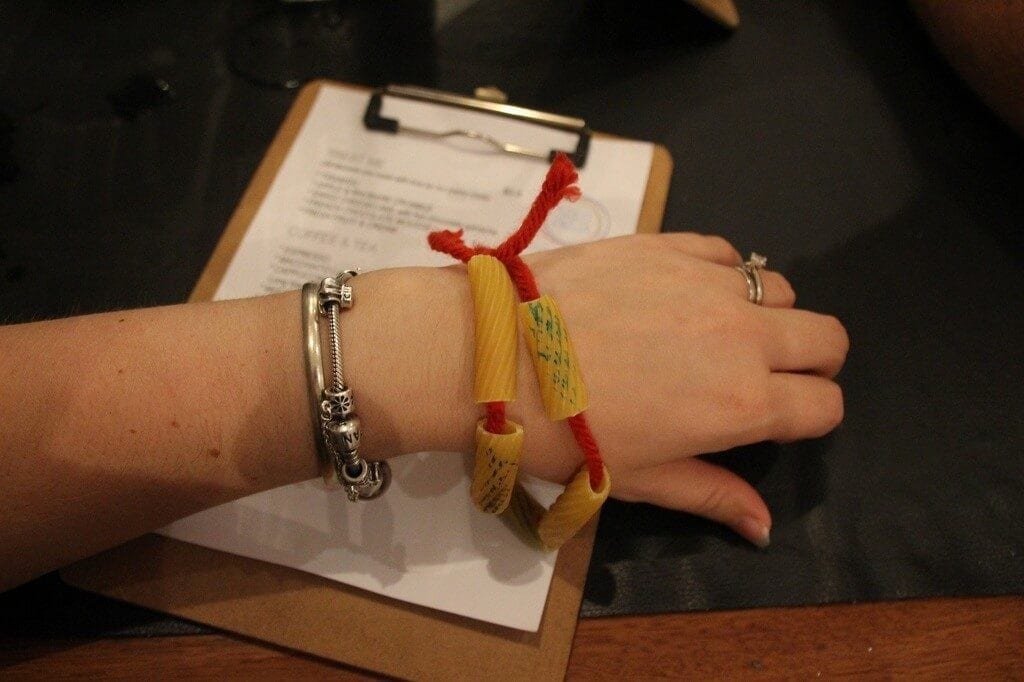 I chose a Norwegian smoked salmon pasta dish. My vibrant, fresh green spinach pasta was full of flavour, not like that dried spinach pasta you buy in the shops. The creamy pasta was full of flakes of salmon, roasted beetroot, parsley and roasted almonds. It was an interesting flavour combination that really worked. I loved it. I was just fine with my three metres of pasta. It sounds like such a huge amount, but it was a perfect serving.
Chef enjoyed the classic pasta with West Aussie fillet beef, capsicum, red chilli and parsley. All the pasta was perfectly al dente and being freshly made, was full of flavour you just can't get from dried pastas.
The desserts are made by Solo Pasta's Pastry Chefs. Little Chef, proclaiming "there's always room for dessert" devoured the French chocolate mousse, topped with whipped cream.
I was feeling full, so just had a taste of Chef's tasty slab of tiramisu
Solo Pasta is an innovative and welcome addition to Mount Lawley. The casual family friendly restaurant is excellent value for money, with friendly service and offering tasty pasta dishes, that the whole family will relish. Solo Pasta is well worth a visit.
Amanda and her family dined as guests of Solo Pasta, all opinions are her own.
Solo Pasta is found at 628 Beaufort Street, Mount Lawley.
Find more family-friendly restaurants in Perth