Santa has dived through the ocean and arrived at Mandurah Forum. His sleigh has crossed the deep sea and made it to his magical castle with moving water, where he is waiting to see you! This Christmas why not have your photo taken with Santa sitting on his Oyster throne and watch the waters move beneath your feet on his sparkling beach with glittering crabs, shells and sea life.
As you wait to see Santa you can look through the digital portholes and see Santa and his rain deer diving through the sea, there are also other sea creatures to spot as you wait in the queue. It's a different experience visiting Santa in his enchanted sea scene and it has been done really well.
You can take your own photo with Santa using your phone or pay for a professional package, there are lots of options to choose from some with a discount depending on what package you opt for. The staff are friendly and great with the little ones plus there was no pressure or sales pitch to buy a professional package, we did both. We took our own and got the standard package which was $20 for two 4×6 photos to send to the grandparents for Christmas.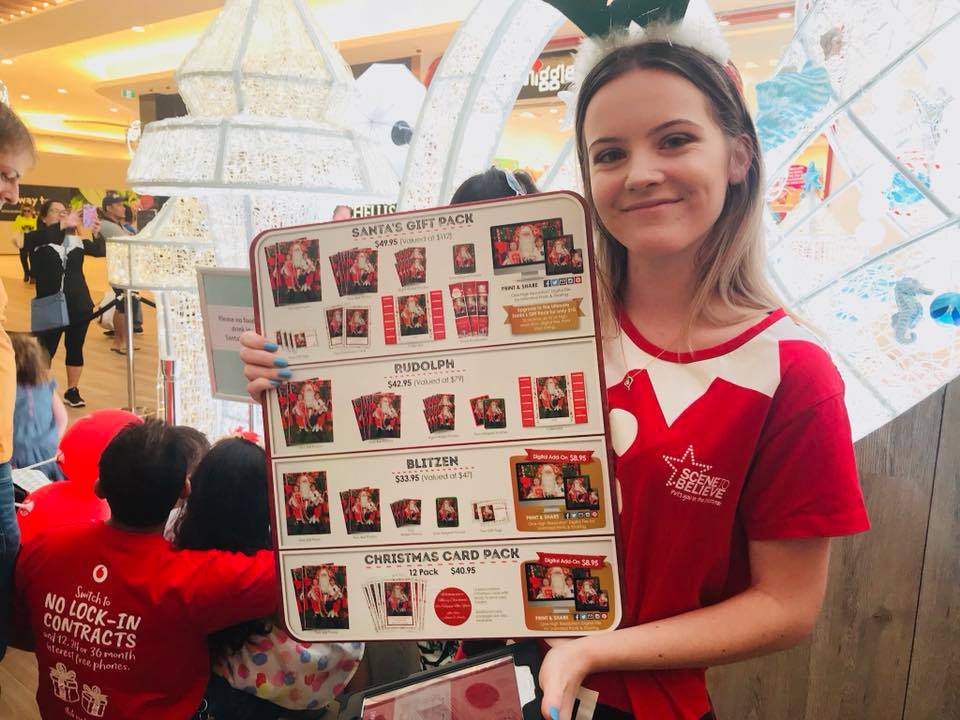 My two being very young sat long enough to get one shot, families and older children having their photos done seemed to have a decent chat with Santa and held up cool signs saying 'naughty or nice' and 'all I want for Christmas' which was a nice touch for the photos. All children receive a mini adventures activity book as a gift from Santa.
If your little one is unsure of Santa, doesn't like crowds or prefers a soft sensory experience why not visit quiet Santa. This is a brilliant idea and would have been perfect for us last year when my girl who was 2 refused to see Santa as it was all too busy and loud for her.
Quiet Santa will be available every Sunday from 19th November until the 10th December 2017 from 8am till 10am. Bookings are essential and each family will have a 15 minutes dedicated time with Santa and receive a complimentary photo. You will need to contact the centre to book your place.
There is a great festive feel in the new centre with lots of sparkling decorations and festive treats including a pop-up fairy floss and popcorn stall, free parking and long opening hours.
Santa's Magical Castle, Mandurah Forum
From 16 November until Christmas Eve.
10am – 4pm Friday to Wednesday & 10am – 8pm on a Thursday.
www.mandurahforum.com.au/whats-on/santa-s-magical-castle