THIS RESTAURANT HAS NOW CLOSED DOWN
Raymond's Cafe is a quirky retro-style cafe on Wanneroo Road, Tuart Hill.
Much of the interior decor is reminiscent of 1950s and 60s and, in places, the 1970s and 80s. The walls are covered with movie posters, vinyl records, and vintage signs. There are white lacy curtains in the windows, wooden floorboards and a recycled wooden counter around the register and cabinet. The dining tables, chairs and china cupboards are a throwback to our parents or even our grandparents hay day. Stepping into Raymond's Cafe is like a pleasant little step back in time.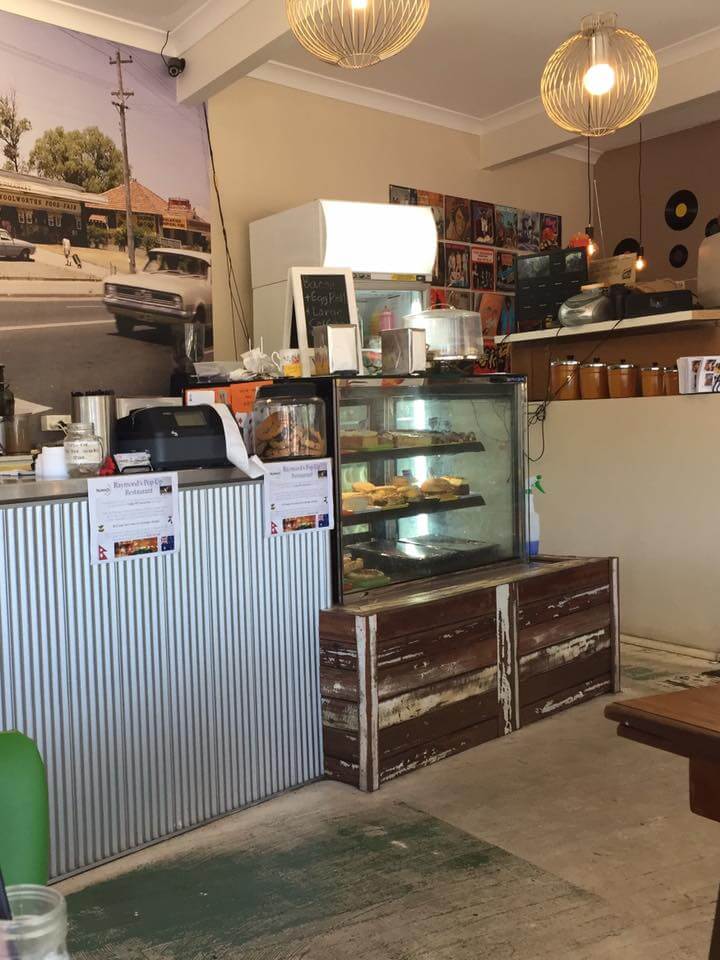 We found at the service at Raymond's Cafe to be exceptional. The staff were welcoming to both myself and my daughter, and any other patrons who dropped in while were there, happy to chat and share a story. Food and coffee came out quickly. We found the atmosphere here relaxed and friendly, like visiting family or close friends.
On our visit, we tried a vanilla slice and a lime coconut cake. Miss 2.5 wanted a vanilla milkshake, while I enjoyed a latte. Everything was lovely! I loved that the food came out on mismatched colourful china plates, and the spoon for my coffee was like one you'd buy as a souvenir while on holiday.
As well as having many delicious options for adults on the menu, there's kids options to choose from too. For example, on the breakfast menu there are kids size serves of pancakes, and options like eggs or zucchini fritters that may suit children too. There is a selection of cakes, slices and pastries available from the cabinet, and juices and cold drinks available in a fridge.

Toward the rear of the cafe, a group of comfy sofas with colourful crochet rugs are arranged in a corner near the kitchen with a selection of kids toys set out around them. Miss 2.5 had a ball investigating toys from my own childhood: a box of dominos, a stuffed Fat Cat, a Strawberry Shortcake and a Humphrey B Bear doll. Things I haven't seen in ages! There are kids colouring books and pencils, card games, and board games. Plenty to keep little hands and minds busy so you get to drink your coffee while it's hot.
Access into Raymond's Cafe is via Lawley St, with outdoor dining available along this side of the cafe. Depending on the time of day, this is partly shaded by the verandah and the surrounding trees. They do both dine in and takeaway, so you could always grab a cuppa here on the way to a nearby park.
Free parking is available on Lawley Street and behind the cafe, with a few spots also available on Wanneroo Road.
We found Raymond's to be clean, bright and family friendly. We look forward to heading back again soon.
Raymond's Cafe is located at 4/91 Wanneroo Road, Tuart Hill.
Opening hours:
Monday to Friday: 7.00am – 3.00pm
Saturday: 8.00am – 3.00pm
Sunday: 8.00am – 2.00pm