Today we attended the Pre-Schoolers Morning at Waterford Plaza. These are held every month and they include children's entertainment and craft. At the one we attended the children were entertained by Jest for Giggles before doing "itsy bisty" books as the craft activity. The pre-schoolers mornings start at 10am and run until 11.30am.
These sessions are held in the IGA mall and they are usually set up with seating for the parents on the edge of soft mats for the children to sit on. Depending on your child you can sit back and relax or get more involved but you do need to stay around during the session.
The day we attended Jest for Giggles was entertaining the children with his friends Wally Wombat, Richard Rat and others. The children found him very entertaining and engaging. He started with some magic tricks and his show included puppets, music, stories and lots of interaction with the children. Kids of all ages enjoyed joining in and getting involved, even the ones who were less confident and sat with a parent on the chairs got included by the entertainer.
The craft activity was making an itsy bisty book. The children were given a small book to decorate with stickers and coloured pencils. There were heaps of different types of stickers from fairies, princesses to monsters and farm animals so everyone found something they liked. Miss 4 and her friend spent ages choosing stickers and decorating their books by drawing pictures. I think they would have stayed and used up all the stickers if they had a chance!
By the time they finished the kids were ready for a snack. Luckily Waterford Plaza has plenty of choice for finding somewhere to have a coffee or a bite to eat after. We chose to have a coffee and a snack at Jamaica Blue as there are plenty of tables and space so room for the kids without being on top of other customers.
This was the second Pre- Schoolers morning session we had been along to. They are a good way to occupy the children on a wet winters day and each month is a different craft activity and entertainment.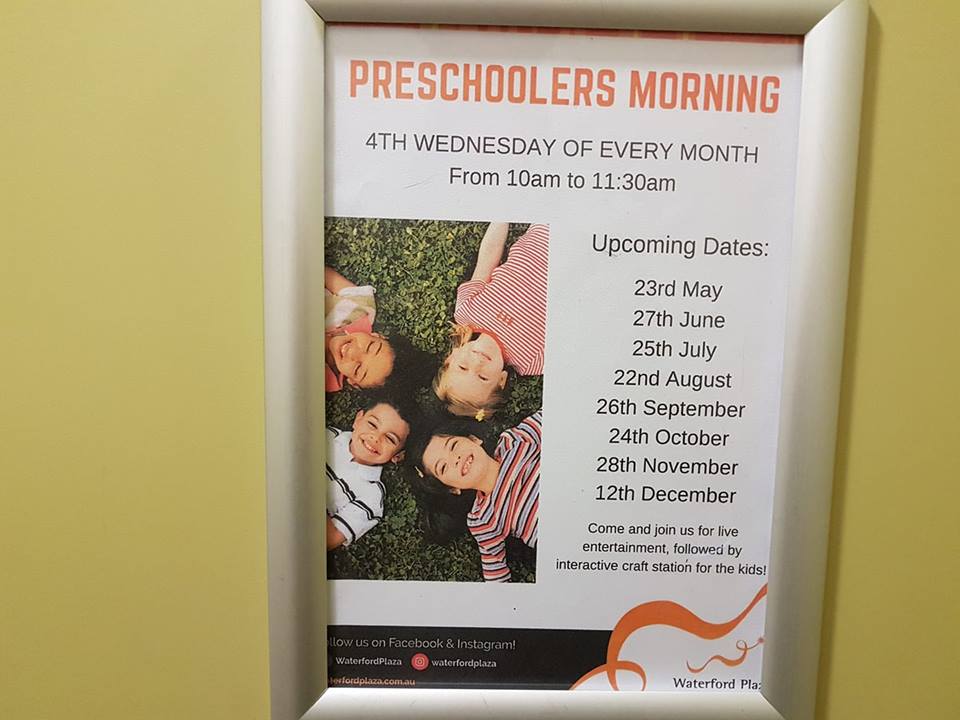 Pre-Schoolers Mornings
Waterford Plaza is located on the corner of Manning Rd and Kent St in Karawara.