Play World in Whitfords Shopping Centre is an indoor play area that I find extremely useful for my active 2-year-old to let off some steam.
It's situated in the wing that faces Target, alongside the Victoria Station luggage shop. It offers a couple of sofas and tables with chairs to rest at while you supervise your kids. But sadly the nearest café is positioned just that little bit too far away from Play World. You could grab yourself a takeaway coffee, but that's not always so simple. Usually it involves either ignoring a screaming toddler who has already spotted the playground, or a planned detour beforehand so that said toddler doesn't spot the playground before you have ordered and collected your coffee. Shew. So in short, it doesn't happen very often.
But enough about that – this play area is still a gem and since my toddler started walking it has been a regular stop on my shopping trips. The suggested suitable age group is 2–5yrs and I think they are spot on for once.
Play World is fenced in with only one gate to gain access by. During busy times I've found that you need to be careful that your little ones don't wander out while other people enter.
The play equipment includes a ground level 'Caterpillar' tunnel, which is a big hit.
The main play frame has some easy steps up and a small closed in area with clear sides, whereby you reach the top of the slide. There is a speaker inside this covered area which as far as I can tell emits bird and animal sounds, and is a source of great interest.
The slide is a gentle one, not too fast or scary and quite manageable for the littlies. A stern sign above it says "Do Not Climb" but they all try it, setting off a bevvy of anxious parents.
The see-through sides of the boxed in area are a source of great fun for the toddlers, as they bang on them to get the attention of passing shoppers.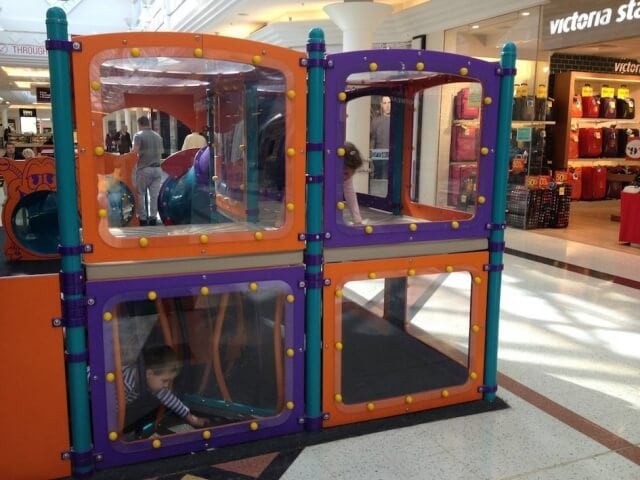 Underneath the play frame is a cosy cave you can access by pushing through the loose rubber poles.
The play area also includes some tactile activities and games, some of which sadly no longer work but it doesn't seem to bother the kids. These include a rotating animal wall puzzle; a speed game; a car steering station (with sound effects); a mirror; and a monkey 'High Five' game with hands and buttons to push for sounds. There is also a periscope, which we have never been able to work out. The kids fiddle and explore happily with all the buttons and knobs regardless of if they work or not!
It's a simple play area, and it can get busy with parents, prams and parked trolleys, but that only proves that Play World is a popular pit stop to break up shopping time. Or even better, one to keep as a bribe for when you are done!
Find more shopping centre play areas in Perth