What's on in Perth today?
Find City of Perth Events, local community events, free and low-cost events for families with kids of all ages. You find listed – family shows, free events in Perth, local community events, fairs, farmers markets, Perth City events, even events at your local library. Be the first to know what's on in Perth and never hear the words "I'm bored" again!
Event Listings – If your event is free and you're not paying to advertise anywhere else you can upload your event here. (Events need to be admin approved before they appear in the Events Calendar). To enquire about our event promotion packages email contactus@buggybuddys.com.au

Yarn Sticks with Annika Stenvall (Beechboro)
August 27 @ 11:00 am

-

12:30 pm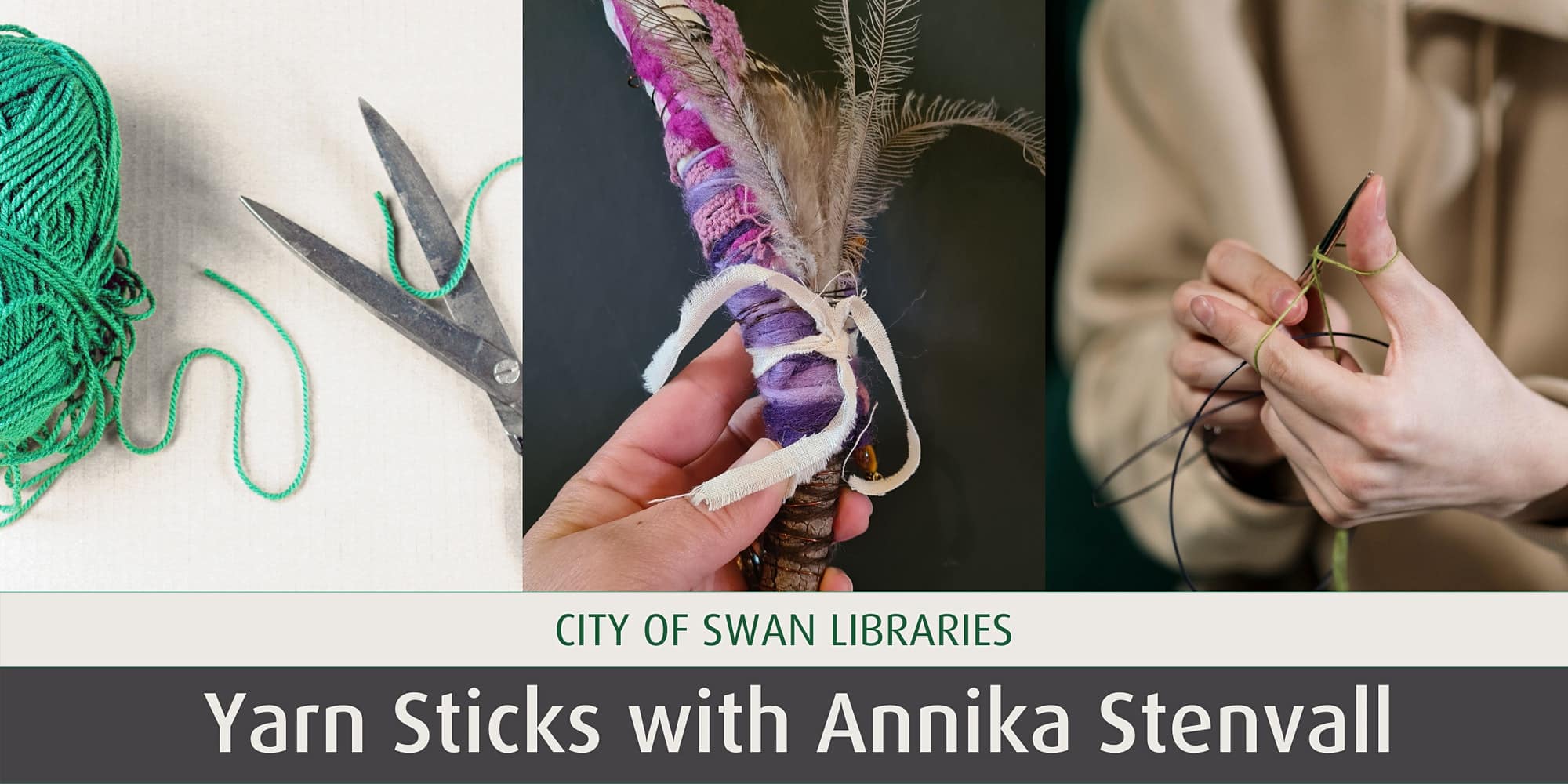 Join Artist in Residence Annika Stenvall for a hands-on yarn stick creation workshop!
Please note that this program is suitable for children aged 8 -12, and is a hands-on crafting workshop. Photographs and videos may be taken of the event.
Enjoy the process of wrapping found sticks in yarn, creating a story as you choose colours that speak to you. We will then link the yarn sticks together to create a hanging weave that tells your colourful story.
About the artist:
Annika Stenvall is an artist and creative arts facilitator from the Perth Hills. She graduated with a Bachelor of Arts from Edith Cowan University Majoring in Textiles and Printmaking, and continued her studies to graduate with a Diploma of Education.
"Weaving" her way across the globe, Annika has come from a long line of artistic women, and from her Swedish heritage, has developed a love for textiles and fibre art, cultivating a passion and talent for weaving and basket making. Annika has 20 years' experience as an Art Specialist for the Education sector and has invested this diverse and inspiring experience back into her art practise. Annika has run many community art groups and exhibited a number of times in group shows and solo endeavours. Her enduring strength is a passion for shared knowledge and learning with community groups and using the power of art for communication, self-exploration and healing. She is passionate about visual art as therapy and how it can be a powerful tool for story-telling and connection, and continues to be an advocate for the transformative power of art within her day to day life. Annika is currently employed by Mind The Change Inc. a Not for Profit who provide artistic experiences to those living with Dementia.
In accordance with hygiene requirements, social distancing will be maintained throughout this program and hand sanitizing stations and cleaning products will be available for use.
Please book in as spaces are limited. For all inquiries contact Beechboro Public Library on (08) 9207 8585.
Want to hear more about events like this one? Sign up here for personalised emails – we'll send you the latest news about program topics you're interested in!
Related Events