Swan Valley winery Oakover Grounds is found in a lovely setting, by a lake and surrounded by rolling lawns and grapevines. Oakover offers a lot for families.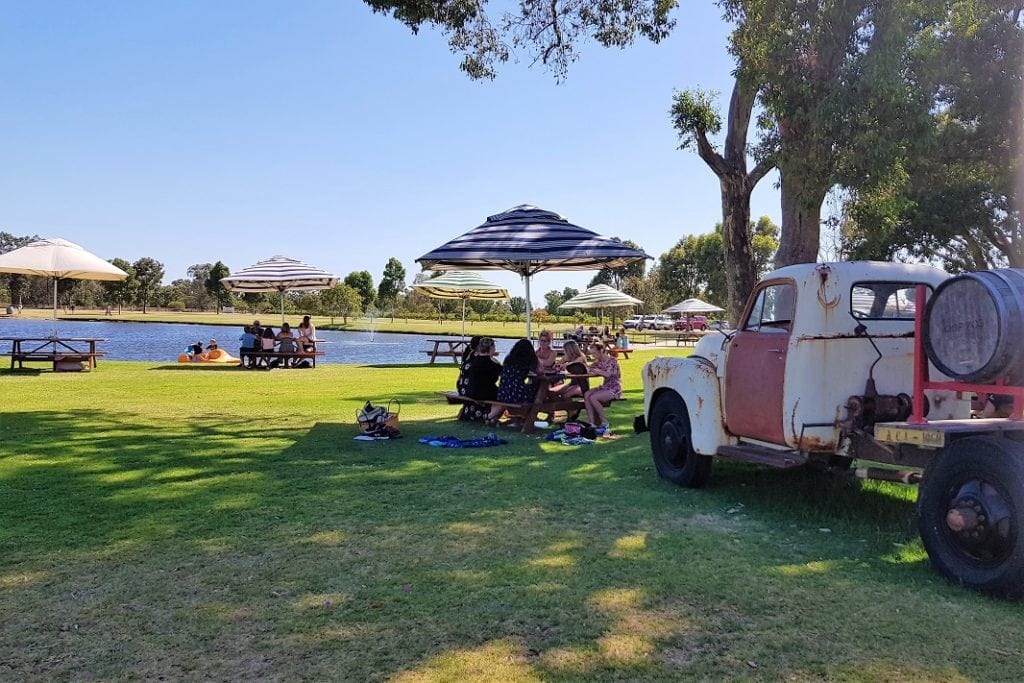 Oakover Grounds has a chilled-out hipster vibe, with the interior or the café/cellar door being very eclectic. There are loads of tables inside and out, making it a great spot for a gathering.
Upgraded paddle boats at Oakover have arrived and we can confirm they are a lot of fun!
It was also great to see some new areas for the kids to play – a small nature playground with a basket swing, climbing logs and a see-saw. Note they are in the full sun for most of the day so you'll need to 'slip, slop, slap'!
You'll also find big lawns, with plenty of space for a game of cricket or giant connect four. The grounds are also a great spot for exploring, playing hide and seek, though if you have a toddler in tow, you may prefer to request a table inside to remove the stress of them gravitating towards the lake.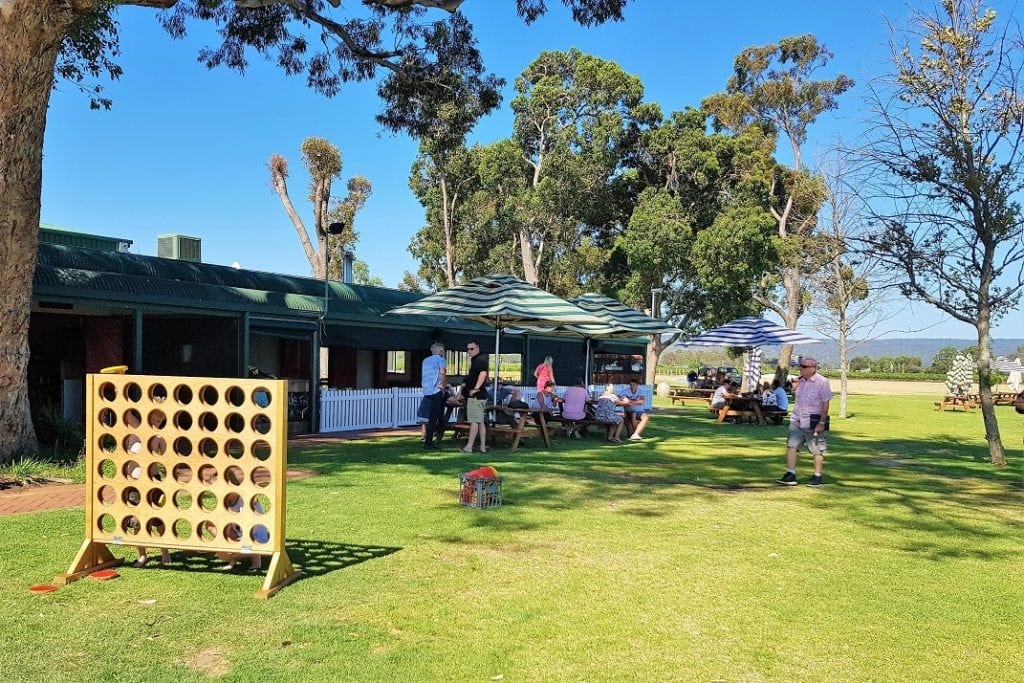 Keen Fisherman Chef was excited to find that the lake is stocked with fish. Head over the bridge, to the little island with your fishing rods (free to use) and if you catch anything then you can take it home for dinner, at $16 per fish (or throw it back!). The boys caught some Barramundi. They were stoked – and so was I – yummy fish for dinner!
As well as sampling the Oakover wines, there's a small selection of boutique beers on tap. On this day, coffee was calling my name. Oakover Grounds is also home to FiORi coffee, which is roasted fresh on site. And their iced coffee really hit the spot!
The menu is a good mix of casual favourites – share plates, burgers, salad and more. This time around we were at Oakover for some casual Sunday afternoon drinks and nibbles. The hand-cut chips with creamy aioli, $9, didn't last long!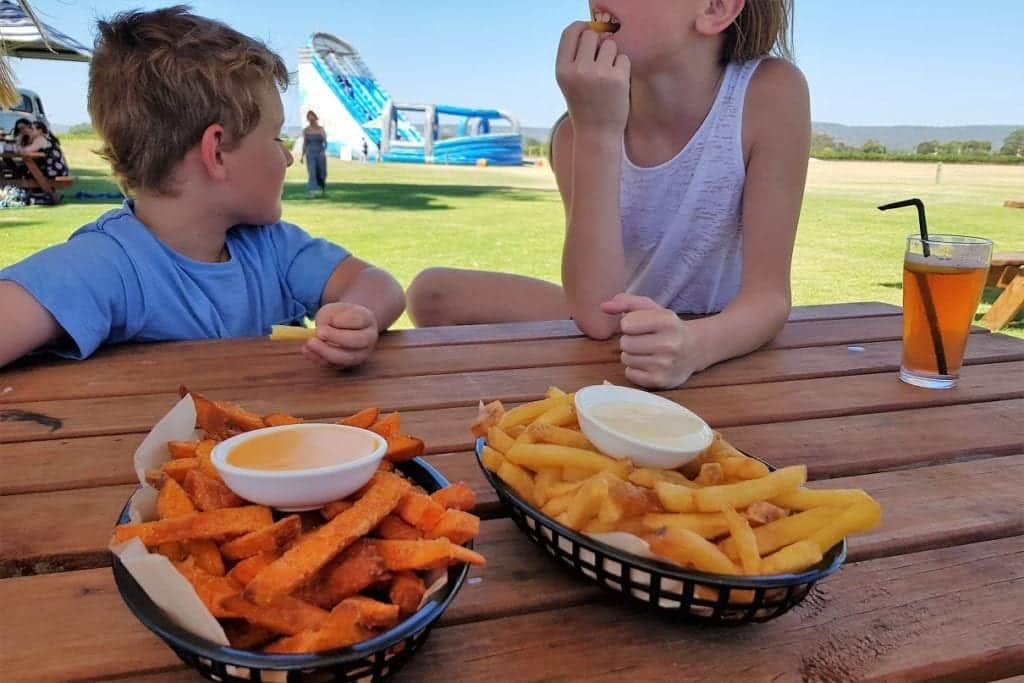 Neither did the more-ish sweet potato chips with a yummy nacho cheese sauce, $11.
In the past, Chef has enjoyed their beef burger, $26. Topped with tomato relish, bacon, cheese, lettuce, pickle and mayo, with a generous bowl of chips on the side.

For the under 12's they offer ham & cheese toasties with chips, penne bolognese and fish n chips for $10.
Another new addition to the popular venue is the Smokehouse, a takeaway kiosk on the grassed area. Here they offer mouth-watering smoked meats like coffee brisket and BBQ lamb, salads and sides. There are kids sliders (with a choice of meat) too.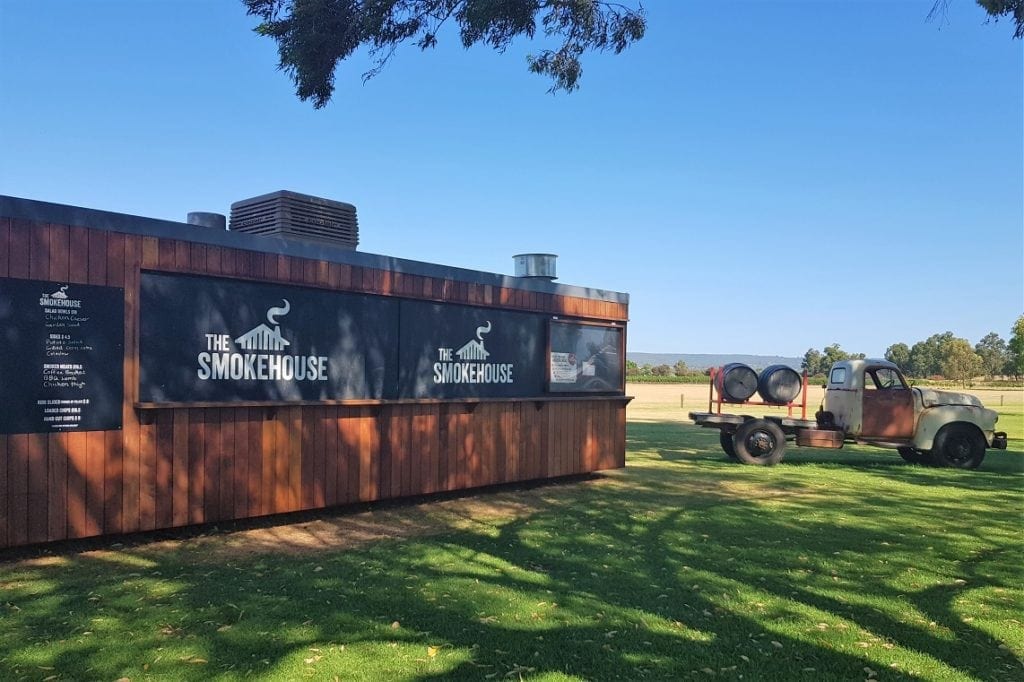 My whole family really enjoyed our visit to Oakover Grounds and we'll definitely be back again and again.
Find more family-friendly restaurants
Find more things to do in the Swan Valley