It was Caleb's birthday and to celebrate, we went to his all time favourite restaurant – Nobu. This is one of the few restaurants where he could actually sit in his high chair for over 2 hours – entree right up to dessert. So whenever we want to go out for a 'fancy' meal, Nobu will be our first choice. And I can actually eat with 2 hands! Win Win! A very kid-friendly and accommodating restaurant. Service was faultless.
We ordered a pre-dinner mocktail at the Nobu bar, so we could all enjoy it. We had the virgin Q-Zu: Cucumber Syrup, Fresh Cucumber, Yuzu Juice & lemonade. So refreshing. The wine list is also very extensive and you can also order some bar snacks along with your drinks. The wait-staff all made an extra special effort to say happy birthday to Caleb which was such a nice touch. Our table overlooked the magnificent pool area
For starters, we had Caleb's all time favourite Edamame with sea salt. He could happily sit there and pop those things for hours! He had 2 serves to himself which also doubled as a great entertainment. We also had the mushroom soup. A bowl full of assorted gourmet mushrooms in a clear slurpy broth. So light and yet so tasty.
Edamame goodness

Mushroom soup
For mains, you absolutely have to order the black miso cod. Silky smooth fish cooked to perfection. The fish just flakes off and melts in your mouth.
Black miso cod
This was followed by scallops with wasabi pepper. Large juicy pieces of scallops, asparagus in a wasabi pepper sauce (the wasabi hit was actually quite mild).
We also had the soft-shell crab maki roll and it was awesome. Truth be told, we also ordered 2 more dishes but when it hit the table, we were so excited to get it into our belly I forgot to take a picture. We had the warm mushroom salad with yuzu dressing and the prawn with creamy Jalapeño tempura. All dishes are highly recommended.
AND you have to save room for desserts! As it was Caleb's birthday, they presented him with a specially hand-written 'happy birthday' plate of vanilla ice-cream, petit-fours and a candle. He sure polished off everything including the chocolate writing.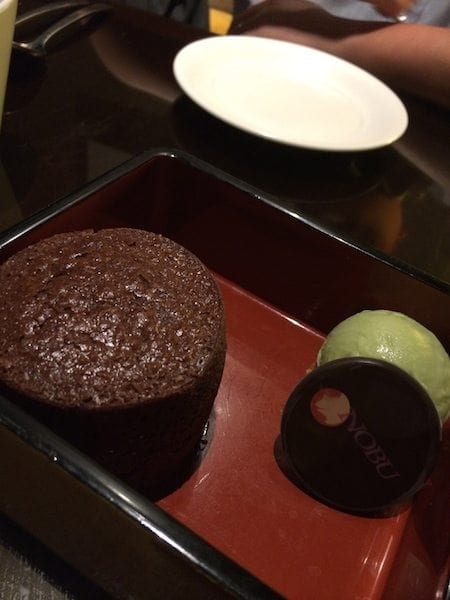 For us, we had the Bento Box (Chocolate Fondant, Green Tea Ice Cream), Miso Cappuccino (Miso and milk chocolate crème, coffee chocolate crumble, vanilla ice cream, coffee foam) and Hot Chocolate Mousse (Gingerbread Ice Cream, Hazelnut Streusel, Orange, Japanese Pumpkin).
What a splendid meal we had and by the end we were ready to roll out the door. Thank you Nobu for another wonderful experience and making Caleb's day extra special.
Nobu Perth
Crown Perth, Great Eastern Highway, Burswood
Lunch Tuesday to Sunday
Dinner daily
Bar from 6pm daily
Highchair: Yes
Change facility: Yes (main hotel lobby)