My family and I had a short family holiday in Denmark recently and we've been telling everyone that they must take a trip down there! It's a wonderful spot and worth every second of the 4 and a half hour trip from Perth. We'd never been, always choosing Margaret River as it is closer, but we've absolutely fallen in love with the Great Southern region of Western Australia.
Our 7 year old son "Little Chef" LOVES a farm stay and we were really excited to be staying at Misty Valley which is about 10 minutes' drive out of the centre of Denmark, on a windy road that is flanked by tall trees and many winery cellar doors. As soon as we drove up the gravel road and arrived at the little farm, which is surrounded by rolling hills and lush paddocks, something inside of me relaxed. When we opened the car door, Lucy the Golden Labrador, was happily waiting to greet us. This really delighted us as we're all big dog lovers.
Soon after Lucy, we were also warmly greeted by Warren, our lovely host who made us feel very welcome at his farm. He was full of great ideas for dining out as a family and suggested that we try the Boston Brewery for our dinner that night. Warren told us that his hens had been very busy and we also bought some freshly laid eggs from him. Warren's wife Leonie, had baked us some double chocolate muffins, which were still hot out of the oven and oh so gooey! They didn't last long!
We stayed in the "Lake Mist" cottage, which is one of two cottages on the farm. It's quite secluded, you can just make out the neighbouring cottage through the trees. It was very spacious for the three of us. There's the main open plan living area with kitchen, dining room and family area. The kitchen has a large fridge, microwave, toaster and kettle. The cupboards and draws are well equipped with cutlery and cooking utensils. We were provided with tea and coffee essentials, as well as hot chocolate and a packet of lollies and chocolates – a lovely touch.
The family room has plenty of space to lounge around and watch TV. There's a DVD player and CD player too, as well as a selection of books, jigsaws and games.
We mostly ate out, but when we did eat in, we had all the basic equipment we needed to cook up a storm. The dining table seats 6. There's a balcony with outside table and BBQ off the family room, a lovely place to sit with a book, overlooking the Misty Lake and bushland.
The bedrooms are clean and comfortable. There's space for up to 8 people, with a queen sized bed in the main, another queen bed in bedroom two and in bedroom three there are two bunk beds. Two families can comfortably stay in the cottage, or you could take along the grandparents too. There is a cot and highchair available free if needed and Warren and Leonie provide a babysitting service too.
The bathroom is also clean and has with a shower and vanity. There's a separate toilet too. The shower has a deep tub, so it can be used for a bath for toddlers.
The bathroom doubles as a laundry and you'll also find a laundry trough, top loader washing machine, ironing board and iron in there too, which would be essential for an extended stay. Outside there are two washing lines.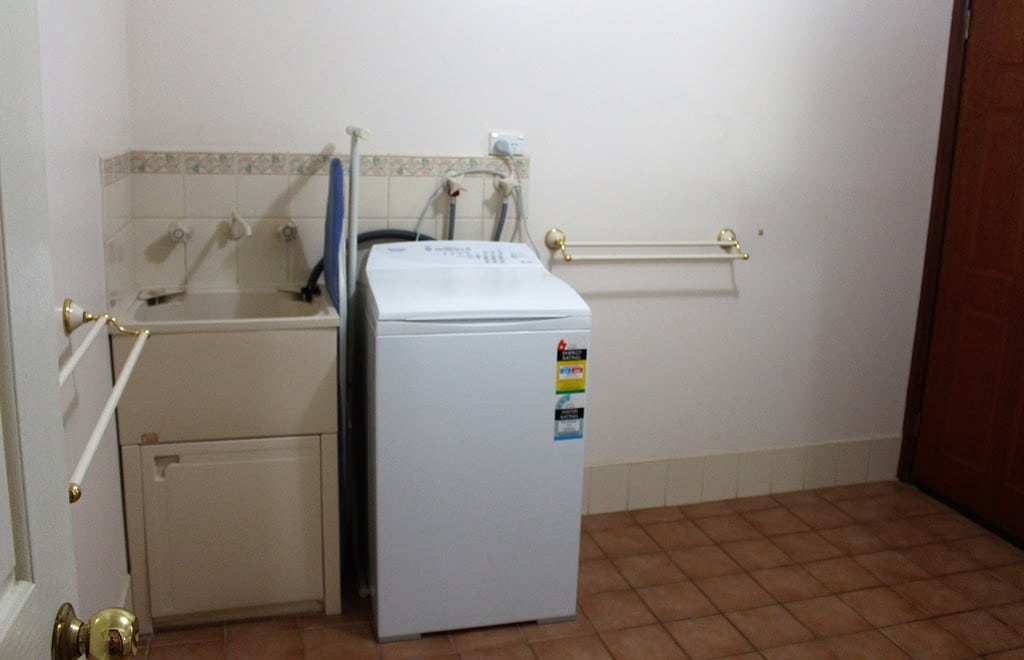 Also outside is a little swing set, made from tyres, which Little Chef loved. There's also a few climbable trees and so much space to run around and explore. LC took his bike along and he was soon tearing along the long gravel driveway.
After a delicious dinner at the Boston Brewery, it was a little chilly and we enjoyed relaxing by the wood fire. It warmed up the entire cottage and made us feel very cosy. There is an air conditioning unit too, for the warmer months.
On our first morning, after a fry up cooked by Chef with those tasty free range eggs, we took the two-minute stroll through the bush to the farm. We were greeted by Warren and Lucy the dog and LC had lots of fun feeding the chooks and collecting the eggs – between them, they'd laid almost a dozen!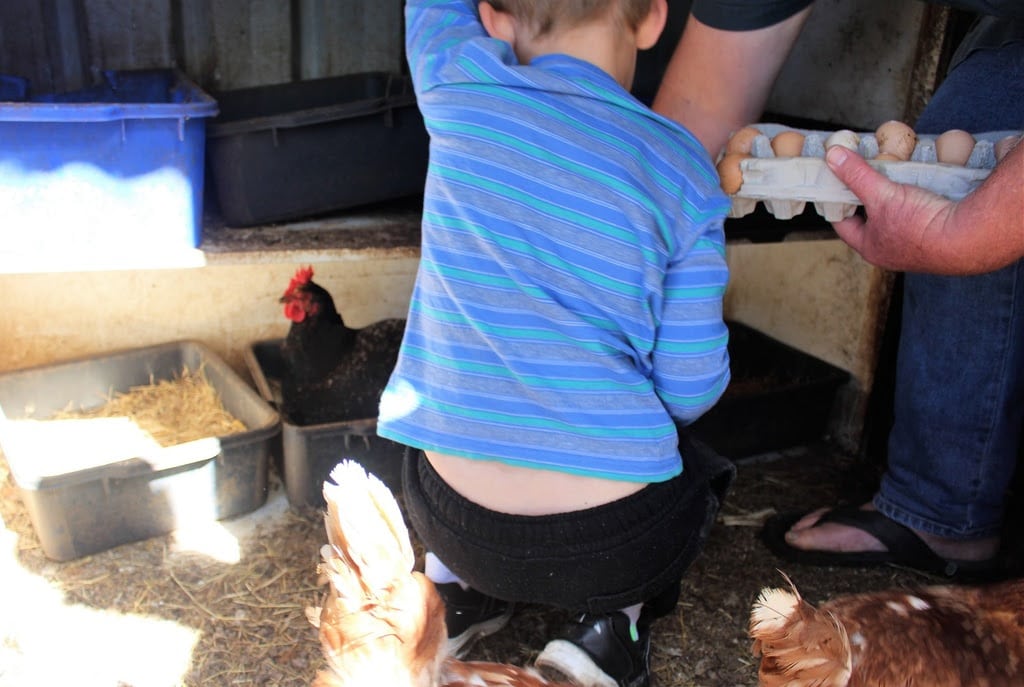 Then Warren showed LC how to feed the horses and ponies and groom them too. LC was so excited to have his very first horse ride on one of the little ponies, Mystique and Zantiki. Warren led him around the farmyard and the pony was very calm and placid.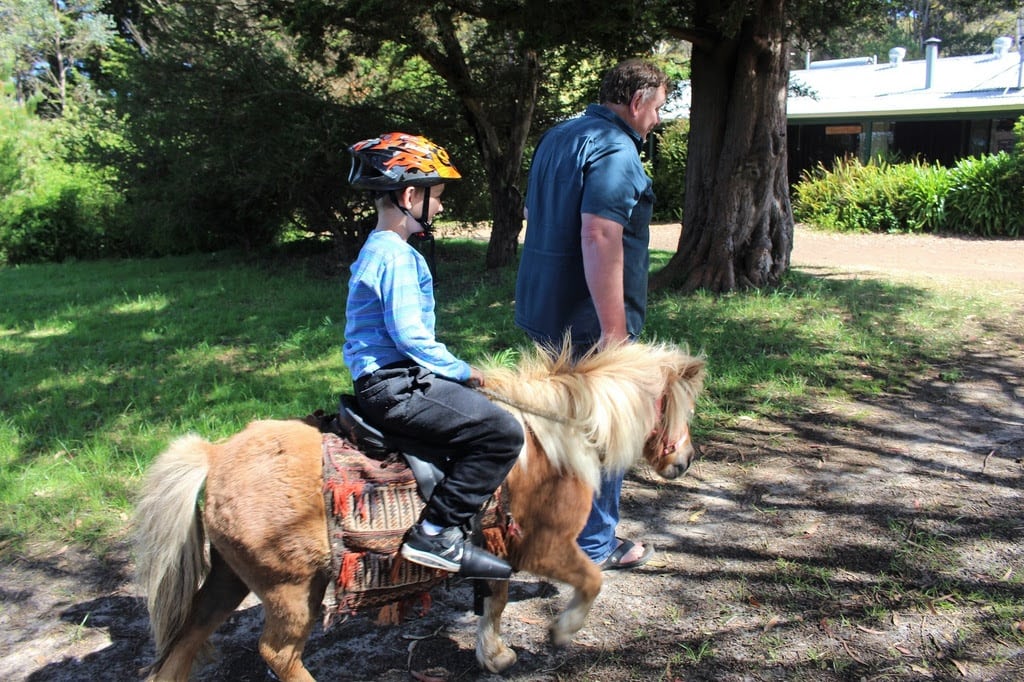 We grabbed a couple of flat whites and a hot chocolate from Warren, who makes a brilliant coffee and set off for a day discovering lots of fun activities around Denmark, including a visit to The Valley Of The Giants. We retired back to our cottage for the evening for a game of Monopoly around the kitchen table.
On the second morning at the farm, we helped feed the horses and chickens again and also fed the cheeky goats. They're very greedy! Another highlight for LC was a fun ride on the quad bike. Chef got to take him for a spin around on the farm's tracks and they had an absolute blast!
Lucy did a good job trying to tire out LC. She's obsessed with sticks and tennis balls, so LC literally had a ball playing and chasing her about. She has a lovely nature and is very good with kids.
On our final morning at Misty Valley Warren herded his friendly cow Holly into the milking shed and showed LC how to milk a cow. It was really interesting and he loved the experience. Chef even had a go too and we got to take the fresh milk home with us in a big bottle, as well as more freshly laid eggs.
I have to admit, we were all very sad to leave Misty Valley. With so much to see and do in the Denmark area, a 5-night stay would be recommended, if not longer. We'd absolutely stay at Misty Valley again. It was charming, comfortable and made all the more enjoyable by Warren and Leonie's wonderful hospitality.
Address
Misty Valley Country Cottages
52 Hovea Road
Scotsdale
Denmark WA 6333
More info at… www.mistyvalley.com.au