At AQWA you can snorkel with a Mermaid and learn some mermaid tricks in the Adventure Bay aquarium!

This adventure is available to ages 8+ and is lead by one of AQWA's friendly, qualified Divemasters, along with a Mermaid!
With the wetsuits, boots, masks and snorkels fitted, we headed over to Adventure Bay to meet the gorgeous Mermaid Courtney and start learning her Mermaid secrets.
Once in the water, Mermaid Courtney helped the girls put on their mask and snorkel to start the lesson in snorkelling, getting them to look under the water and breathe through the snorkel while using a noodle until they're comfortable with the experience.
Ruby was quick to ditch the noodle and enjoyed some free swimming with the amazing fish life and stingrays. She wasn't really a fan of the snorkel and after a while put it to the side.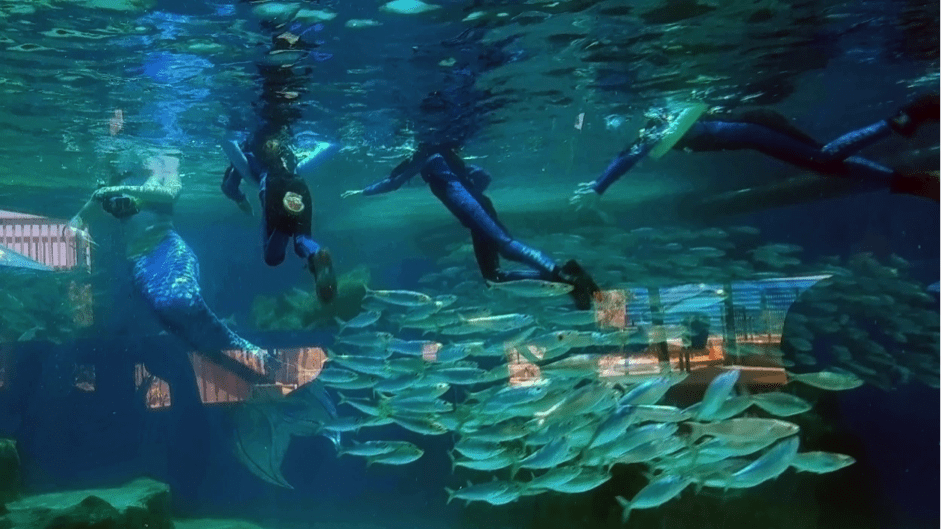 Mermaid Courtney ran through some breathing tips while duck diving and using the Mermaid kick-n-glide. Soon the girls were trying to get all the way down with her to wave at the audience below watching.
The experience lasts for about an hour which included about 20 minutes of instruction and the rest of the time was free swimming/snorkelling to practise their new Mermaid skills.
There is lots of time to chat with the Mermaid and lots of photo opportunities in the water, out of the water, on top of the water and under the water.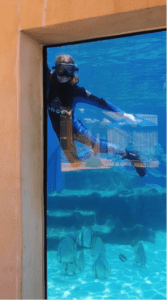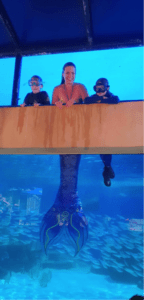 My girls absolutely loved the experience and felt comfortable in the water. Mermaid Courtney was extremely patient with the girls and the supervision from the AQWA staff was fantastic.
At the end of the hour, all participants receive a special Mermaid pack that includes a certificate, Mermaid doll of their own, light up wand, stickers and a Mermaid bag.
Mermaid Magic at AQWA
(8+ years, compete swimmers)
Cost – $149
Duration – approx 1hr
Participants won't be using a Mermaid tail or mono fin during the experience, however, you can bring along your own snorkel fins to use.