The Margaret River Farmers' Market it amazing! It is held every Saturday morning and has a fantastic selection of different foods and other products from the Margaret River region. We love it so much that if we are going down south we try to go on a Friday so that we can get all our holiday food from the market on Saturday morning. It is really worth it.
Tip: some stalls take cards but some are cash only so it is really worth taking a decent amount of money with you, particularly if you are going to stock up for the week and eat some food while you are there.
The farmers market is a large collection of stalls containing local produce. There is everything from eating on the go food such as samosas (my husband's favourite), baked goods, freshly squeezed juices, egg and bacon rolls, raw food, a coffee van and the list goes on.
\
There is a large variety of local produce such as fresh fruit, vegetables, herbs, meat, eggs, cheese, etc and things like honey, nougat, cakes, pies and Yalllingup wood-fired bread. There were also a couple of wine stalls. Many vendors have tasting plates out so you can sample the produce before you buy. There is usually some live music too.
One of my favourite stalls is I Pasticcioni (see photo above) which sells the most amazing Italian biscuits made by Claudio, an Italian chef. You can get a mixed selection of biscuits (see photo below) or just choose your favourites. My favourites are his Ricciarelli biscuits which really are to die for! He also does cakes to order.
I am not the biggest fan of pies in general but the pies at the market are amazing. The fresh pasta stall is also highly recommended as are the home-made pasta sauces sold there.
The fruit and vegetables are so fresh and have fantastic flavours. The steaks we bought last time from Leeuwin Grass-Fed Beef were some of the best I have ever had too. We really love supporting the local producers and it is such a treat to get such great tasting food.
When we visited one April there was also a selection of carved and giant vegetables!
In addition to all the food, there are also some other stalls selling clothes, local pictures, jewellery, carved wood, fresh flowers, gifts, etc. Most of the times we have been, there has also been a fantastic face painting lady. You do have to pay (the price varies depending on what you choose) but she is very good.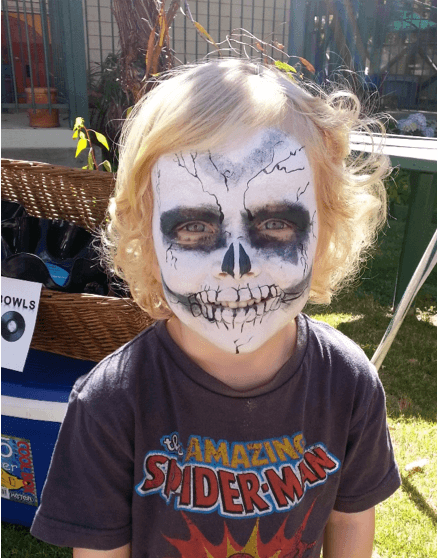 Details of all the vendors and their individual contact details and web pages are on the main Margaret River Farmers Market website, listed at the top of this page. Not all stalls are there every week as some vendors rotate around different markets, so if you have a favourite it is worth checking in advance that they will be there when you are going to visit.
We have been going to the Margaret River Farmers Market for a few years. It used to be on the edge of town at the community centre and then moved to the Cultural Centre on Wallcliffe Road. It has now moved south of the town to Margaret River Education Campus, Lot 272 Bussell Highway so it may be worth checking the address on the website before visiting.
(Note: some of my photos were taken at the old locations but the stalls are the same).
Find more things to do in Margaret River