Little Kickers Australia – got a budding soccer star on your hands or just a little one who just loves to have plenty of fun? Little kickers might just be what you're after. Little Kickers is a kids (both girls and boys) football (soccer) training program aimed at children aged 18 mths to 7 years old. It is tailored to suit all levels in each age range. Their focus is to teach football in a 'play not push' fun and pressure-free environment. The little one went for his first ever football trial class and he fully threw himself into the class, gave everything his all and had an absolute kicking good time. I was a little worried about how long he will take to warm up but the coaches were so encouraging and paid extra attention to him, being that was his first time there, making sure he is comfortable and getting the most out of the class.
The four levels of classes offered all over Perth are:
– Little Kickers (18 mths- 2 yrs 3 mths)
– Junior Kickers (2-3.5 yrs)
– Mighty Kickers (3.5-5 yrs)
– Mega Kickers (5-7 yrs)
a little warm up session before the class started
Not only does little kickers develop your child's physical ability, they also believe in developing them mentally as well. The kids had a learning segment where the kids get to use their imagination whilst learning about colours and numbers.
Now its onto play time! The kids were guided through a couple of drills and skills development, at the same time teaching them about the importance of listening to instructions.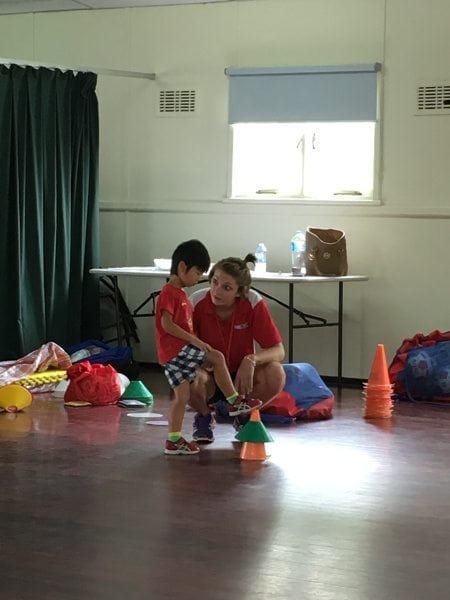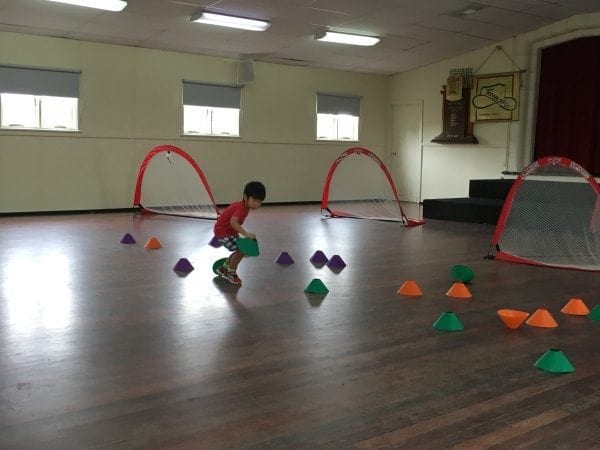 sorting out coloured cones
dribbling and stopping the ball
time to kick some goals!!
The kids were given regular water breaks and boy was that important as the little started getting pretty sweaty with all that workout.
To wrap up each session, they did some fun activities followed by being rewarded with stickers. The little one had an absolute ball and kudos to the coaches who really did a superb job with the kids.
Stickers!
Little Kickers classes are held indoors so come rain or shine the class won't be cancelled due to the weather!
Think this might be what your little one needs, give Little Kickers a go! Sign up for a free trial class and you really have got nothing to lose! Jump on the website for more information and also where and when the classes are held.
[voucher id="15″]