Little Donkey Corner is the newest coffee shop on the block for the Tuart Hill/Yokine area. It is a charming new addition with a kids menu.
Located where Raymond's Cafe used to be, new paint and furniture inside give the cafe a lift. Gone are the heavy net curtains and dark 70's sofas, and now the cafe is filled with natural light. The quirky elements aren't completely gone however, with retro chairs set up outside and in the lower section of the cafe, colourful up-cycled tomato cans used on the tables and a bright donkey mural decorates the wall when you first enter. A blown up photo of the area from a bygone era also still graces the wall behind the counter and plants are dotted around on shelves and windowsills.
As it was lunchtime on a cold day, and Miss 4 was starving from being busy at kindy all morning, we decided to stop and grab some lunch. I chose a breaky roll and a dirty chai, while Miss 4 chose the kids chicken nuggets and chips and a choc chip cookie. All this cost $25.50.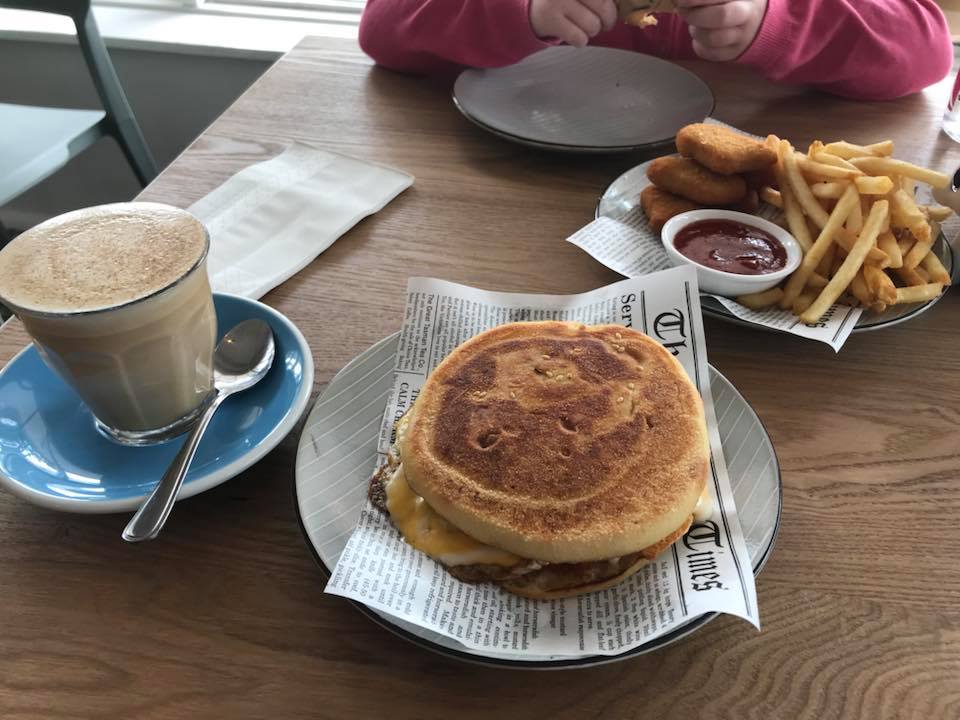 The dirty chai was full of flavour. You could clearly taste the spices as well as the coffee. The generously sized breaky roll is served on a Turkish roll with an egg, lightly grilled bacon, melty orange cheese, homemade barbecue sauce and aioli. It was super tasty, though I admit perhaps not the healthiest choice on the menu! The barbecue sauce really adds a flavour punch to it with a sweet peppery capsicum zing.
The kids chips were crispy, as were the nuggets, and came with a serve of tomato sauce. Miss 4 ate them all with no complaints (I may have sampled a couple of chips as there were lots!). As far as Miss 4's cookie goes, I could barely get a photo before she began demolishing it!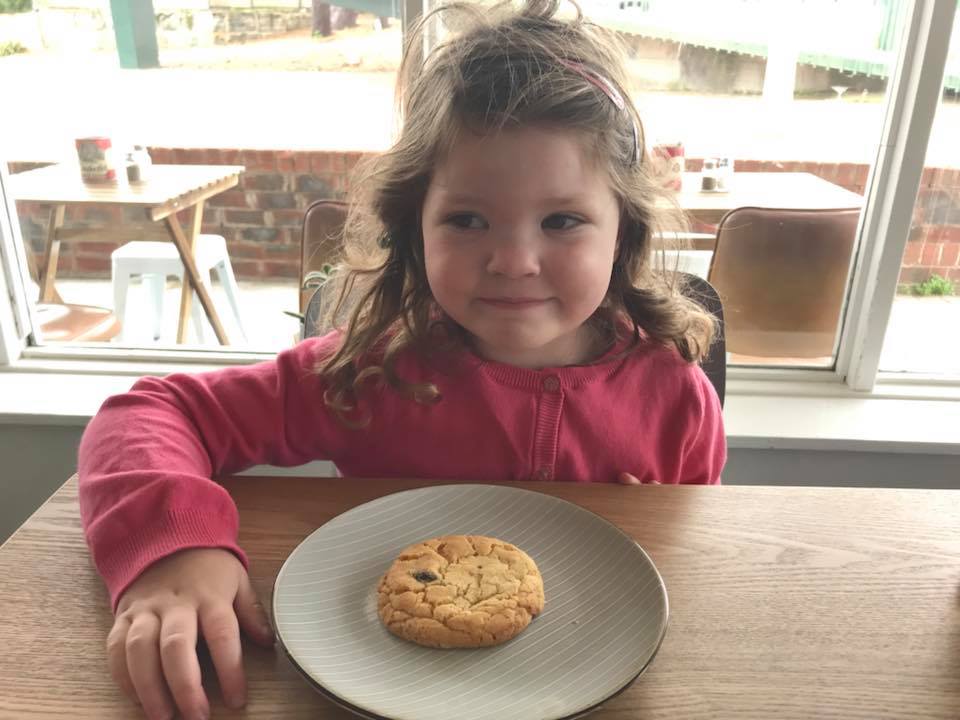 The menu items now included just for kids are chicken nuggets with chips or fried egg, bacon and toast. Both are $8. More adult options that might also suit kids or could perhaps be shared would be the pumpkin and zucchini fritters, or the toast, which comes in ciabatta, rye and fruit toast, with a gluten-free option also available. We were tempted to share a plate of French toast, which comes with a vanilla custard sauce, berry compote, fresh berries and fairy floss. But I suspect Miss 4 was only keen for the fairy floss component.
Had we not ordered a lunch, there was a range of fresh rolls, toasties, cookies, cakes and slices available from the cabinet at the counter we could have also picked from.
As well as delicious food, Little Donkey Corner serves a wide range of drinks. Choose from coffee or tea options with your choice of cows milk, soy milk, almond or lactose-free milk. Try cold-pressed juices with names like Rose, Ninja and Sunny, or maybe enjoy a mango-banana or green smoothie, or a milkshake in traditional flavours such as chocolate, strawberry, banana or vanilla.
We also found the service at Little Donkey Corner to be excellent. The staff greeted us with warm smiles, the food and drinks came out quickly and they were helpful when we had a question. The male barista was also kind enough to chat with Miss 4 and answer her questions with a smile when she came to say hello while he was on his lunch break.
Not only is the cafe friendly for little people, it is dog-friendly as well. Pooches are welcome to dine with their owners outside, and a bowl of fresh water is always available.
Little Donkey Corner is open Monday to Friday from 6.30am to 4pm, and Saturday and Sunday from 7am to 3pm. The kitchen is open from 7am to 3pm on weekdays, and 7am to 2.30pm on weekends. Coffee and cabinet options such as cookies and cake are available outside these hours.
Little Donkey Corner
Located on the corner of Lawley Street and Wanneroo Road, Tuart Hill. Parking is available on Lawley Street, behind the cafe, with limited parking bays available on Wanneroo Road.
www.facebook.com/Little-Donkey-Corner
Find more family-friendly restaurants in Perth