On the border of Como and Manning is retro-style Ley Street Cafe, with quirky crockery and mellow 90s and 00s tunes pumping on the stereo. If you're looking for somewhere different and casual to catch up for coffee or brunch, this may be the spot for you.
A colourful mural that adorns the back wall grabbed my attention when we first walked in. It's bright and welcoming. There is artwork dotted around the cafe, adding a splash of colour or humour to the decor. Recycled wooden pallets are cleverly utilised in a bench style couch along one wall, in shelving and in the cactus gardens at the front door.
The decor is a mix of 50s and 60s with retro-style chairs and tables, and a cozy sofa corner in the front window. High chairs are available for littler diners with room for a pram or stroller to pull up inside, with even more room at tables outside.

The menu at Ley Street Cafe is pretty simple, an all-day breakfast and brunch-style selection that includes avocado on toast scrambled eggs on toast, poached eggs with dukkah, and crispy chicken with sweet corn.
Drinks include the usual coffee options, chai, a selection of teas, as well as milkshakes and smoothies.
The kid's menu includes pancakes with berry compote and ice cream, cheesy scrambled eggs on toast or a cheese toastie. Each of these options is $6.
Hubby and I tried the bacon and egg sandwich, which comes with two fried eggs, bacon, thick slices of bread and a spicy barbecue sauce. These cost $14 each. The eggs came sunny side up with crispy bacon. I wasn't expecting the barbecue sauce to be slightly spicy, but it compliments the eggs and bacon nicely. All up it made for a filling bite for lunch.
Hubby had peppermint tea with his meal, which came in a sweet little teapot with a matching cup, while I had the banana and honey smoothie. The smoothie was packed with banana flavour! Hubby wasn't keen on the smoothie, and neither was Miss 3, so if you're not a big banana fan, the berry smoothie is probably a better option for you.
Miss 3 had pancakes with the berry compote and ice cream served on the side. The ice cream and compote came in sweet mini bowls, and with the large pancake, it was enough to keep her going until afternoon tea.
While we didn't find a kids play corner as such, we did find some colouring sheets available with some magazines for grown-ups, and a selection of games to play on a shelf.
Kids babycinos are also available daily for only 50 cents and come served in sweet little kid-sized coffee cups.
A takeaway menu also available. If you can't stay and enjoy the friendly service, consider grabbing a takeaway coffee and a muffin, and head to Neil McDougall Park about 5 minutes away up Ley Street.
Should you or your little one need a loo during your visit, toilets are available at the rear of the cafe. Ask at the counter for the key.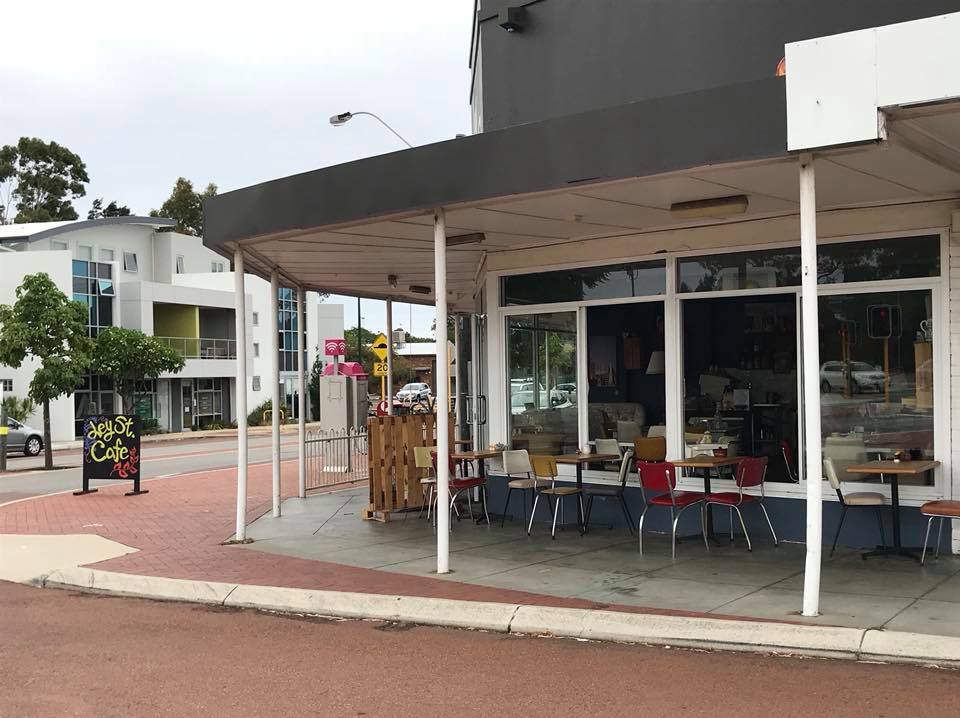 Ley Street Cafe
71 Manning Road, Como, on the corner of Ley St and Manning Road.
Open Wednesday to Friday from 8am to 1.30pm, and Saturday and Sunday from 7am to 2pm.
www.facebook.com/LeyStCafe