Kirup Kabins is located 230 kilometres south of Perth and consists of 4×2 bedroom and 2×3 bedroom self-contained cabins overlooking the 40 acre property – the view is truly amazing!

Upon arrival owner, Christine greeted us at reception, gave us a little rundown and a key to our cabin. Christine then met us at our cabin, gave us a tour and left us to unpack and settle in.
We stayed in the Flowering Gum Cabin, a 2 bedroom cabin consisting of 1 queen and 2 bunks – my two older kids were super excited they both got a top bunk!
There was a portacot and highchair already in our cabin for my 12 month old. The cabin was spacious and clean, bed linen and towels were also provided. Our kitchen was well equipped, I loved that it included plastic bowls, plates and cups for the kids!
The living area included a dining table that seats 6, comfy couches, a flat screen TV and DVD player. The small toy box was a hit. The wood fire kept us toasty and warm, and the kids loved collecting the fire wood!
Each cabin has its own verandah overlooking the farm, animals and valley, with a table, chairs and BBQ, it was the perfect place to sit back, enjoy a glass of wine and relax.
The biggest highlight was definitely feeding the animals each morning at 8.30am. There were sheep, chickens, geese, cows and Ernie the emu – who it turns out is a girl. Feeding lasted 1 hour/1.5 hours, all the animals have names, their own little stories and are very loved.
We went in the April school holidays, there were baby cows and lambs.
During feeding on the first morning Christine had hidden eggs for the kids to find (she even boiled one for my 12 month old which I thought was super sweet), Miss 6 who usually refuses to eat eggs enjoyed cooking them up (and eating them) for breakfast the next morning.
Kirup Kabins is also a licensed Marron Farm, if you are lucky Philip might show you the marrons.
While in Kirup I would definitely recommend stopping in at Lady Marmalade Cafe. The very popular Donnybrook Apple Fun Park is only a 25 minute drive away and while in Donnybrook you could leave your very own gnome in Gnomesville! If you haven't been before it is definitely worthwhile going.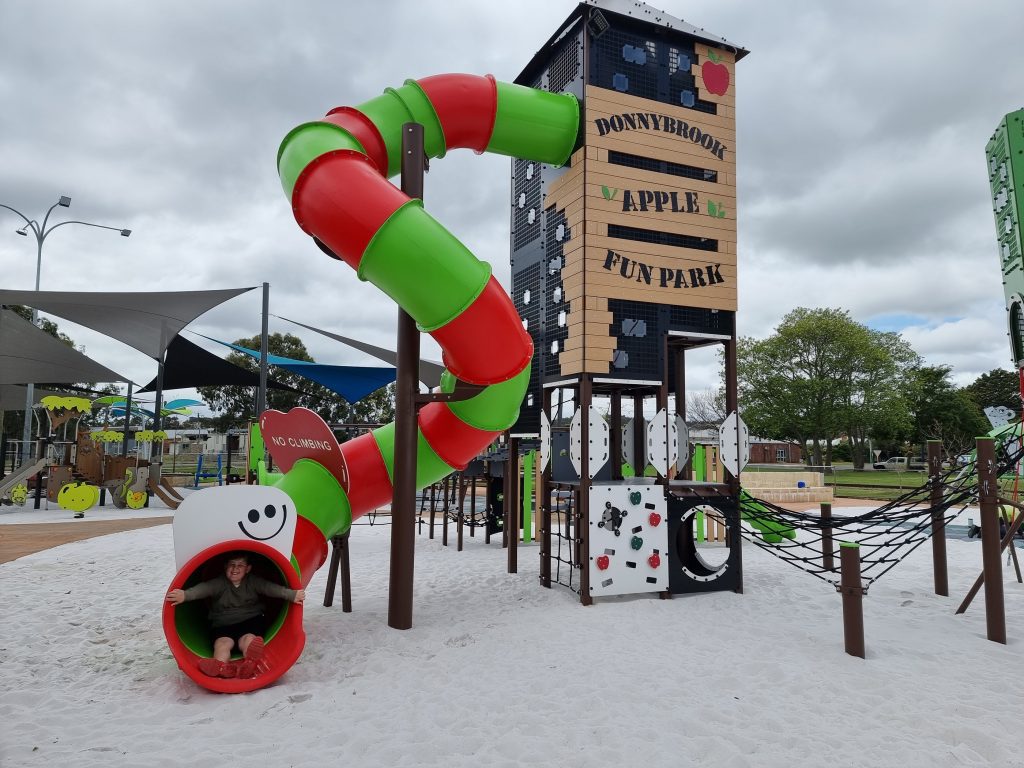 We took a day trip to Pemberton, climbed Gloucester Tree (not one I'd recommend for the kids), enjoyed lunch at Jarrah Jacks Brewery and on the way back to Kirup stopped in for a play at the awesome Manjimup Timber and Heritage Park.
We highly enjoyed our stay at Kirup Cabins, owners Christine and Philip were wonderful hosts, very friendly, fantastic with the kids, full of information and great for a laugh while feeding the animals. As we left the kids waved goodbye until next time!
Kirup Kabins is located at Lot 3, Mailman Road, Kirup. For more information contact (08) 9731 6272 or visit their website www.kirupkabins.com.au