Today Hagen had an appointment at the newly opened Paediatric Dental Practice, Kinderdental, located in Claremont. Dr. Justin Wong specialises in Paediatric Dentistry, which means he is like a pediatrician for kid's teeth. In addition to his 5 year general dental degree, Dr. Justin has completed 3 years of post-graduate specialist training focused solely on the treatment of children.
Kinderdental specializes in pediatric patients from 0-18, as well as special needs children and adults, and no referral is necessary.
Hagen had been to the dentist once before about a year ago, and let's just say it didn't go too well. He was resistant, and would not open his mouth. The dentist was kind enough, but I quickly realized that working with children was not her specialty. Hagen requires coaxing for anything new. Getting a haircut puts him over the edge… and for whatever reason, so does going to the dentist.
The days leading up to the appointment at Kinderdental, I didn't mention the word "dentist" or "teeth" or anything of the sort. I simply told him we were going to Kinderdental to see Dr. Justin's fish tank. I think it really helped to focus on something fun and interesting, and it took the anxiety out of the situation for Hagen.
A day before the appointment, the Kinderdental office called to remind us of our appointment time, which is always a good thing when you have three kid's busy schedules to keep track of.
The office was easy to find, and there was ample parking in the front and the rear of the building, where you will find the entrance.
When we arrived at the office, Hagen walked happily through the automatic glass sliding doors. The reception area was inviting, and Hagen was instantly drawn to the fish tank.
I filled out the patient information sheet while Hagen comfortably played with the toys and watched a show on the large flat screen television. I was so relieved that he didn't seem anxious, and he was actually excited to see what was going to happen next.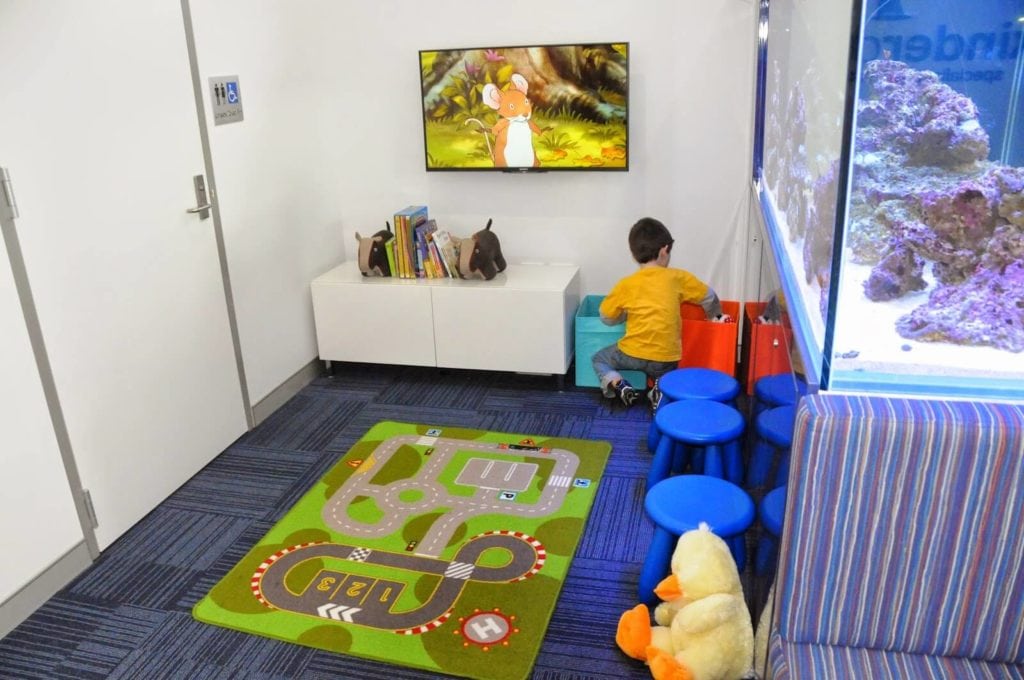 Dr. Justin Wong greeted us, and we walked through another sliding glass door to the examination rooms. Hagen warmed up to the dental nurse, Chloe, right away when she handed him a dental mirror all of his own. The dentist asked Hagen to count his own teeth with the mirror while he asked me some basic questions.
Hagen was quite reluctant at first, but it didn't take too much coaxing to get him into the dental chair once he saw the television screen up on the ceiling.
Dr. Justin was extremely flexible, and never forced Hagen to do anything. It was very clear to me that he wanted this to be a positive experience.
Hagen was most comfortable lying on my lap in the chair, so that's what we did. Dr. Justin asked Hagen to open wide like a crocodile and he used "sunshine" to look into Hagen's mouth. The dentist and nurse really worked as a team to make Hagen feel comfortable, and to make the examination not only possible, but pleasant as well.


Hagen was the commander of the dental chair and got to move it up and down by pressing the buttons. He was most amused! He was also thrilled with the toy skateboard he was awarded for allowing the dentist to count his teeth and take a look in his mouth.
It is apparent that quality of care is very important at Kinderdental, After Hagen's examination, Dr. Justin showed me around his office. It was not only aesthetically appealing, but it was state of the art as far as technology and design. I was especially impressed by the processes used to ensure clean instruments, proper air flow, and filtered water. Not something I thought a lot about before, but so very important in a dental office.
Upon leaving the appointment, I asked Hagen if he'd like to visit Kinderdental again sometime so we could get some pictures of his teeth. "Yes please!" was his answer. I'd say we hit the jackpot, and the dentist visit was a huge success. I highly recommend Dr. Justin Wong and his staff. I'll be making appointments for my other two children in the very near future!
Kinderdental is located at 263 Stirling Hwy, Claremont, WA 6010
Call to book an appointment: 08 9384 8800