Kidz Paradise, Carlisle
Closed Down
If you're looking for a play centre to entertain tots to tweens, it's worth considering a visit to Kidz Paradise, Carlisle. With play areas for little ones, a play-frame for bigger ones and a cafe for family members, this play centre is sure to tick a lot of boxes.
On arriving, Miss 5 headed straight for the slides. These are part of the large 5+ play frame. The first slide she came down was faster than she anticipated and she shot out of the end onto the mats! Not a child to be concerned for long, she bounced off onto the bouncy castle, which also includes a small slide.
This large play structure has multiple levels and multiple challenges to keep kids busy. There are tunnels and walls to climb, a rope bridge, obstacles to climb or swing over.
The bottom level includes a ballpit, a flying fox and more obstacles to navigate.
There is a separate, gated area for kids aged 4 and under. The equipment is low to the floor and includes a slide, a soft bridge to climb over, ride on toys and a puppet theatre or shop front for imaginative play. Towards the back of this section, there is even a small birds nest swing.
At the very back of Kidz Paradise, we found a basketball hoop with some mid-sized balls. This alone kept Miss 5 busy for a good 20 minutes or so trying to work out how to shoot hoops.
We also found the "Glow Zone", a tunnel in the bottom of the play structure with a black light and neon paintings. Miss 5 was a bit freaked out by the glowing alien!
Outside of the play area, we found Pac-Man and a small coin-operated merry-go-round. There was also a football table in the cafe area among the seating. So it's worth bringing along a handful or coins if your child loves these things.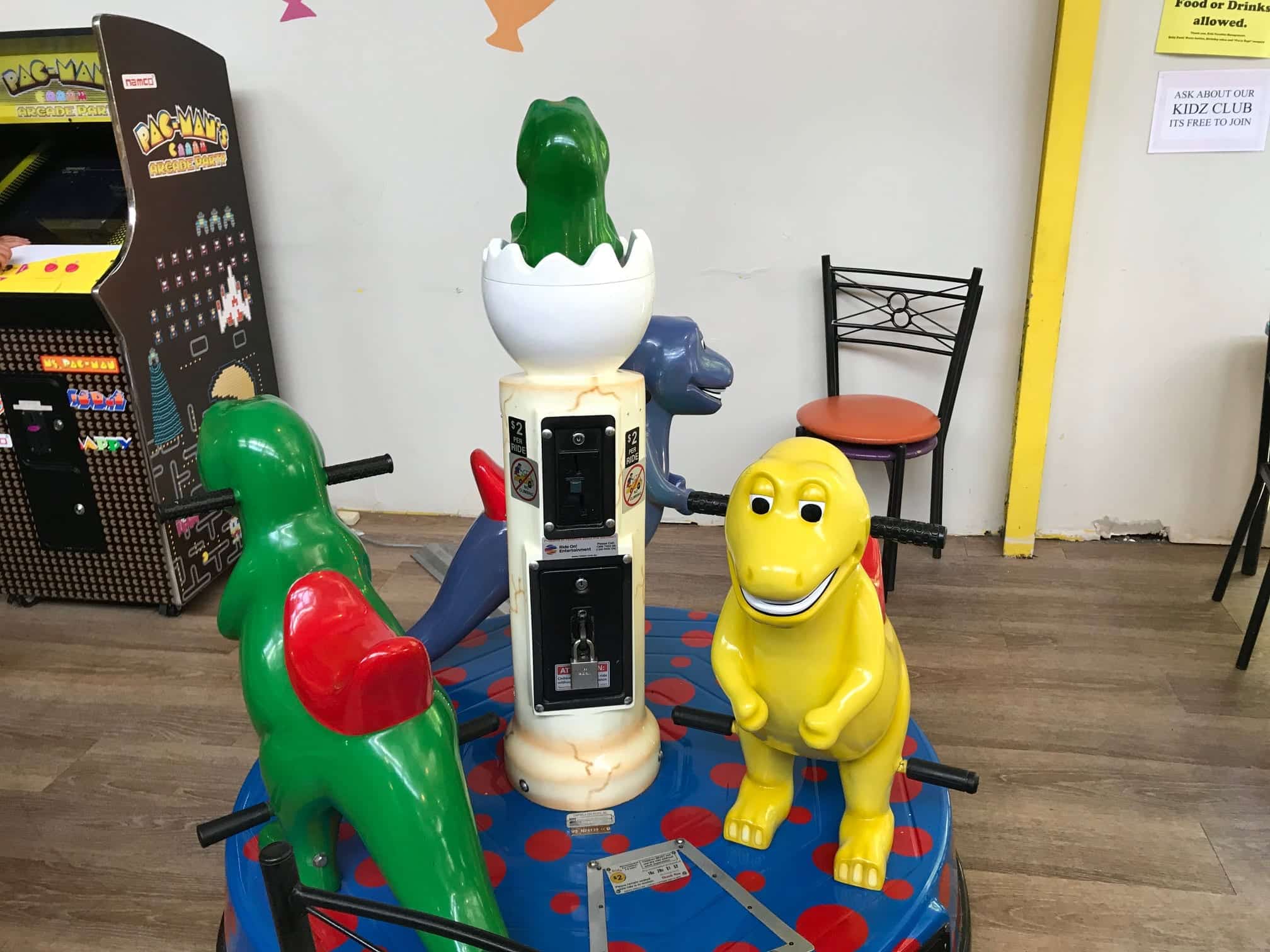 During our visit, we ordered an early lunch from the cafe. Miss 5 wanted the kids chicken nuggets and chips meal. The meal came with four nuggets and a generous amount of crispy chips. It turned out I didn't need to go back and order a separate lunch for me! We ended up sharing.
I also ordered a latte in a mug. Every coffee order comes with the option of a free babycino, which Miss 5 was happy to enjoy. The babycino came in a gorgeous mini coffee cup with a side of mini marshmallows to help fuel her play. It was all very affordable too, with our order coming to around $12.
Kids menu options at Kidz Paradise include fresh fruit and yogurt with honey, a waffle with fresh fruit and cream, and kids beef or fish burgers. Breakfast options area available all day, and include adult sized waffles, a breakfast burger or a big breakfast with all the trimmings.
Food is provided via Niro's Cafe, a caterer co-located onsite. Other meal options include light meals, salads and nibbles such as chips or spring rolls, or more hearty meals such pizza, beef or chicken burgers for example. There are also sweets and sandwiches available to choose from the cabinet by the till.
On the way out, we bought Miss 5 an ice cream. These come with the option of a cone or a cup, one scoop for $4 or two for $7. Toppings are $1 extra. I didn't get a picture of Miss 5's pink bubblegum ice cream, but needless to say it went down a treat!
In addition to providing a great air-conditioned space to play during school holidays, Kidz Paradise also hosts school holiday entertainment. The day we visited, a balloon twister arrived to help entertain the little patrons. Miss 5 was thrilled to go home with a balloon pup and a balloon unicorn. Other entertainment on the cards these holidays (January 2020) includes face painting, a magic show and a Back to School Party.
In a similar vein, the centre often hosts kids parties lead by Perth entertainer, Jelly Tots Parties Perth. If your kids love to get dance and sing or play games, keep an eye out for her fun party sessions.
If you're thinking of planning a kids party soon, there is a large party area with tables spread out towards the rear of the centre. On the other hand, the cafe area can also be cleared or rearranged for large group or to accommodate a dance floor. Sporting clubs and social groups are also welcome to book the centre for functions.
Please let the industrial setting of Kidz Paradise in Carlisle put you off visiting. I'll admit, I was a little overwhelmed by the trucks and the industrial surroundings to begin with. I wondered if I was in the right spot or had taken a wrong turn. However, the centre itself is bright, colourful and airy inside, in addition to the friendly, cheerful staff.
As with any play centre, don't forget to bring your socks! No outside food is allowed with the exception of baby food and water bottles, and parents must supervise their children at all times.
Kidz Paradise, Carlisle
Located at 179 Planet Street, Carlisle.
Kidz Paradise is open Wednesday to Friday 9am to 2.30pm during the school term, Monday to Friday 9am to 5pm during school holidays, and 9.30am to 5pm on Weekends. The centre is also open for Extended Play and Dinner on Friday and Saturday nights from 5pm to 8pm.
So, how much does entry cost?
Weekdays (exclude school holidays)
Under 1 – Free
1 to 4 years – $5
5 and up – $6
School Holidays, Public Holidays and Weekends
Under 1 – Free
1 to 4 years – $10
5 and up – $12
Extended Play and Dinner (Friday and Saturday 5pm to 8pm)
Option 1 – Purchase a family dinner from our delicious menu and kids play free
Option 2 – Play and Stay – Regular entry prices apply
​