Kalbarri Quad Bike Safari is a thoroughly enjoyable activity for the whole family, suitable for the very young and the very, very old! Located just 20 minutes drive from Kalbarri Town Centre, Kalbarri Quad Bike Safaris offers a variety of adventures from 1.5hours to full-day tours.
We chose a "mini adventure safari" suitable for kids aged 4 and up with no previous experience. Our party consisted of a 4, 5 and 8 year old as well as 3 adults (myself who had never ridden a 4×4 before!).
The mini-adventure includes a bottle of water and a biscuit snack at a halfway point and takes you through some stunning scenery and terrain along the Murchison River and Murchison House Station. We were a small group of 6 bikes plus our tour guide who was extremely patient and gave very clear instructions and guidance to everyone in the group.
The bikes are big and red…no point trying to make out I'm an expert in these things but that's pretty much all you need to know to enjoy the experience.
There are pretty much only a few things to remember to drive the bikes and we all mastered it fairly quickly.
There are helmet sizes to suit all heads and the kids thought they were hilarious!
My daughter and I decided to team up, the main driver sits up front and controls everything on the bike, quite good really – there's no way my 5 year old would be driving me around!! She was very comfortable but the kids do need to stay awake otherwise they'll just fall off! You might laugh but this has happened so make sure, if your kids are young, that they're able to stay awake for 1.5 hours of driving around. The 4 year old in our group was nodding off towards the end of the ride.
After a slow trial run out of the bike shed we were off and carefully watched by our guide to ensure we'd mastered the vehicles.
The landscape changes constantly throughout the adventure, fields of purple flowers, the river and huge rock formations.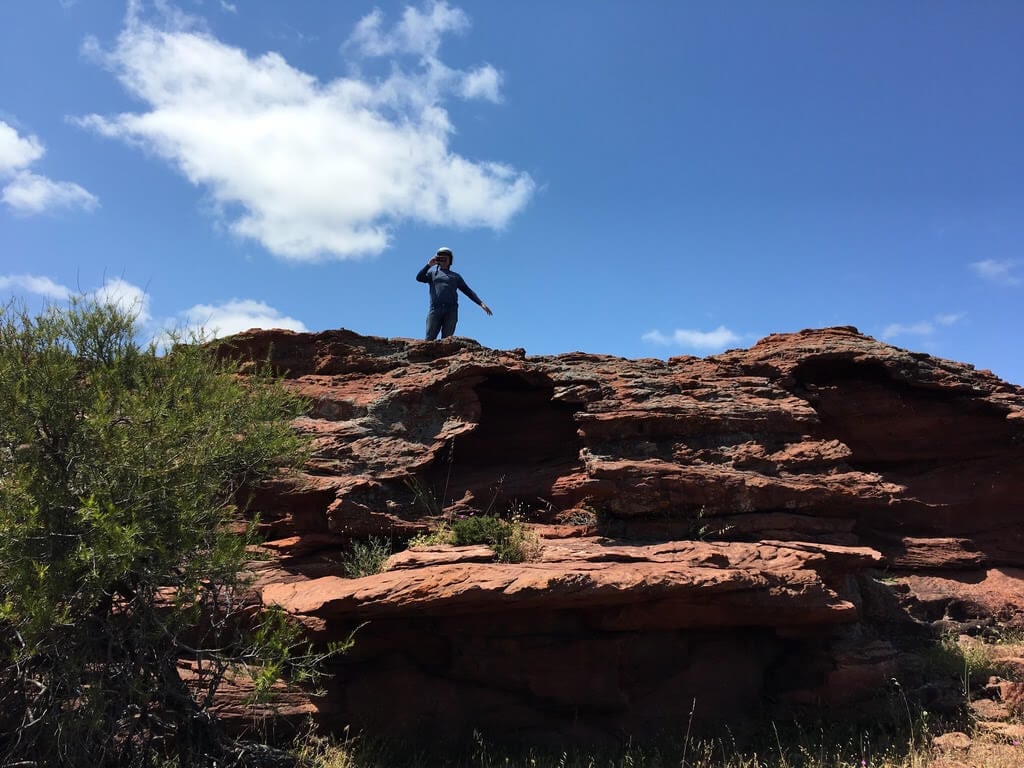 We stopped regularly to check everyone caught up and was happy, then we had a longer stop for water and biscuits. It was then we noticed a few mucky faces.
The kids had an absolute blast as did us adults, I'd definitely recommend it if you're in Kalbarri on holiday. Try and choose a day that isn't too hot, we did our adventure during the Spring school holidays so we all wore long sleeves and trousers and enclosed shoes.
http://www.kalbarriquadsafaris.com.au/
Find more things to do in Kalbarri