You may have heard of the tasty Jaffle Shack if you'd stopped by the popular spot in Geraldton. They're famous in Gero for the humble toasted sandwich, as well as excellent coffee, waffles and other tasty brunch dishes. Now we can enjoy these gourmet toasties here in Perth – they've just opened up a spot near the city! The West Perth Café has a few small tables inside, but I'd recommend sitting in their gloriously leafy rear courtyard. Order inside at the counter, and your toasted treats will soon be out.

At Jaffle shack they use one of my favourite roasts – the excellent Karvan Coffee. They also do babychinos for little ones too.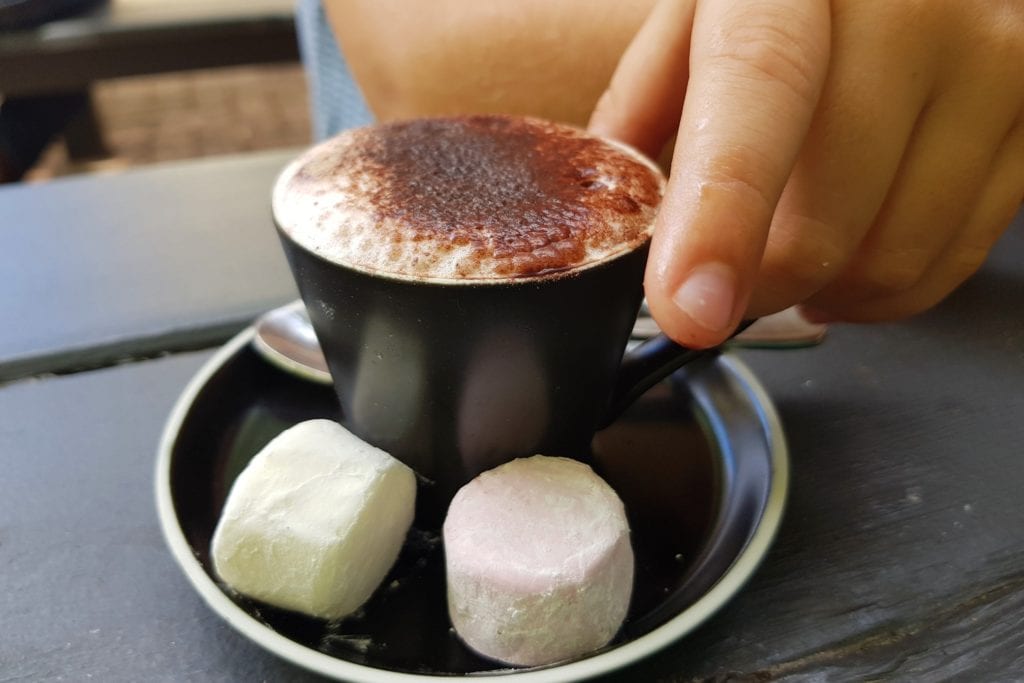 Chef and I both chose jaffles ($9 – $12). There's so many tasty flavour combos – far more than my cheese and tomato toasties I make at home! Chef's eggs benedict jaffle, filled with ham and spinach and dipped in hollandaise sauce, was very tasty. And I got to enjoy a garlic mushroom toastie, as they offer gluten free bread as an option.
While the Jaffle Shack doesn't have a specific kids menu, it does have lots of options that children will love – they do go crazy for toasted sandwiches after all! Menu items are all around the $10/$12 price point, which is about the same you'd pay for a children's meal anyway. Jaffle Shack welcomes families with high chairs and babycinos. There are toilets onsite too. Little Chef chose waffles ($12), with chocolate sauce, fresh bananas and vanilla ice cream, for his school holidays treat.
And once you have a full tummy and your morning caffeine kick, how about a browse around the adjoining gift shop, Cavania. It's brimming with all sorts of giftware to treat someone special, or yourself. I could have spent a fortune there, with kitchenware, clothes and beautiful Childrens ware.
Jaffle Shack is a great stop to grab a delicious breakfast or lunch that won't break the bank. It's close to both Harold Boas Gardens and Kings Park too.
Find 1220 Jaffle Shack at Hay Street, West Perth.
Find more family-friendly restaurants in Perth