A new cafe with a playroom?? YES PLEASE!! And even more wonderful when it's within walking/scooting distance from home. You might have seen Health Freak Cafe opening up NOR in the last few months and now it has entered the south side, in Applecross. Their slogan is "everything gluten and sugar-free", so what you get is wholesome fresh food. Their menu includes an extensive range of "Raw, Gluten-free, Vegetarian, Vegan, High Protein, Low Carb food– there is something for everyone". And they also do a special little freaks menu too.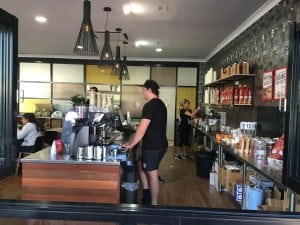 Upon entering, the little one made a bee line for the kids' corner and it is one of the most well-set up one I've seen! A huge chalk board, colouring, games, books, puzzles and even games for the older kids. They also have a little table and chairs for the kids to have their own little gathering too. There are tables near the kids' corner so you can keep an eye on the little ones and still have an enjoyable meal. They have plenty of seats both on the inside and outside too.
little freak kids menu
I decided on the Paleo stuffed kale egg white omelette and coconut water whilst the husband had the Cocowhip and fresh fruit jar and a mean and green smoothie. The little one had scrambled eggs on toast. We had a wonderful breakfast there and heaps of fun with the hungry hippo game. Thank you so much health freak for the amazing service too.
PALEO STUFFED KALE EGG WHITE OMELETTE …. $18.20
Egg whites stuffed with kale, roasted capsicum, mushroom, tomato, chives, topped with capsicum puree and fresh coriander
scrambled eggs on toast
COCOWHIP AND FRESH FRUIT JAR …. $14.95 Layered with veganola and topped with fresh mint MEAN AND GREEN …..$8.00 Apple, cucumber, celery, kale, lemon, ginger
They also offer a huge range of raw organics cakes. slices and protein balls. Heard the peanut butter slice is amazing.
There is so much to try at health freak cafe and another visit will be on the cards very soon. Already eyeing off the matcha tea Nutella protein pancakes. And how awesome does their lunch menu sound too? Their food is healthy, fresh and they certainly do not compromise on taste. A must-try! Do look out for their other branches and also more of their locations opening up. Am very extremely excited for their King's Park branch.
Health Freak Cafe, Applecross
Shop 5, 787b Canning Highway, Applecross
Mon – Tues: 7.00am – 3.00pm
Wed – Sat: 7.00am – 9.00pm
Sun: 7.30am – 4.00pm
High chair: Yes
Change facility: No