Green St. Café, Morley
Morley has a new family-friendly café, Green St. Café. With a children's menu and located close to Galleria Shopping Centre, it's a convenient spot for a coffee break or lunch with kids.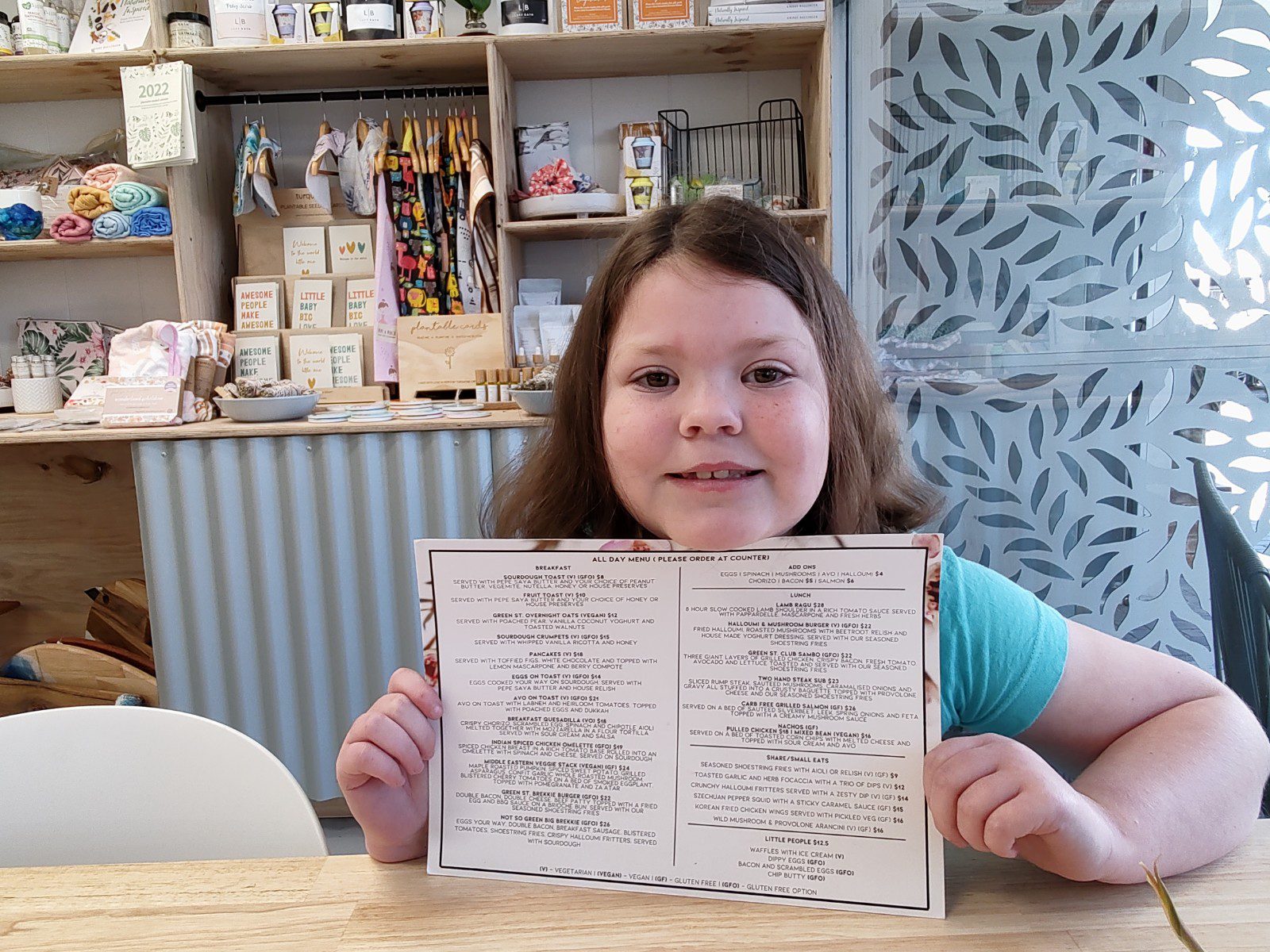 On arriving at Green St. Café, we first noticed the bright, cheery atmosphere. Large windows allow in lots of natural light. Upbeat music plays over the loud speakers. There is colourful murals and artwork on the walls, and greenery placed around the café.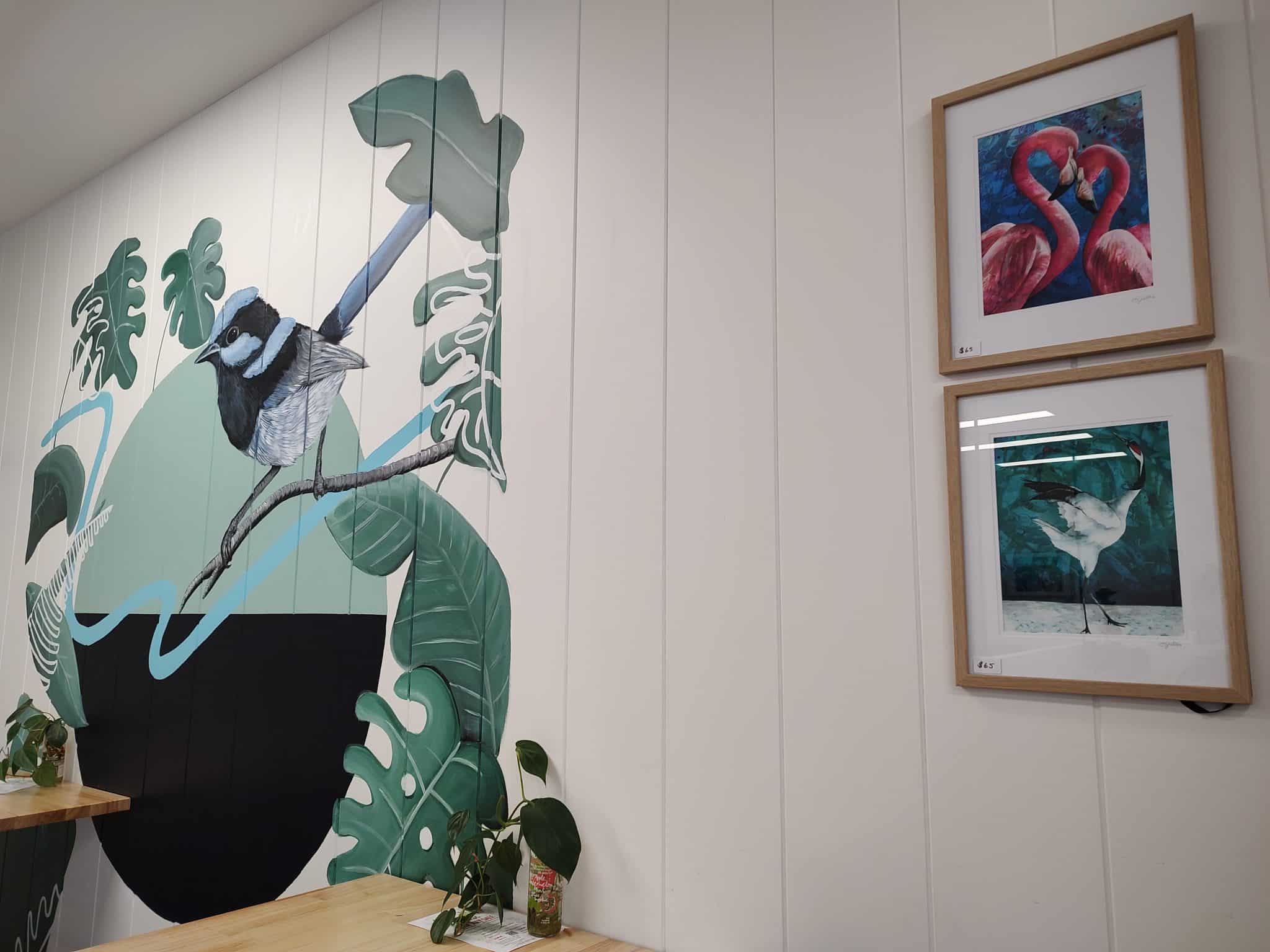 Miss 8 checked out the children's menu and chose waffles with ice cream. She wanted all the things on the side, and the friendly staff were happy to oblige. We also ordered her a juice box. For me, since I hadn't eaten breakfast before leaving home, I went with the Green St. Breakie Burger and a latte.
The kids waffles come with a golden waffle served with maple syrup and ice cream. Miss 8 had had some breakfast at home before we went out, so this was a good size for her. However, for bigger kids the adults serve of pancakes or waffles with fruit and mascarpone may be more filling.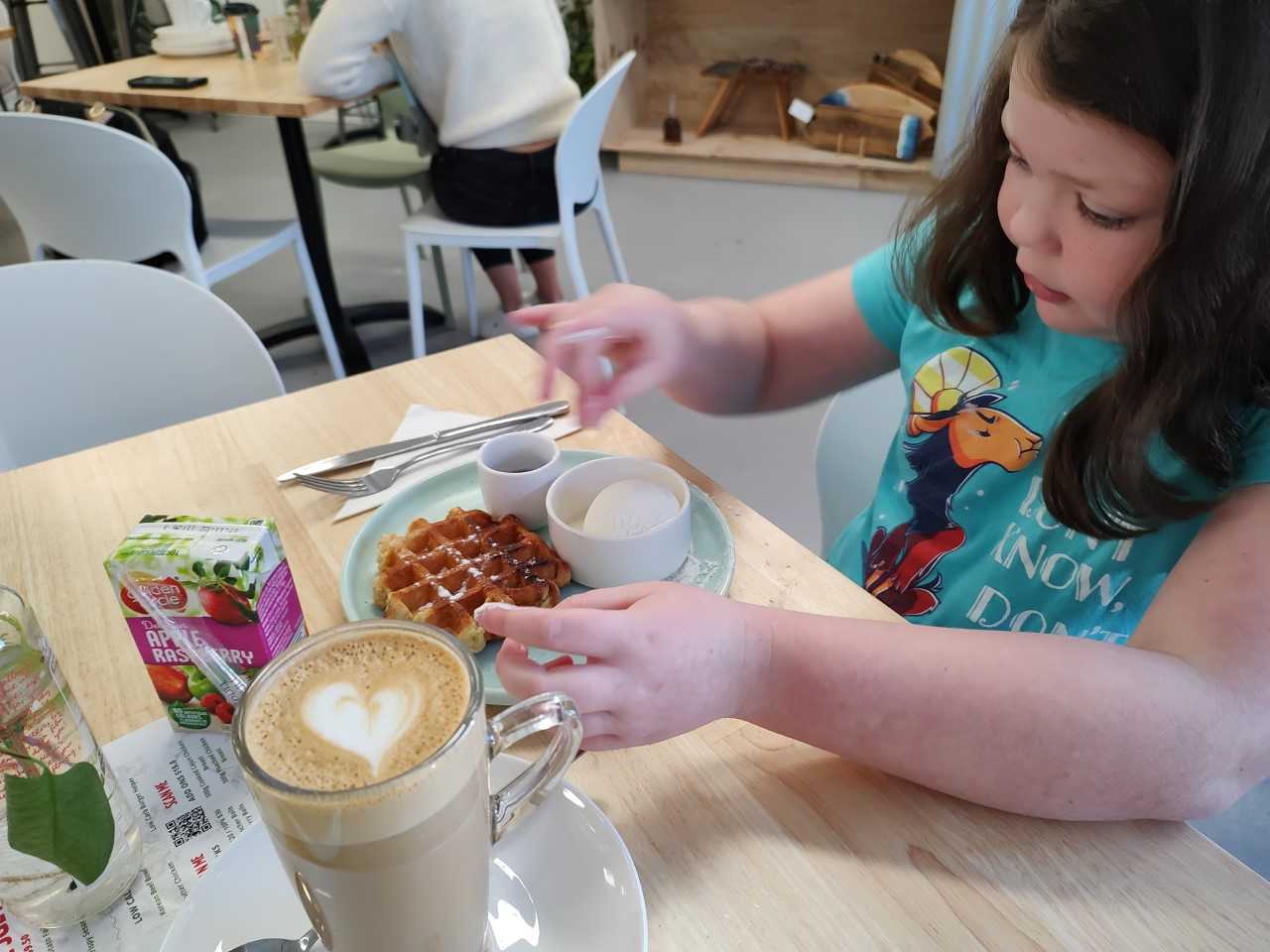 Other options on the kid's menu include dippy eggs, bacon and eggs or a chip butty. Similarly, small milkshakes are also an option on the drinks menu, or there is a range of delicious smoothies to choose from if little ones aren't feeling like a full meal.
The breakie burger was a generous serving. I couldn't finish it all! Having fries with breakfast was a bit of a novelty. The burger bun was lightly toasted, and came with a mildly spiced relish. The latte that I ordered along with it was a nice, smooth mild blend.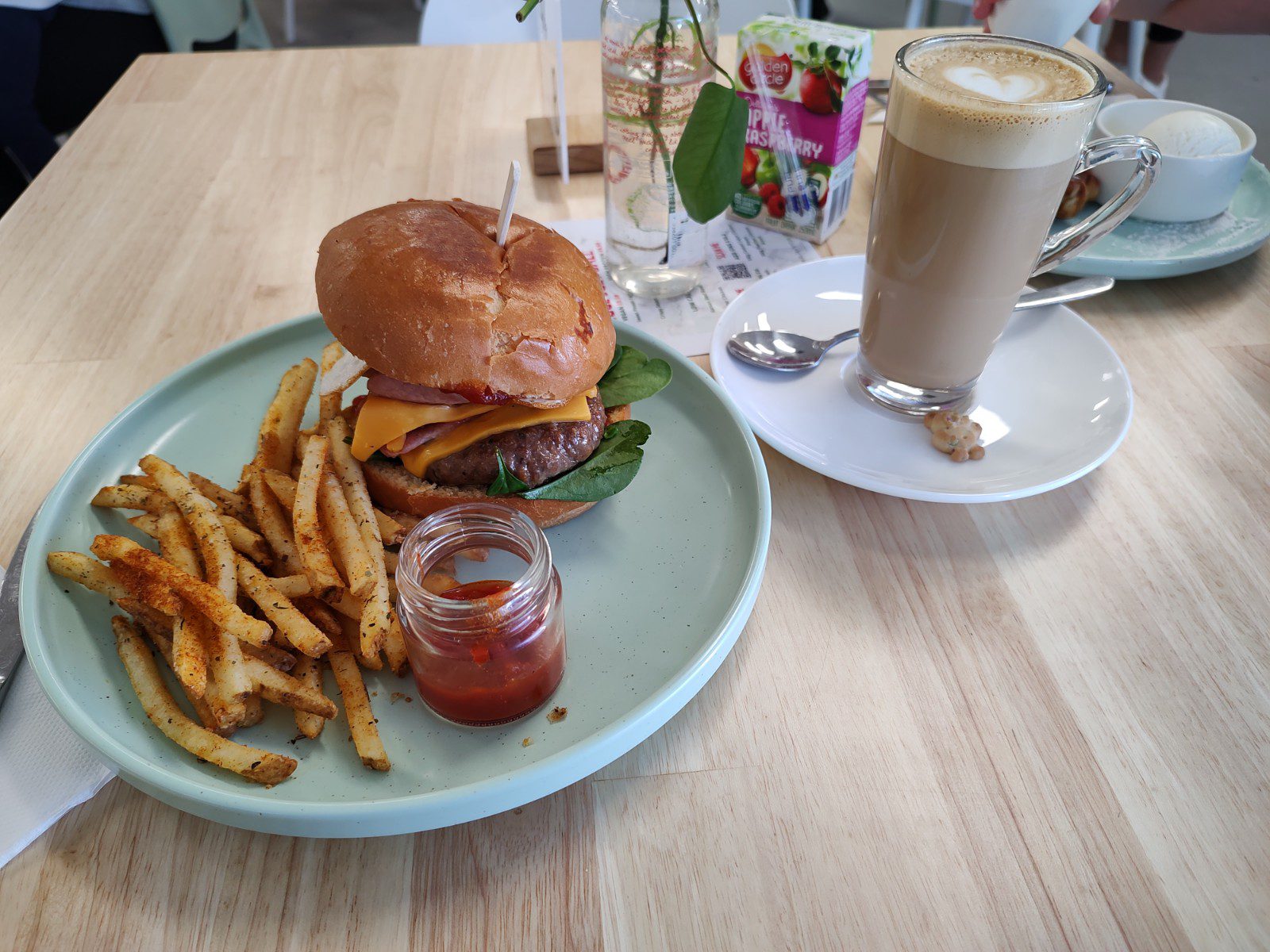 The breakfast and lunch menus have a range of tasty treats available for all tastes and dietary needs, including gluten-free and vegan options. I'm keen to try the nachos next time and my husband has his eye on the Green St. Club Sambo.
In addition to the menu options, there is a range of rolls, pastries and sweets treats in the cabinet next to the counter.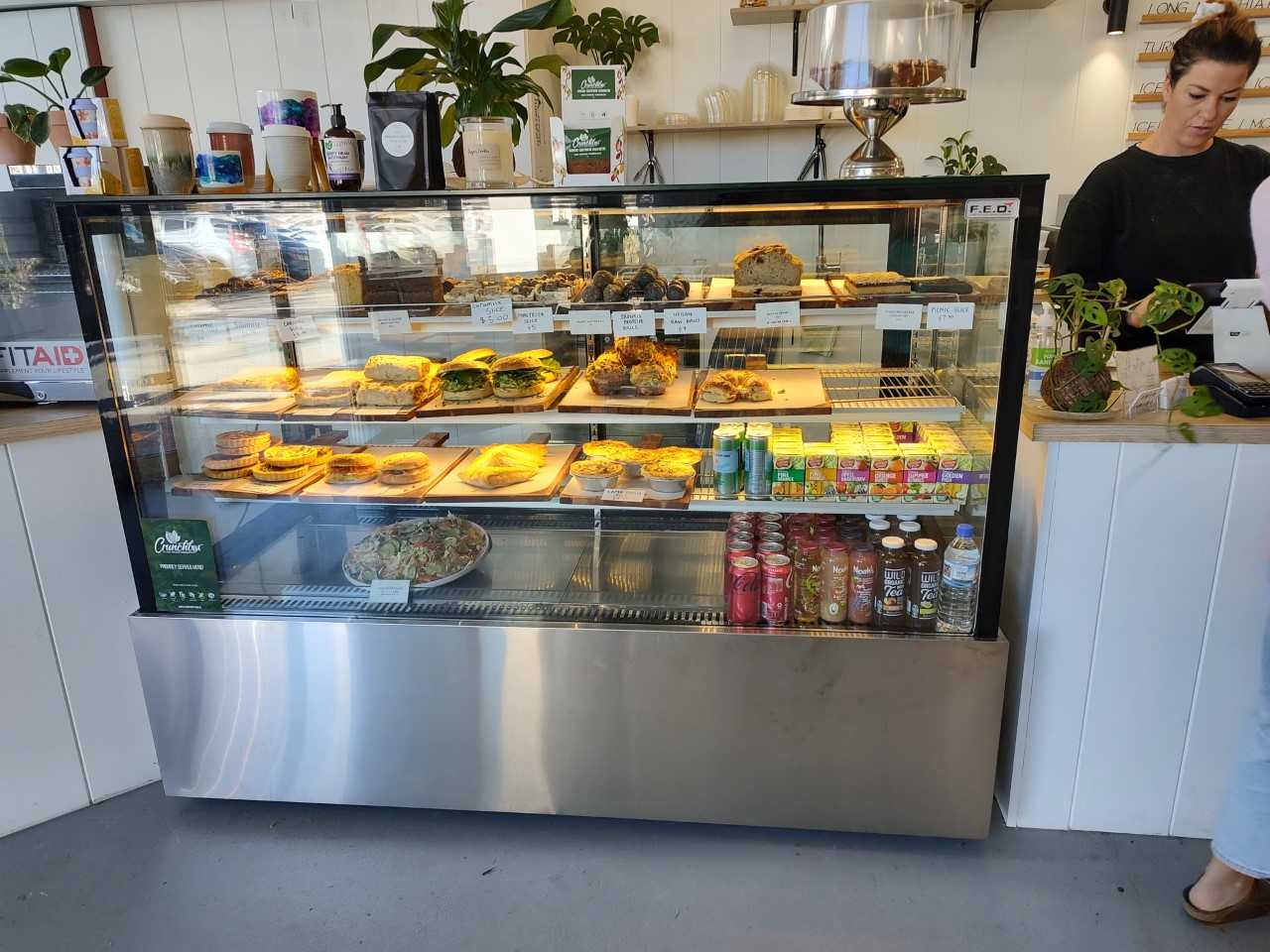 Seating is available inside the café with a small amount of seating at the front. There's room to park prams or strollers. For group bookings, the café has a meeting room with a long table big enough to seat 10 to 12 people. What's more, this room is also used for the workshops and events the café hosts.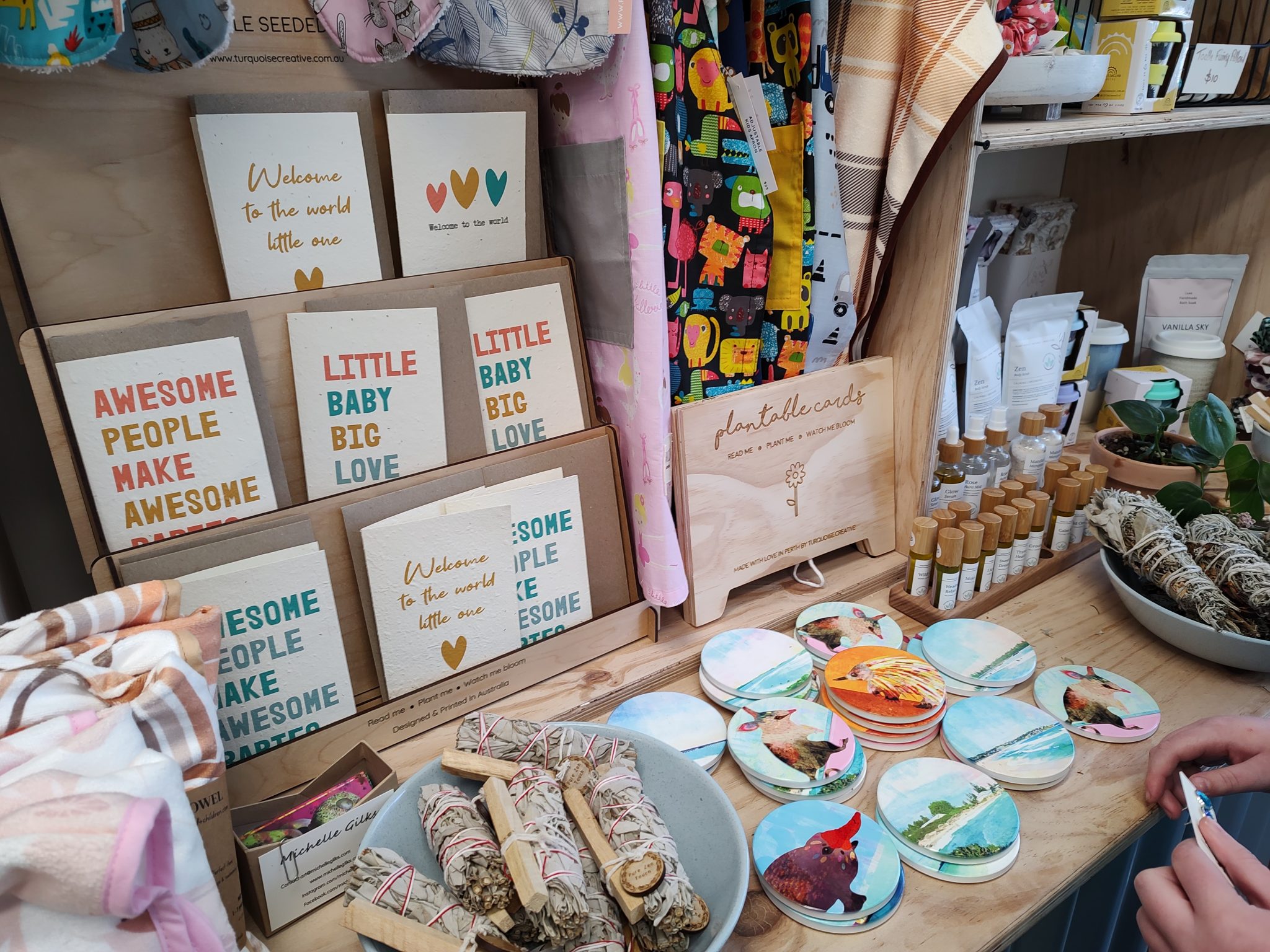 Additionally, if you're looking for gifts, Green St. Café in Morley also has a beautiful range of giftware and handmade items. For example, this includes gifts for children such as baby blankets and tooth fairy pillows. There's gemstones, jewellery, card and more. Following our meal, we spent time looking through the range. Miss 8 recently had her ears pierced, so she was excited to add a new pair of earrings for her collection.
In conclusion, Green St. Café is a lovely place to eat out with children. The food is good and, the staff are friendly and helpful. We look forward to visiting again soon.
Green St. Café Morley
Located at 8/10 Dewar St, Morley.
Green St. Café is open 6.30am to 2pm Monday to Friday, 7am to 2pm on Saturday and 8am to 1pm on Sunday.
Parking is available onsite, as are toilet facilities.