The Get Wet H20 Play Area is located at Xscape at the Cape fun park.
To gain entry you have to buy a combo ticket to the park – you cannot just pay to enter the water area however it's pretty good value when you consider all the other attractions to enjoy. Upon entry you get a wristband and you need to scan it to get into the gated Get Wet area. Children under 4 must be accompanied by an adult and have to stay with you at all times (in this instance adults can purchase a combo ticket and the 4 year old is free). You can enter and exit as many times as you like throughout the day so it's great for kids who want to have a splash and slide and then want to have a jump on the trampolines, or play some golf, before heading back for some more water fun.
There are four slides in total; two long tunnel ones that are covered most of the way, and two smaller, open ones that are suitable for smaller children.
Staff control entry to the two larger slides and they wait until each person has exited the slide at the bottom before someone else can go down so this does mean that quite a bit of a queue can form especially on busy summer days.
The play area has a long snake that the kids can crawl through (and squirts water), a water wheel, fountains, and cannons. There is also a huge 1,000-litre big tipping bucket that splashes water all over the play area every few minutes. If you are queuing for the slides, you will definitely get soaked when the bucket tips.
Unfortunately, there is no small paddling pool for little ones and there are no seats or pool lounges inside the area. There is also no soft flooring – the ground is concrete so although it's not slippery, it may cause some bad grazing if children fall over. There is also not a lot for children under 4 unless they want to go down the slides with you – our little one got a bit frightened by the tipping bucket and slides and wanted to get out. But obviously, there are plenty of other things to enjoy in the park and if you have younger ones who just enjoy standing under a fountain then they will love it.
Our almost five year old had a ball as none of the slides were 'too big or fast' and he could easily get around. It could potentially get boring for older kids – my husband found the slides a little slow and had to get a bit of a run-up and 'push'. And with only four slides to go on, it's not an area you would stay in for hours.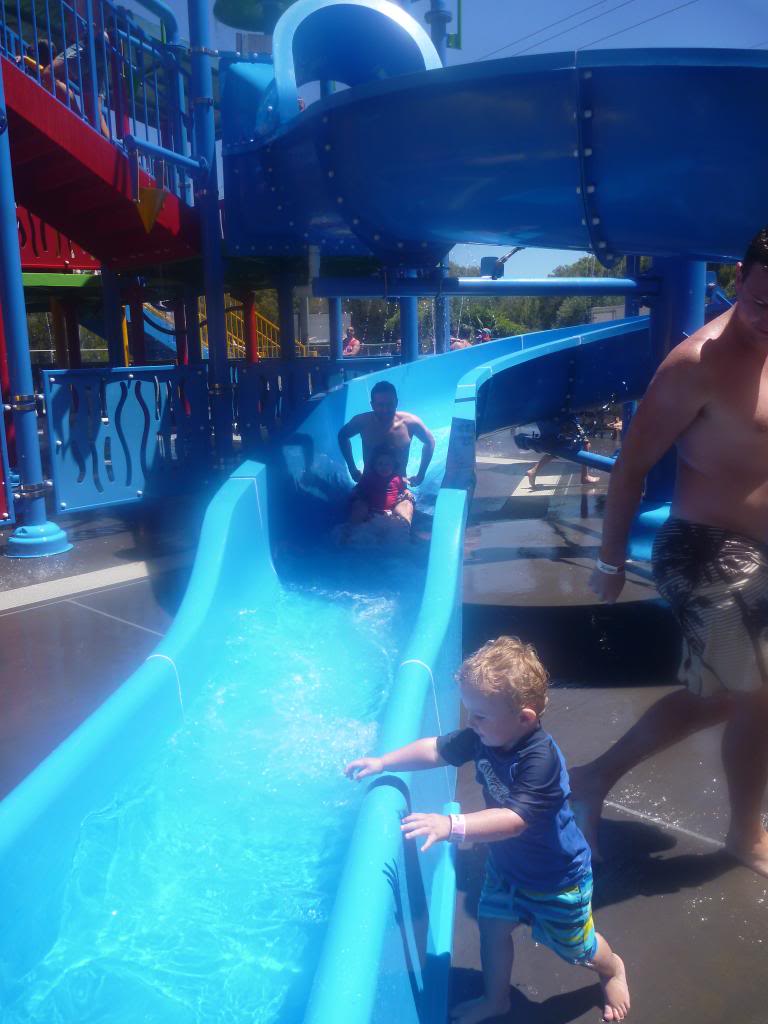 Outside of the area, there is a large grassed area with lots of tables and chairs. They also have sun cream and insect repellent at the front desk if you forget to bring some.
Find more things to do in Margaret River