Frisch and Barć opened its doors a couple of months ago and its proven to be a big hit. We managed to pay them a visit for breakfast one day before heading to the zoo. It is conveniently located along canning highway in Como, South Perth. Easily identified by their iconic 'fly' logo.
When we got there, there were a couple of people before us waiting for a table. A lady came up and promptly took our names down and we waited outside till our table was ready, which wasn't that long after all.
Orders are taken at the counter. While I was lining up, these gluten free cakes caught my eyes and boy do they look good, especially the one with the syringe filled with salted caramel goodness (from the gluten free table).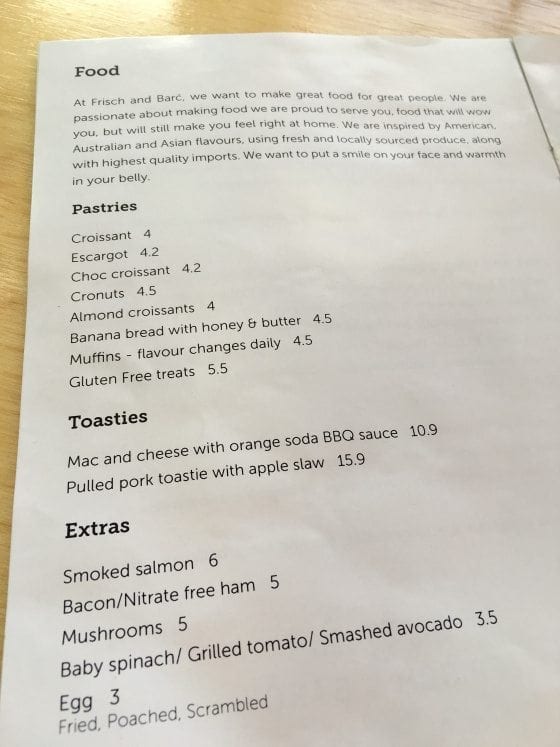 All parents will probably recognise where their table number picture comes from, good talking point with the kids. We ordered out usual coffees but instead of a babycino for the little one this time, we ordered the hot chocolate with toasted marshmallow on the side. It was heavenly. Skip the babycino this time and treat your little munchkin to this.
Hot chocolate with toasted marshmallow.
Little one's scrambled eggs on toast.
Their signature Brioche french toast. Coconut and pandan custard, berry and apple compote with crushed pistachio.
Apple and pear bircher muesli with yoghurt, toasted coconut flesh, freeze dried lychees and mix berry compote.
Our meal was very satisfying. Service was very friendly and accommodating. We will definitely be back and this time I've got my eyes set on the Singapore chilli crab omelette.
Frisch and Barć
297 Canning Highway, South Perth
Tues – Sun: 7am – 3.30pm
Closed monday