Freedom Fairies Birthday Parties – my daughter is a big fan of anything Frozen so for her 3rd birthday we chose a Frozen theme and we had Queen Elsa from Freedom  Fairies provide the entertainment for the children. They have a number of different themes you can chose from including Twinkle Time, Fairies in your Garden and Frozen Fairies. The Frozen Fairies package includes face painting, games and a gift for the birthday child and runs for 1.5hrs. You can modify packages to suit what you want included, how long to run for and number of children.
Queen Elsa arrived 30 mins before the party was due to start and used this time to set up her props and get to know the birthday girl. Queen Elsa was in character from the minute she knocked on the door and as she was setting up talked about her sister Anna and Arendell. As she set up the props she explained to The birthday girl what they were and how they were going to be used so we knew what to expect when the guests arrived.
We set up in our garage area as it was a sunny day and this area is shade, has enough space for games and parents could sit nearby and watch.
Once Queen Elsa was set up she put on songs from the movie and sang and danced with the birthday girl until the guests started to arrive. By the time the guests arrived the birthday girl had gone from a little shy to best of friends with Queen Elsa. This "getting to know you" time gave me a chance to finish organising the food and decorations.
The guests arrived straight into the party area and Queen Elsa picked up names of the little ones as I greeted them and started including them straight away by welcoming them and giving them a dancing prop.
Once a few children had arrived Queen Elsa started to move everyone into a circle for more structured dancing and games.
A favourite was Flying Olaf where Olaf was placed on a circle of material and we had to try and make him fly. The kids (big and small) really enjoyed this one.
Then it was time to move on to the grass and have some races and play Frozen (statues). Queen Elsa has a number of games and can adjust to the ages and abilities of the children at the party. At one point she started a game, realised it was a little above the children and adjusted to suit very quickly.
After the games, she painted a number on each of the children's hand and that was their number in line for face painting. While Queen Elsa did the face painting the children had some food, played or asked Queen Elsa all about Arendelle. She did a lovely Frozen crown on the birthday girls face and other designs requested include Peppa Pig, a giraffe, spider and flower chains.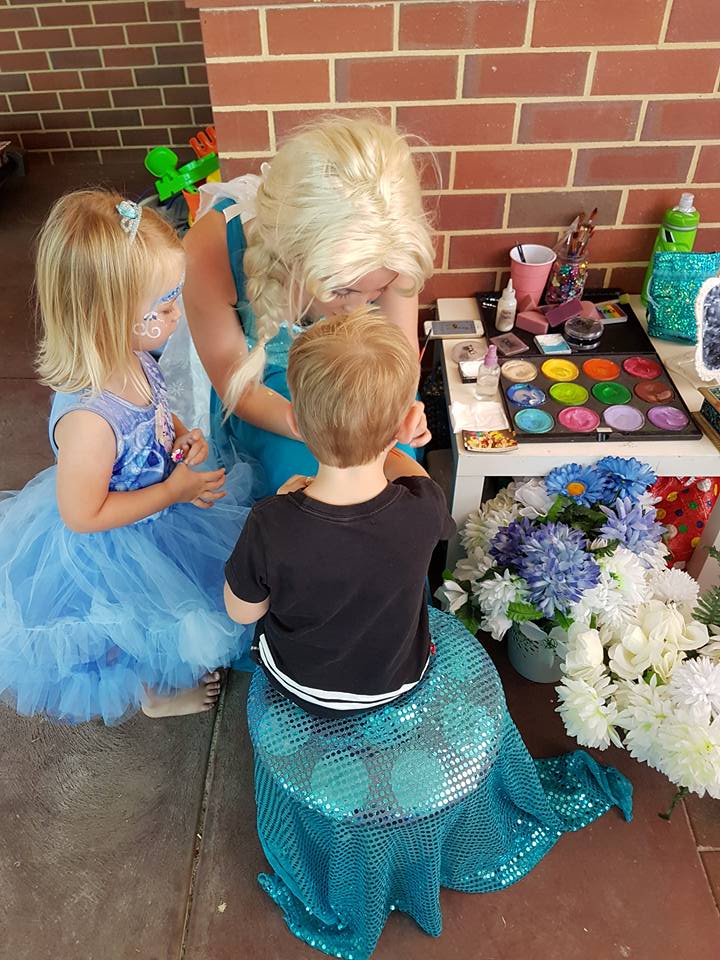 It was nearly time for Queen Elsa to leave so she got all the children together in a circle again and they did a group fairy wish involving each child getting a handful of confetti, saying a special wish and throwing the confetti in the air. Then they were all given a special wishing stone and the birthday girl was given her special wand.
At this point, we moved the party inside to do the cake and left Queen Elsa to pack up.
The party was a huge success with the birthday girl, guests and best of all with me. I organised decorations and food but all the entertainment and main portion of the party was managed by Queen Elsa which meant I could interact and talk to the guests and enjoy seeing the birthday girl having fun.
Decorations and loot bag supplies for a Frozen themed party are easy enough to source from places like Spotlight and Big W. A Google search provided plenty of ideas on Frozen themed food and Kakes by Karen did a great job of interpreting the birthday girls birthday cake design requests and proving a beautiful cake.
If you are looking for an entertainer for your child's party I would recommend Freedom Fairies, our Queen Elsa was great with all the children and made the party a breeze.
www.freedomfairies.com.au/frozen-fairies/
www.facebook.com/Kakes-By-Karen