Events in November – if you're looking for family-friendly events and activities for the month of November, then Buggybuddys has you covered with a list of events that is bound to have something to interest everyone.
Kaleidoscope Festival 2018
Thursday, 1 November to Sunday, 4 November, 5pm to 10.30pm
Joondalup City Centre, Joondalup
WA's world-class light & illumination festival is BACK for its biggest & brightest year yet!
KALEIDOSCOPE returns to illuminate Joondalup City Centre for its third year with an awe-inspiring array of electrifying installations, live performances, mouth-watering food & more from Thursday 1 – Sunday 4 November 2018.
Over four magical evenings, Joondalup City Centre will transform into an interactive, living & breathing entertainment hub – the true vision of a 'Future City'.
MUSIC + FOOD from 5pm // LIGHTS ON from 7:30pm-10:30pm.
KALEIDOSCOPE is a FREE, family-friendly event welcoming all to experience the wonders of illumination!
Don't forget to use #Kaleidoscope18 on all your festival snaps!
LIGHT | ART | FOOD
www.kaleidoscopefestival.com.au
www.facebook.com/events/534984876914294/
Big Light Out
Friday, 2 November, 6.30pm to 9.30pm
Garvey Park, Fauntleroy Street, Ascot
Join us as the sun goes down and watch Garvey Park come alive and burst with colour, light and sound!
This event will see local artists and designers use modern technologies to indulge the senses and create an illumination like no other.
Big Light Out will take you on 'A Twist through Time' and explore the best music of the decades with a laser, light and effects show that is sure to leave you awed.
Why not join us for an evening of brightness, feast from one of the quirky food trucks, take a spin on a carnival ride, and relax in the park which will be glowing for this event.
With a jam packed line-up of entertainment and interactive art installations, be ready to be amazed with a BIG LIGHT OUT to launch the 2018 Let's Celebrate Festival.
This event and its activities are FREE and no tickets are required.
Costs only apply to purchasing food and beverages from the food trucks.
www.facebook.com/events/242652506430693/
Little Fish Big Fish Perth Launch – Halloween Spectacular
Saturday, 3 November, 2pm to 5pm
Bar1 Night Club, Shop 58 Southside Drive, Hillarys
Perth! Halloween like you have never had it before! Big Fish Little Fish is getting its spook on and heading to Perth for a Family Rave unlike Perth has seen before.
Binary Finary are your DJ Duo, Dr. Jekyll and Mr Hyde bringing a set filled with classic rave and classic trance anthems.
Bar1 (formally Scion) at Hillarys is the nightclub where we get our scare on. There is a big car park directly outside the nightclub to park your broomsticks.
What can you expect?
Quality tunes: trance/prog/house/rave/classics.
Multi-sensory dancefloor, bubbles, giant balloons and parachute dance finale
Licensed bar
Free temporary tattoos and glowsticks
Craft tables with giant mural and themed crafts
Play area and baby chillout space with mats and soft-play ball pit
Who should come?
For families with younger children (8s and under) though all ages are welcome. Adults are not admitted unless accompanied by a child. A max of 3 children per adult. If there are more than 4 adults per child in your group please email ozinfo@bigfishlittlefishevents.com for pre-approval before buying tickets.
Please event details for terms and conditions.
https://www.facebook.com/events/330299777537342/
Pop Up Market
Saturday, 3 November, 3pm to 9.30pm
Northlands Shopping Centre, corner Wanneroo Road & Amelia Street, Balcatta
We are super excited to bring you a special POP-UP MARKET at Primewest Northlands featuring some of Perth's best handmade local creative designers of gift wares, clothing, accessories and more! We'll create a market vibe with live music and provide something fun for the kids too! Expect a vibrant atmosphere with FREE face painting for the kiddies – ALL while you shop for something unique! COME JOIN US for this wonderful opportunity to support local business and snap up something special from a central location.
https://www.facebook.com/events/485679765232865/
MORE…Events in November
Diwali Mela 2018
Saturday, 3 November to Sunday, 4 November, 3pm to 9.30pm
Claremont Showgrounds, 1 Greylands Avenue, Claremont
Smoke-Free, Alcohol-Free Family event. Spectacular Fireworks display at 8:30pm. All are welcome.
Diwali Mela will have a number of food stalls serving authentic Indian snacks and a wide variety of dishes. The non-food stalls consist of traditional Indian dresses, Henna, Banking and Mortgage services, Spiritual stalls and display of a number Indian small entrepreneurs.
The cultural programs include live bands, songs, dances and performances for all ages. Stage performances include Indian and multicultural artists.
Buy tickets at: www.premiertickets.com.au/event/diwali-mela-2018/
https://www.facebook.com/events/367116743742206/
2018 Make Smoking History Canning Show
Saturday, 3 November & Sunday, 4 November
Cannington Exhibition Centre & Showgrounds, corner Albany Highway & Station Street, Cannington
This year the 'Make Smoking History Canning Show' is proudly sponsored by Healthway promoting the Make Smoking History message.
Join us for Show days consisting of a full fun sixteen hour stage show, roving entertainment, a variety of stalls, LIVE onsite broadcast with HeritageFM 107.3 and a large sideshow with games, rides and showbags.
FIREWORKS SPECTACULAR 9PM FRIDAY.
Saturday the Show rolls on with exhibits put on by the local community, stilt walking fun, face painting, petting farms and an array of activities and demonstrations for the whole family. The Show concludes Saturday night with 'LIVE AT THE CANNING SHOW' brought to you by City of Canning – featuring: Adam Hall and The Velvet Playboys, The Bambuseae Rhythm Section and The Merindas.
Adults $11.00
Aged Pensioners $5.00
Kids under 16 FREE
Open Friday 2nd November from 5pm until 10pm.
Open Saturday 3rd November from 9am until 10pm.
https://www.facebook.com/events/308084279776824/
Karla-k Koorling, Come to the Fire
Saturday, 3 November, 6pm to 7pm
Fleet Street, Fremantle
As the sun sets over the Indian Ocean we will light fires to bring together the people of Fremantle. Between the river and sea we will gather, the fires will light the way, keep us warm and centre our community stories.
Each fire will host a performance of song, spoken word, puppetry or dance. You are invited to wander the fires enjoying the elements and the voices of Fremantle.
https://www.facebook.com/events/278842562838495/
Seaside Scavenge
Saturday, 3 November, 9am to 1pm
Omeo Park, Socrates Avenue, North Coogee
Seaside Scavenge is a waterway clean-up and clothes swap event where the litter collected becomes the currency to purchase quality pre-loved clothes, books and more, that have been donated by the local community.
We promote an awareness of single-use plastics, its impact on our marine environments and also focus attention on the impact of the fast-fashion industry alongside local musicians and green groups.
Save the date for this fun and free event.
https://www.facebook.com/events/2168459883194939/
Little Hands Festival: Kidchella!
Sunday, 4 November, 10am to 2pm
Tompkins Park, Canning Highway, Alfred Cove
Bring the kids and join us for our free, family event at Tompkins Park on Sunday, 4 November 2018 from 10.00am to 2.00pm.
There will be arts and crafts activities, amusement rides, kids DJ, glitter tattoos, face painting, bouncy castles, giant bubbles and plenty of food trucks to take care of hungry tummies.
Community safety will be interwoven throughout the festival, with Constable Care making a visit along with other community and safety groups manning information stalls. The kids can even climb aboard a police car and a fire truck complete with sirens and flashing lights.
https://www.facebook.com/events/693293284373278/
Lakeside Markets at Adventurescape
Sunday, 4 November, 9am to 12pm
Adventurescape, Inlet Boulevard, South Yunderup
Come join us at the Adventurescape Playground in Austin Lakes for our Monthly Lakeside Markets.Nestled amongst the parklands and the gorgeous lake our markets bring you an amazing range of friendly local stallholders showcasing a great variety of wares. From gorgeous handmade creations, to homewares, gifts, experiences and everything in between you are sure to find something that takes your fancy. We also have some amazing foodies and that all-important coffee available.
For those wanting to increase their fitness levels we also have boot camp to get that heart pumping.
Children's activities and the amazing park round out your Sunday morning, what a great way to start the day.
https://www.facebook.com/events/128726237976783/
Perth Hills Health and Wellness Expo
Sunday, 4 November, 1pm to 5pm
The Lesmurdie, corner Lawnbrook & Boronia Roads, Walliston
The Perth hills health and wellness providers have come together to showcase and educate the public on the many local services available to meet your needs.
Free entry
Free food
1 free drink on arrival
Aerial Yoga
Cute and cuddly animal therapy
Demonstrations
Open discussions and informative talks by keynote industry speakers
Samples
and prizes
Proudly supported by the City of Kalamunda and Echo newspaper.
www.facebook.com/events/2176585665917654/
Fremantle Leisure Centre Family Fun Day
Sunday, 4 November, 11am to 3pm
Fremantle Leisure Centre, 10 Shuffrey Street, Fremantle
Join the fun and excitement at Fremantle Leisure Centre's family pool party! There will be land and water inflatables, entertainment and activities for everyone.
Highlights:
– Live music by Fhloston Paradise
– Award-winning magician James Sleight
– Pop-up basketball court
– Land and pool inflatables
– Buster It's All About Play
Tickets $2 payable at the event.
www.facebook.com/events/381075289379785/
Act-Belong-Commit Swan Festival of Lights
Friday, 9 November to Sunday, 11 November
Supreme Court Gardens, Barrack Street, Perth
Act-Belong-Commit
Swan Festival of Lights | Outdoor Festival
Free entry: From 4.30 pm
Supreme Court Gardens
Celebrate Deepavali together by the Swan River with friends and family. Enjoy delicious food & beverages by Annalakshmi, watch dance and music performances by local and international groups, including Kabir Café, participate in arts, crafts and workshops, take the kids to fun rides/activities, take a tour through Tamil Nadu and end the evening with fireworks. A family friendly, smoke and alcohol-free event.
https://www.facebook.com/events/2057742847873376/

Little Creatures presents BeerFest Fremantle
Friday, 9 November to Sunday, 11 November
Esplanade Park, Marina Terrace, Fremantle
AUSTRALIA'S BIGGEST ALFRESCO BEER FESTIVAL IS BACK!
What happens when two iconic Fremantle institutions come together?
Announcing the biggest and boldest 2018 Freo Beerfest to date – presented by Fremantle's most iconic local Brewery – Little Creatures.
A full weekend, jam-packed with 50 Western Australian signature Craft Brewers, Cider Makers and Distillers brewing exclusive highlight festival brews just for you; perfectly complimented by WA's most decadent local street food.
A comprehensive range of beer & food matching, cooking demonstrations and craft beer master-classes; and a dedicated Live Stage packed with iconic live music and DJs, live comedy and roving performances.
Fremantle BeerFest will cross all boundaries, delivering the only craft beer and cider festival with a totally local, Western Australia focus and the most exclusive, farm-gate to Freo range of WA craft beers, ciders and premium spirits.
Your General Admission Ticket Includes:
Interaction with the largest range of WA Craft Beers, Ciders, Rum, Whisky and more, along with an exclusive hands on experience with WA producers!
FREE, reusable and dishwasher-safe BeerFest Festival cup.
LIVE entertainment (Look out for entertainment schedule closer to the festival date)
Master-classes, live demonstrations and tastings
Live music
Live comedy
Kids entertainment and activities
Tickets are essential and can be purchased here.
https://www.facebook.com/events/828473320695565/
Fusion Festival
Saturday, 10 November, 3pm to 9pm
Mills Park, Brixton Street, Beckenham
The City of Gosnells is proud to present its annual multicultural celebration, the Fusion Food and Culture Festival presented by Act-Belong Commit.
An exciting fusion of diverse cultures brings Mills Park to life with global arts and crafts, live multicultural performances, children's activities, a youth zone, carnival rides, tasty food and a spectacular firework display.
https://www.facebook.com/events/951472465054233/
Act-Belong-Commit Bonjour Perth Festival 2018
Saturday, 10 November & Sunday, 10 November
Market Square Park, Haydn Bunton Drive, Subiaco
Act-Belong-Commit Bonjour Perth Festival presented by See Subiaco is WA's only French festival which brings together the French-speaking world for the Perth public to enjoy and discover.
The food, the wine, the fashion. Act-Belong-Commit Bonjour Perth Festival shines a light on French culture, art and style for one dazzling weekend of entertainment on Saturday and Sunday 10-11 November 2018 at Market Square Park, Subiaco.
➩ FAMILY-FRIENDLY / DOG-FRIENDLY EVENT
➩ EASY ACCESS WITH PUBLIC TRANSPORT
➩ PARKING OPTIONS AVAILABLE IN SUBI
Opening Hours:
Saturday 10 Nov » 10am – 6pm
+ La Soirée 6pm – 9pm
Sunday 11 Nov » 10am – 6pm
This is a ticketed event. FREE for kids under 12.
$5 for one day / $7 for the weekend.
https://www.facebook.com/events/412440589255056/
more….events in November
Ellenbrook Twilight Markets
Saturday, 10 November, 4pm to 8pm
Rainbow Waters Playground, Library Avenue, Ellenbrook
Our new and exciting community markets!
A stunning venue where we hold the Ellenbrook Roadside Eats
Rainbow Water park surrounded by lawns and loads of room to kick a footy or just sit and enjoy free live music and the Ellenbrook Lions Club Train (small donation requested).
https://www.facebook.com/events/1924783034247143/
Polka Dot Vintage Markets
Saturday, 10 November & Sunday, 11 November, 9.30am to 4pm
Claremont Showgrounds, 1 Graylands Road, Claremont
It's a HUGE 2 day Market for lovers of "ALL THINGS VINTAGE"
• The Polka Dot Vintage Market will be happening as part of the -3 in 1 Market @ SHOWGROUNDS
• Over 300 INDOOR Market stalls
• Browse stall upon stall of Girls & Guys genuine vintage & retro clothing & accessories, mid-century, retro & kitsch collectables, vinyl records, vintage jewellery, vintage inspired and up-cycled wares, retro furniture, preloved designer fashion, handmade wares and gourmet goodies.
• Win $2,000 CASH (Door Prize)
• Entry – $7
Trains stop INSIDE Showgrounds
https://www.facebook.com/events/240353503305537/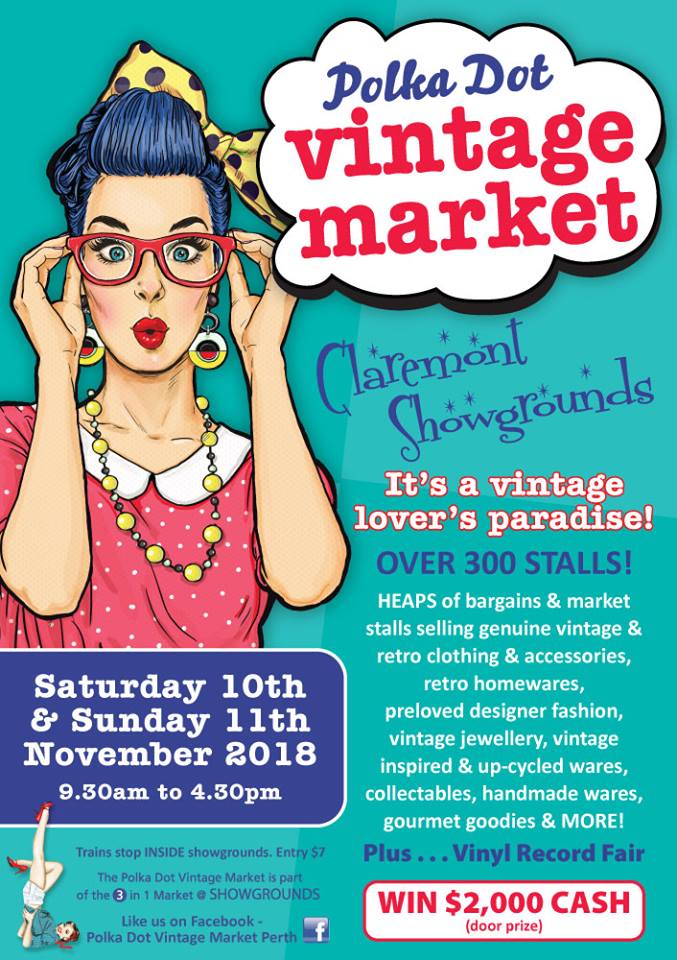 Summer X Salt Markets
Saturday, 10 November & Saturday, 24 November, 9am to 1pm
Brighton Beach, West Coast Highway, Scarborough
We are beyond excited to bring another series of surf, salty-lifestyle & sustainability focussed community markets.
WHY SUMMER x SALT?
~ surf & salty lifestyle
~ community & sustainability
~ healthy living
~ food trucks
~ live music
~ beachy vibes
… any excuse to get salty.
WHAT YOU'LL FIND
// local surf & salty lifestyle stalls
// local ocean artisans & designers
// ocean-friendly products & nonprofits
// local surfboard shapers & surboards
// single-use plastic-free initiatives (incl. mug library)
// delicious food trucks
// coffee & juice carts
// local salty musicians
// family activities
…your fellow salty tribe.
GET AMONGST IT. GET EXCITED. GET SALTY.
https://www.facebook.com/events/2113208902340650/
Perry Lakes at Sunset
Saturday, 10 November, 5pm to 8pm
Perry Lakes Reserve, Underwood Avenue, Floreat
JOIN THE FAMILY FRIENDLY FUN
Handmade & Unique Stalls • Delicious Gourmet Food
Fantastic Acoustic Tunes • Free & Low Cost Children's Activities
Parking available on the reserve, access via Meagher Drive.
https://www.facebook.com/events/308442903318340/
2018 Italian Car, Bike and Scooter Day
Sunday, 11 November, from 9.30am
Gloucester Park, Waterloo Crescent, East Perth
Guess what's back!!!
Come and see Ferrari, Lamborghini, Maserati, Alfa Romeo, Fiat, Lancia, De Tomaso, Ducati, Moto Guzzi, Lambretta, Vespa & more. Over 200 classic vehicles, vintage to new – the cream of Perth's Italian cars and motorcycles will be on display.
Not sure what to do with the kids while you're looking at the cars?! Don't worry – we have you covered! There will be a bouncy castle and face painting on the day! Also, kids are free entry! So why not score some brownie points with the kids (and maybe your spouse?!) and bring the kids along!
All profits go to Northbridge Rotary Club and their community projects.
EARLY BIRD ONLINE SPECIAL – tickets $15 each for adults (16+)
(save $5 on the gate price), children FREE! Go to https://www.trybooking.com/YBPE to secure your tickets now!
https://www.facebook.com/events/442907826207753/
Pram Walk & Talk
Thursday, 15 November, 9.30am to 11.30am
Ellenbrook Community Library, 90 Main Street, Ellenbrook
Let's come together and talk about being a new parent.
Join us for a walk around Charlie Gregorini Memorial Park then head back to the library for coffee and a catch up. We'll chat about what matters to you.
FREE coffee and ice-cream on registration.
FREE children's games, face painting and activities.
Wear your comfy shoes & bring a big hat.
Everyone is welcome.
https://www.facebook.com/events/2140289992854845/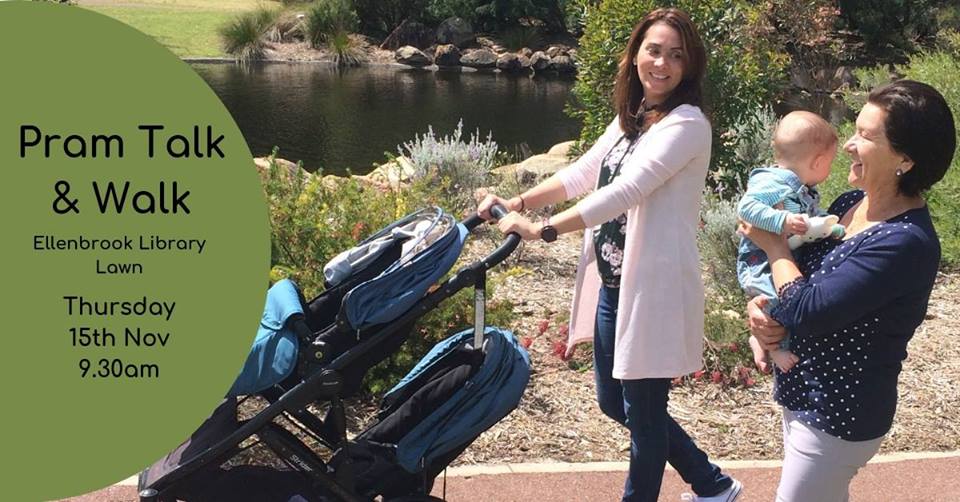 104th Osborne Park Show
Friday, 16 November & Saturday, 17 November
Robinson Reserve, Royal Street, Tuart Hill
The 104th Osborne Park Show is now on again on the weekend of Friday November 16 & Saturday November 17 at Robinson Reserve Tuart Hill. All the fun of show returns in 2018 with free demos on the Arena, eight City of Stirling schools on the main-stage, two sheds of fur and feathers, craft and produce exhibitions, show bags and rides in sideshow alley and of course the legendary fireworks are on 9pm each evening!
Tickets are now on sale for the 104th Osborne Park Show at Robinson Reserve. Choose the buzz of the opening evening of Friday November 16 or the superb family value on November 17! All your carnival favourites like show rides, show bags and agricultural displays return in 2018 along with a bumper edition free demonstrations, bands and local entertainment. There is even more seating and shade on the Arena this year with great food options, ATM's and a pop up bar nearby.
Opens Friday from 6pm, and Saturday from 11am.
Buy Tickets Online Here.
https://www.facebook.com/events/759341547743772/
Twilight at Yagan Square – Christmas Edition
Friday, 16 November, 4pm to 9pm
Yagan Square, corner Wellington & William Streets, Perth
Perth Makers Market is excited to bring a twilight market series to Yagan Square!
Bringing together a highly curated selection of our handmade artisan stalls come and join the fun of shopping handmade.
Browse the stalls, enjoy food from the businesses at Yagan Square and see the best that WA has to offer all in one easy access, central location in the Perth CBD.
The night time Christmas Market will be offering high quality handmade crafters from Western Australia an opportunity to sell their goods and a great time for everyone to do some Christmas gift shopping.
Passionately and individually hand-crafted arts, crafts, jewellery, homewares plus entertainment will be on offer.
Come wander the stalls, get a picture with Santa, grab a snack from Yagan Square and take in all that the Perth handmade community has to offer.
https://www.facebook.com/events/133975624131128/
Friday Night Food Trucks & Night Markets
Friday, 16 November, 5.30pm to 9pm
Adventurescape, Inlet Boulevard, South Yunderup
Family fun at the Adventurescape Playground, Austin Lakes Estate in South Yunderup, grab a bite and enjoy the entertainment, let the kids play while you shop at our fab stallholders!
https://www.facebook.com/events/288156698581241/
Made on the Left Christmas Market
Saturday, 17 November & Sunday, 18 November, 9am to 5pm
Princess May Park, Cantonment Street, Fremantle
The Made on the Left 2018 Christmas Market will be held at Princess May Park, Cantonment St Fremantle, on the 17th & 18th November 2018, between 9am and 5pm both days.
This free outdoor event will feature over 60 designer and artisan stalls. Bring the kids along to enjoy the free children's activities.
Come and help us celebrate our 10th year of being Perth's longest running designer market.
https://www.facebook.com/events/477606919333519/
more….events in November
Dunsborough Seaside Scavenge
Saturday, 17 November, 10am to 2pm
Dunsborough Foreshore, Geographe Bay Road, Dunsborough
For those of you salty crew that haven't heard of what we do, listen up.
The Scavenge is about putting a value on litter!
So come down, clean-up your community and trade the trash you collect (once sorted/catalogued) for the funkiest of pre-loved threads, books and more in our pop-up market.
Thanks to the support of City of Busselton there'll be live tunes from local musos to lap up, conversations with local green groups to be had & all round change making action to get in on.
With 63 billion gallons of oil used annually in the US to produce plastic bottles, there's more to the plastic pollution issue than just cleaning up.
So get ready to do more than just recycle, it's time to give single-use plastic the boot, start purchasing quality made garments over cheap synthetic ones and all round become a conscious participant on this planet.
We're looking for volunteers, QUALITY clothes & good donations & businesses to take the plastic-free pledge!
https://www.facebook.com/events/181151742712926/
Hawkers Markets
Saturday, 17 November & Saturday, 24 November, 5pm to 8.30pm
Memorial Park, corner Jull Street & Orchard Avenue, Armadale
If you love great food, culture and live music, then these markets are for you! As we head into summer it's a perfect excuse to take a night off cooking and eat out with your family and friends.
Set in the leafy surrounds of Memorial Park, it's the perfect place to bring the kids as they can play in the newly redeveloped adventure playground and run around on the grassed area in the large amphitheatre.
Indulge in exotic cuisines from a variety of food trucks, then sit back and enjoy live music and performances inspired by different cultures of the world.
This is a free event, refreshments available to purchase from the food trucks.
This is a family friendly, smoke and alcohol free event.
https://www.facebook.com/events/899137460277207/
Secret Garden at Rosehill Twilight Gardens
Saturday, 17 November, 3pm to 8pm
Rosehill Gardens, 122 East Parade, South Guildford
This Summer series of twilight markets is set in the shady secret gardens surrounding the iconic Rosehill Lodge in South Guildford.Browse our stalls amongst the shady trees and grab a bite to eat from the row of food trucks parked just outside.There will be live music to enjoy while you eat, and free pony rides for the kids.
Come and discover this hidden gem tucked away not far from the city!
Next door is the stunning Rosehill Waters housing estate, with a simply amazing pirate themed playground for the kids, it's a well-kept secret for now but that won't last!
https://www.facebook.com/events/268203547224564/
Muddy Hands Festival
Sunday, 18 November, 10am to 3pm
Kent Street Weir Park, 1 Kent Street, Wilson
The Muddy Hands Festival is an event to encourage children and families to enjoy playing outdoors and being among nature, bringing unstructured play into their everyday lives and enjoy City of Canning parks.
Kids will enjoy building cubbies and forts; take part in mud play, create nature crafts, learn about camping and loads more activities to get those hands muddy and those imaginations stretched!
This event is partnered with Nature Play WA and AWESOME Arts to bring a creative flair into the lives of our children.
Interested in Nature Playgrounds? The City has one in Bannister Creek Park!
Entry is free, but registration is essential – Book your tickets here.
https://www.facebook.com/events/514907312217974/
Mindarie Festival
Sunday, 18 November, 12pm to 5pm
The Marina, 33 Ocean Falls Boulevard, Mindarie
The 22nd annual Mindarie Festival is almost here!
The Mindarie Festival will be held on Sunday 18th November from 12pm – 5pm and it is a free family-friendly event celebrating our local community. It's a safe, fun and exciting day for the whole family!
– Artisan market stalls
– Street food stalls
– Roving performers
– Free kids activities
– Kid's carnival rides
– Live bands on two stages
– DJ's
Proudly supported by the City of Wanneroo.
https://www.facebook.com/events/664285040615948/
Chittering Car Day Market
Sunday, 18 November, 9am to 3pm
Immaculate Heart College, 34 Santa Gertrudis Drive, Lower Chittering
The Veteran Car Club of WA (Inc) and the Immaculate Heart College Parents and Friends Association, are excited to host the 2018 Chittering Car Day and Markets.
This family event will be held on Sunday, 18 November 2018, from 9am to 3pm, in the grounds of Immaculate Heart College, Lower Chittering.
With an estimated 200 vintage and classic vehicles on display, over 60 market stalls from local businesses, producers and community groups and food trucks, KIDS ZONE and live entertainment, this event has something for all members of the family.
Thank you to our sponsors Fleet Integrations, AutoBahn Midland, Shire of Chittering, Teresa's Tasty Treats.
Entry by gold coin donation.
https://www.facebook.com/events/442408509603667/
The Gruffalo's Child
From Wednesday, 21 November to Sunday, 2 December
State Theatre of Western Australia, 174 William Street, Perth
The Gruffalo's Child arrives at STCWA this November!
CDP presents Tall Stories' production of The Gruffalo's Child, based on the award winning picture book by Julia Donaldson & Axel Scheffler
If you loved The Gruffalo, don't miss the sequel, which returns following previous sellout Australian tours – now in a new West End production! Join the Gruffalo's Child on her adventurous mission in this magical musical adaptation of the much-loved picture book.
The team behind The Gruffalo, Room on the Broom and The 13-, 26-, 52- and 78-Storey Treehouses return with The Gruffalo's Child, bringing together physical theatre, music and puppetry to deliver songs, laughs and scary fun for children aged 3 and up, and their adults…
Age recommendation: 3+ and their adults
Duration: Approximately 55 mins, no interval
https://www.facebook.com/events/1956659514378171/
The Very Hungry Caterpillar Show
Thursday, 22 November to Saturday, 24 November
Octagon Theatre, UWA, 35 Stirling Highway, Crawley
"and – pop! – out of the egg came a tiny and very hungry caterpillar."
After a sell out season in 2017, 'The Very Hungry Caterpillar Show' returns in a masterful theatrical experience for the whole family!
Journey through Eric Carle's incredible stories as they come to life on stage in this enchanting show. Featuring some other delightful characters from three of Eric Carle's bestselling classics tales including 'The Artist Who Painted A Blue Horse', 'Mr. Seahorse' and 'The Very Lonely Firefly'.
This Australian made show will excite, educate and entertain new readers and first-time theatre-goers, while those who grew up with these books will delight in experiencing one of the most popular children's books ever written.
Created by Jonathan Rockefeller, directed by Naomi Edwards and with 75 magical puppets created by New York's Puppet Kitchen.
This is a timeless classic for all generations.
Book now at www.ticketsWA.com
* Children aged 2 and over require a ticket for this performance.
Bookings essential – tickets available here.
https://www.facebook.com/events/913753002081887/
Wanneroo Show
Friday, 23 November, 4pm to 10pm & Saturday, 24 November, 9am to 10pm
Wanneroo Showgrounds, Wanneroo Road, Wanneroo
Our Community of Wanneroo comes together to give you a taste of our local arts and crafts, businesses, food stalls, coffee retailers rides as well as the Goats, Horses, Birds and Spectacular fireworks on both evenings.
https://www.facebook.com/events/483109442172417/
Araluen's Avocado Festival
Saturday, 24 November & Sunday, 25 November, 10am to 5pm
Araluen Botanic Park, 362 Croyden Road, Roleystone
We are calling all Avo-Enthusiasts for the freshest celebration in the Perth Hills!
The Araluen Avocado Festival will be held in the beautiful surrounds of Araluen Botanic Park.
The festival will celebrate all things Avocado including stallholders selling fresh produce, a vast range of products from skin and beauty care to delicious beers and cocktails and chefs demonstrating how to make Avocado creations at home!
We will have live music entertainment, fun activities for the kids and Horticulturalists providing you with the expert knowledge you need to grow your own Avocado orchard at home – AND you can purchase your trees on the way out.
Running on the 24th and 25th of November, you can purchase your tickets at the Entry Gate upon arrival.
https://www.facebook.com/events/2204774359795456/
Snakes on the Move!
Saturday, 24 November, 2pm to 4pm
The Wetlands Centre Cockburn, 184 Hope Road, Bibra Lake
Join our reptile workshop to learn about snake behaviour and snake bite first aid.
Tickets $5 – Register here.As the temperature increases our native snake species become more mobile. Avoid snakes by sticking to paths, trails and walkways. Should you encounter a snake, remain calm, leave it alone and slowly back away.
Protect your Pets
Be a responsible pet owner and protect your pet by exercising it on a short leash when walking in natural areas and keep your cats indoors.
If you find a snake in your home or garden contact the Wildcare Hotline on 08 9474 9055.
For more information visit the City's website cockburn.wa.gov.au/Snakes or call 08 9411 3444.
https://www.facebook.com/events/551779451918255/
Mirrabooka Monthly Markets
Saturday, 24 November, 9am to 5pm
The Square Mirrabooka, 43 Yirrigan Drive, Mirrabooka
Each month we'll be popping up at The Square Mirrabooka with some of our amazing food and boutique/craft stalls.Located outside Woolworths in the Fresh Food mall.
https://www.facebook.com/events/319140088840405/
Rotary Jacaranda Festival 2018
Saturday, 24 November, 9.30am to 3.30pm
Ardross Street, Applecross
One of Perth's favourite and longest-standing community events is returning again in 2018.
The Rotary Jacaranda Festival will feature 140+ stalls, an array of food options and a unique line-up of entertainment and a buzz of excitement that comes when thousands of people come together. It's an unmissable day out and a great place to kick start your Christmas shopping, supporting small businesses, local community groups and other causes all at the same time!
https://www.facebook.com/events/271042206970352/
Little Market Place – Fremantle Market
Saturday, 24 November, 11am to 3pm
Pioneer Park, Market Street, Fremantle
40 Stalls including Small Business & Pre-Loved Clothing Stalls
5 Food Trucks
Hair Braiding + Glitter Applications
Live Entertainment
Pioneer Park, Fremantle (Across from the Fremantle Train Station)
https://www.facebook.com/events/262984217878024/
more….events in November
WA BBQ Day
Saturday, 24 November, 10am to 11.30pm
Southern Cross Smokers, 23 Crompton Road, Rockingham
Let's get readyyy to rumbleee!
It's timeee for the veryyy first WA BBQ Day to celebrate all things BBQ in Western Australia and have a day and night of festivities, with some melt in your mouth, succulent, woodfired BBQ and of course, a few drinks to wash it all down, with people that share the same passion and love of BBQ.
Anyone and everyone, including the kids are welcome to come along during the day, to just hang out and watch some demos and pick the pitmaster's brains. All we ask is for a small donation for the "day only" activities of $5 for each adult at the door and kids are free! We're planning to do a kids tutorial on how to reverse sear a steak at lunch too. 🙂
The legends from Big Don's Smoked Meats and Molly's BBQ Smokehouse will be your hosts for the evening, turning out a buffet style meat fest, to take you to BBQ heaven.
This event will also be a fundraiser, as we would like to do our bit for the farming community, with part proceeds of the event to go to the Red Cross Disaster Relief And Recovery Appeal.
The event will be BYO, so to keep costs down and make it affordable for the average family.
All day passes are $55 per person plus booking fee, which includes the day activities and dinner.
Kids under 16 are FREE!!!
This will be the very first WA BBQ Day celebration to share the love of BBQ, so we hope that everyone can make it down to have an amazing feed, chat with and meet some awesome people and find out what the BBQ community and BBQ Family, is all about.
https://www.facebook.com/events/229906267678437/
Dunns Family Fete
Saturday, 24 November, 10am to 3pm
Dunns Herbal Farm, 345 Badgerup Road, Wanneroo
We've got everything you need to fulfil your Saturday needs,
Stroll through the lush gardens 🌳 cross the troll bridge if you dare find a new favourite product or see your regular hand-made makers.
Bounce high into the sky or watch your little ones become a tiger or super hero with our brilliant face painter.
Enjoy your coffee while you indulge into a novel from our library surrounded by luscious greenery.
Seated/tabled Massages & Kinesiology available
Foodies Laneway
Satay ~ Tapas ~ Dumplings ~ Salads ~ Pizza
Donuts ~ Chocolate ~ Raw sweets ~ Gelato~ Fresh Fruit
Thirst Quenchers
Fresh squeezed juice ~ Coffee ~ Nitro Iced tea ~ Smoothie ~ Cold Brew ~ Frappé
The best way to spend your Saturday!
https://www.facebook.com/events/817930205078822/
Collector Zone! Toy 7 Hobby Fair
Sunday, 25 November, 9.30am to 1pm
Craigie Leisure Centre, Whitfords Avenue, Craigie
What's it about?
The Collector Zone fair is held every 3 months at the Craigie Leisure Centre. We fill a huge hall and we bring in sellers from all over Perth! A great day out for the whole family!
Some items you will find at the fair: vintage, modern & retro collectables & toys, Walking Dead, Game of Thrones, Pop! Vinyls, Hot Toys, Comics & graphic novels, Transformers, Star Wars, Batman, science fiction collectables, Doctor Who, statues, action figures, loads of Lego & Lego displays, anime figures & collectables, Pokemon, Local artists & writers – way too much to list!
https://www.facebook.com/events/225439914796374/
Playgroup WA Annual Fun Day 2018
Tuesday, 27 November, 10am to 1pm
Mills Park, Brixton Street, Beckenham
As another year comes to a close, Playgroup WA will again host its free family fun day for kids 0-5 years, celebrating all things PLAY.
Our Annual Fun Day is Playgroup WA's thank you event for all the support and passion our playgroup families invest each day across the state to make playgroup such a great experience.
We will be providing plenty of sensory and cognitive play activities with many other exhibitors and entertainers coming along to put on activities galore! Some of those include:
– Messy play
– Stage performances
– Face painting
– Bouncy castles
– Baby animals
– African Drumming
– Baby Zone
– Quiet Zone
Plus more to be confirmed!
So get your playgroup together and celebrate a year well spent with an enjoyable day out with the whole Playgroup WA community.
WIN!
All attendees will also have the chance to WIN one of two amazing prizes!
First Prize: 10ft trampoline with enclosure, ladder, basketball hoop kit and water spray kit – valued at $525
Second Prize: A Term Pass to Jungle Sports!
Visit us here to find out more: https://playgroupwa.com.au/AFD
https://www.facebook.com/events/2120459718017427/
Bazaar: WA's Best Christmas Market
Friday, 30 November, Saturday, 1 December & Sunday, 2 December
Fremantle Arts Centre, 1 Finnerty Street, Fremantle
Bazaar is three days of retail heaven featuring 50 of WA's most talented designers and makers. Held outdoors in the lovely surrounds of FAC's Front Garden with a bar, delicious food and DJs, it's the perfect chance to pick up unique, quality Christmas gifts. Find the finest jewellery, fashion, ceramics, sculpture, woodwork, textiles and more, and support local artists this festive season.
Bazaar opens on Friday night. Get down early, grab some dinner and a drink and get first pick of this year's amazing stalls while you browse under the stars. The market continues all day Saturday and Sunday, 9am–5pm.
Entry: $2 Adults; Kids under 12 FREE
https://www.facebook.com/events/257101388468949/
Rockingham Twilight Christmas Market
Friday, 30 November, 5pm to 8pm
Gary Holland Centre, corner Kent Street & Flinders Lane, Rockingham
Looking for a handmade and unique Christmas gift for your friends & loved ones? Join us for a festive market complete with:
🎄 Handmade stalls
🎄 Baked goods
🎄 Homemade products
🎄 Christmas gifts
There will also be:
🎄 Christmas Carollers
🎄 A visit from Santa
🎄 Gourmet Food Vans
🎄 Coffee Van
The market will run from 5pm to 8pm inside & outside the Gary Holland Centre!
https://www.facebook.com/events/518132038603140/
Contact us if you want to add your events in November: lorraine@buggybuddys.com.au