Clancy's City Beach is one of our favourite local places to eat. The views are fantastic from pretty much anywhere in the restaurant and the children love it. It is a great place to go after a morning on the beach as Clancy's are happy for patrons to come in to eat wearing their beach stuff. A sign over the entrance "sandy feet and thongs welcome" sums it up perfectly.

There is heaps of parking but it can get busy on hot days in summer so you may need to park a short distance by the oval across the road. This doesn't happen very often though.
Clancy's is great for children as it is perched just on the sand dunes which is a great place to play before or after eating. It also has a children's menu, colouring pencils for the table and a playground next door which you look out over if you are eating on the deck/balcony. It is a big restaurant so there is plenty of room and the covered deck area is one of our favourite places to sit when the weather is nice. The low chairs by the window are also good for children as they are more at a coffee height level. High chairs are also available.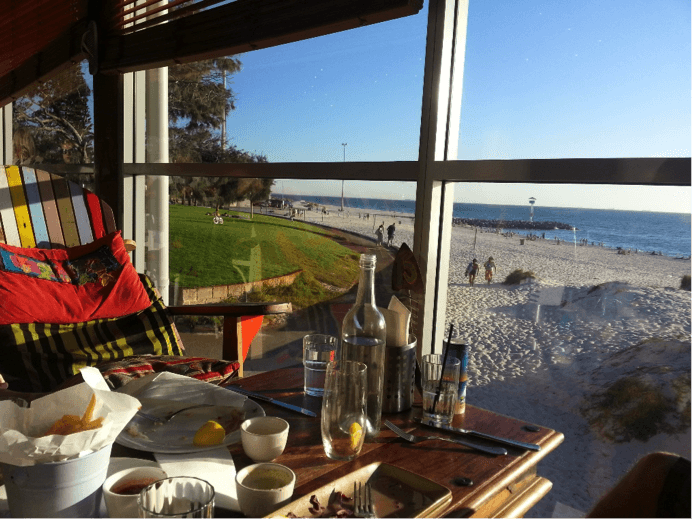 The food at Clancy's does change from time to time although they keep the majority of the menu constant. We often have the seafood platter for 2 and that has changed quite a bit over the years.
At our most recent visit my husband and I shared the seafood platter which was quite filling. Our kids really like the children's fish and chips and a fresh juice each.
They have a smallish range of wine and a good range of beers with a guest beer on tap too.
One of our friends children is coeliac and if you tell the kitchen they will come up with a gluten free meal, so fish and rice for example.
You cannot book at Clancy's so if you want to make sure you get a table quickly then it is usually a good idea to get there before 12pm for lunch and before 5pm for dinner. Sometimes you can walk in at any time but in summer it can get quite busy. It is a big restaurant so the wait is not usually too long. There is a nice bar area with sofas and a fire to wait by in winter.
The views from Clancy's really are spectacular and we love to sit and gaze out at the ocean. It is a great place to watch the sunset but is lovely at any time really as it is also fun to people watch during summer and watch the storms roll in over the ocean in winter.
Clancy's has live music on Friday evenings and Jazz on Sundays. The music is free but it can mean it is a bit loud sometimes, depending on who is playing. Our kiddies quite like watching the bands though. Check website for details and times.
Overall Clancy's City Beach is our favourite of the 3 and is a great place to go. It is good for kiddies and is also another great place to take overseas or interstate visitors. We are regulars and will continue to return again and again.
195 Challenger Parade, City Beach – Phone (08) 9385 7555
E-mail citybeach@clancysfishpub.com.au