The Tap at Chapel Farm is the perfect spot for a lazy lunch with family and friends with a secret garden and its very own Wonky Donkey.
This cute and funky place complete with a gorgeous wheelbarrow garden feature entrance, serves Tapas and Pizza and a nice selection of kids meals. Pricing is not too bad for the amount offered.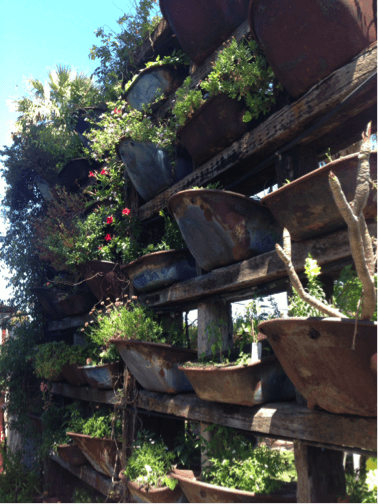 The kids menu offer a range of meals and pizzas at a reasonable cost and include a kids activity book and soft drink or juice.
Our food came quickly – too quickly for the kids who were enjoying climbing the trees down the back of garden seating area and getting to know the Donkey named Cinderella and her Alpaca friend.
With some great beers on tap and an extensive wine list it is the perfect place to chill out on a warm day, with spray jets over the cool leafy surrounds.
Don't be fooled though, this would also be a great venue to visit in winter too. Each room in the Victorian style homestead is turned into a charming soft lit area to enjoy – some rooms even had lovely old mantles over the open fire and comfy looking couches to laze the afternoon away over a beer and a chat.
So, if you're at a loose end this weekend, why not head to the Swan Valley and enjoy some great hospitality at The Tap, Chapel Farm Winery and meet the real Wonky Donkey.
Where: Swan Valley, 231 Toodyay Road, Middle Swan
Web address: www.chapelfarm.com.au/the-tap