I LOVE Indian cuisine and Chakra in Inglewood is a favourite of ours. For the best part of the past decade, we've not enjoyed dining out at Indian restaurants like we used to – which is down to a certain Little Chef. Thankfully, once our fussy eater hit the age of 7, he became much more open to trying new foods and flavours. He suddenly decided he liked butter chicken. I could have wept with happiness!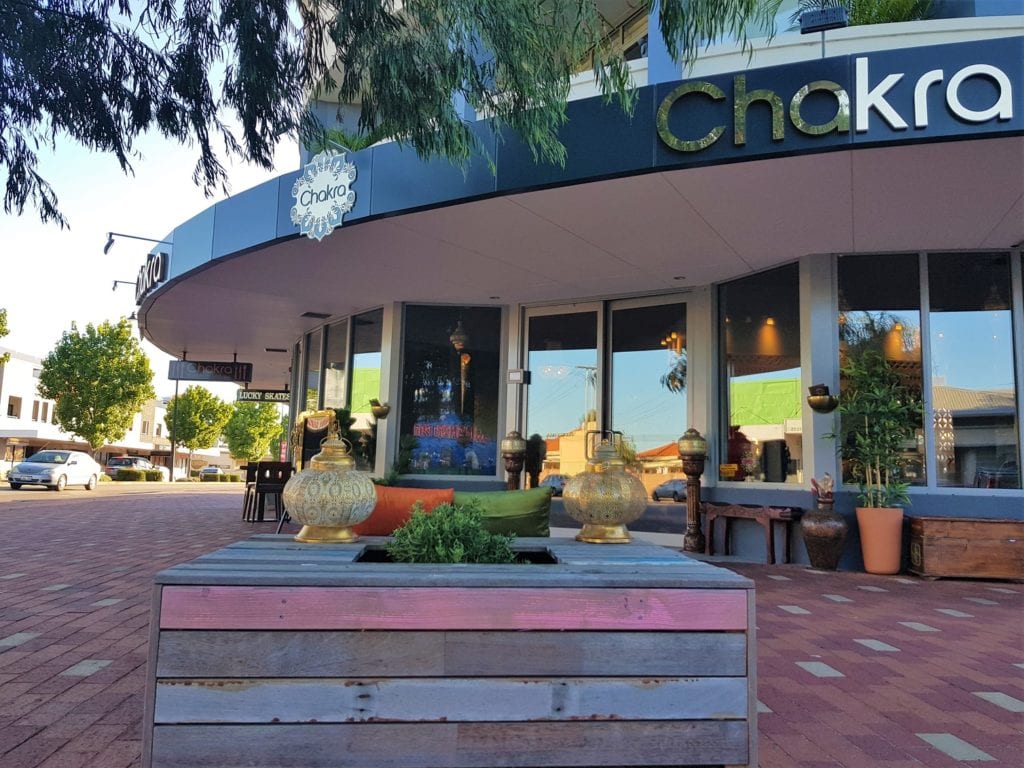 The most child-friendly Indian restaurant in Perth that I've found is Chakra. The popular Beaufort Street spot has high chairs, a digital kids menu, colouring in – there's even beautiful turbans to try on too! At Chakra they have recently implemented tablet menus, so children are able to get really interactive with their choices and send their pick off to the kitchen with the touch of a button.
It's the first time I've used a table menu in a restaurant and it has lots of positives, including not having to flag down a waiter to order another drink (just press the button and it will be out in a jiffy!) and easy split billing too.
Modern Indian Chakra has an innovative menu, as well as all the usual favourites. Whilst the methods of cooking and recipes remain authentic, the modern presentation freshens it up and gives the food a fresh breath of life. Their stylish dining room is adorned with Indian lanterns and plush red and gold, and exotic, aromatic aromas.
Rather than choose the age old favourites like butter chicken, chicken tikka masala, lamb korma and vindaloo (which are of course on the menu!) Sonia suggested that we try dishes from their modern Indian menu – which was fine with us. Here's what we feasted on…
The more-ish "butter chicken kulcha" is leavened bread (Khameeri Naan) that is stuffed with classic butter chicken and served with Kasundi, which is a spiced mustard sauce and beetroot chutney. I loved the mango pickled lamb ribs , served with a deliciously chewy mango Jerky and brimming with flavours of fennel and nigella seeds.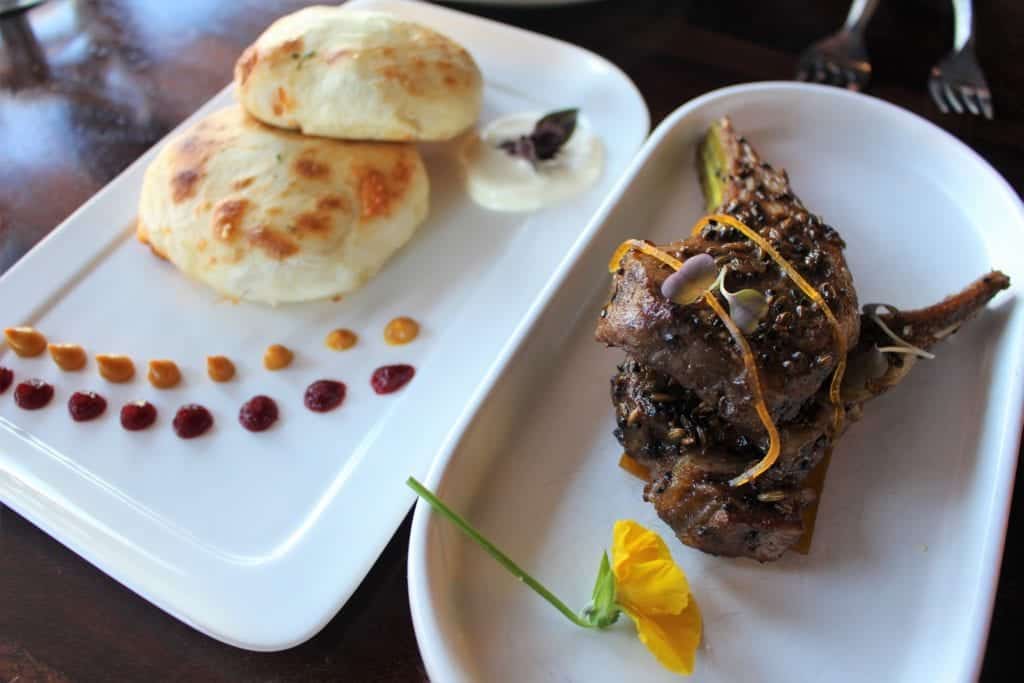 Little Chef tried (and enjoyed) a few of the dishes and was also kept occupied with colouring in and a pani puri (wheat bubble) pallet cleanser.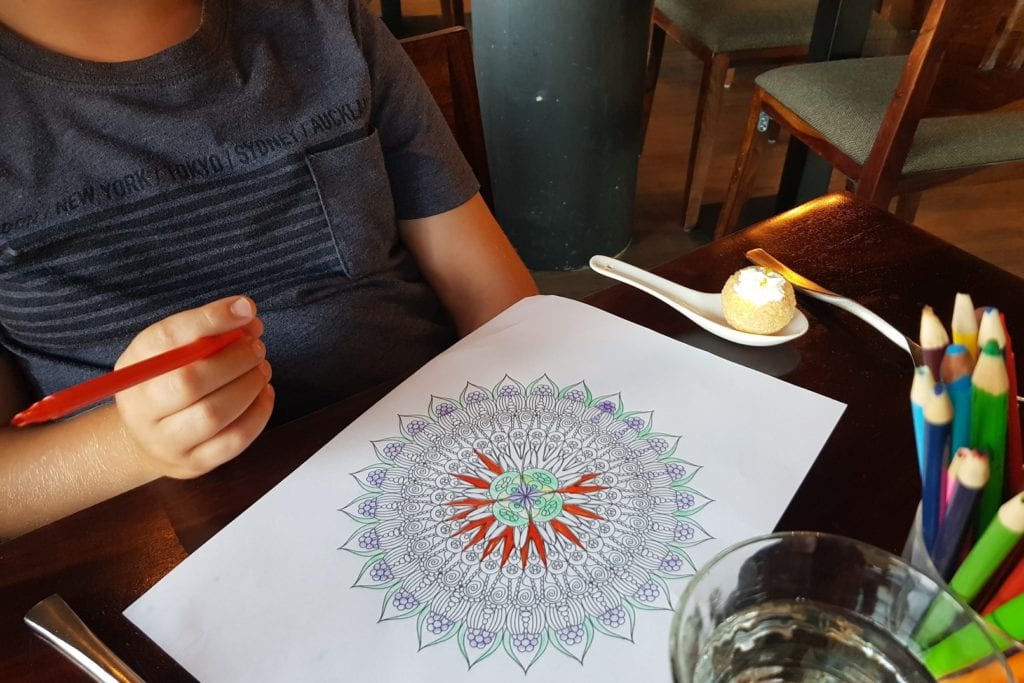 All kid's meals are served with juice… and a smile! And it's good new mums and dads – there's not only curry on the kids menu! Little Chef really enjoyed his butter chicken with steamed rice and freshly cut fruit. Chicken tenderloins and chips are available for little ones that aren't into curry.
On to the mains and my favourite has to be the burnt aubergine. A half eggplant is filled with spicy lamb bhartha, roasted cashews and pomegranate, served with a cooling boondi raita, tomato chutney and a GF naan.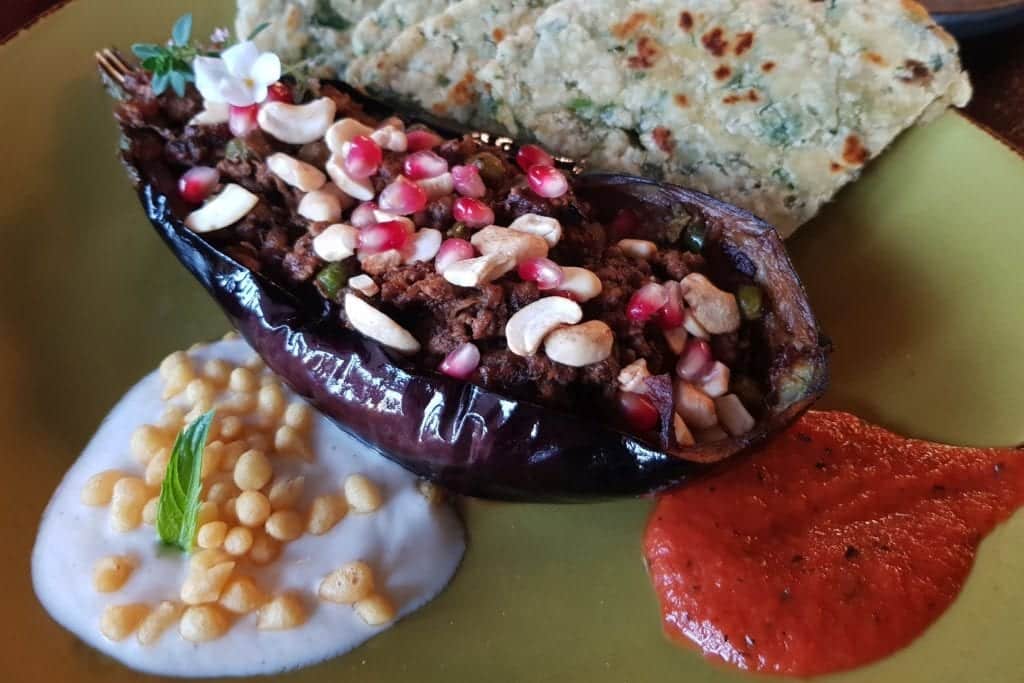 Chicken chettinad is a spicy dish, with pour your own curry sauce. Served with puffed banana poori, and pindi choley (chick pea dish). The vibrant goat mughlai is served with khameeri naan, grilled pineapple, fried lotus root, pickled onion and mango pickle.
The Indian desserts are also a little different to what you may expect and have a modern twist. We were really struggling for tummy space at this point, but had to give them a taste. Our favourite was the "mystery" choc pot is filled with saffron mouse, warm gulab jamun (milk-solid-based sweet) and topped with Oreo dust and a pistachio soil.
Thank you to the Chakra team, the service was second to none and again, you made us feel like Maharajas! The food was very well cooked and so flavoursome. It's so refreshing to find a spot like this that welcomes children. We thoroughly enjoyed our dinner at Chakra and would happily return as paying guests.
Find more family-friendly restaurants in Perth
Amanda and her family were invited guests of Chakra.