Camel West's Inner City Camel Rides has to be the most unique way to take in the sights of our beautiful City.
Located behind the West Australian Rowing Club on the Swan River Foreshore, the route takes you along the banks of the Swan River, through the canary island date palms, and past the Bell Tower.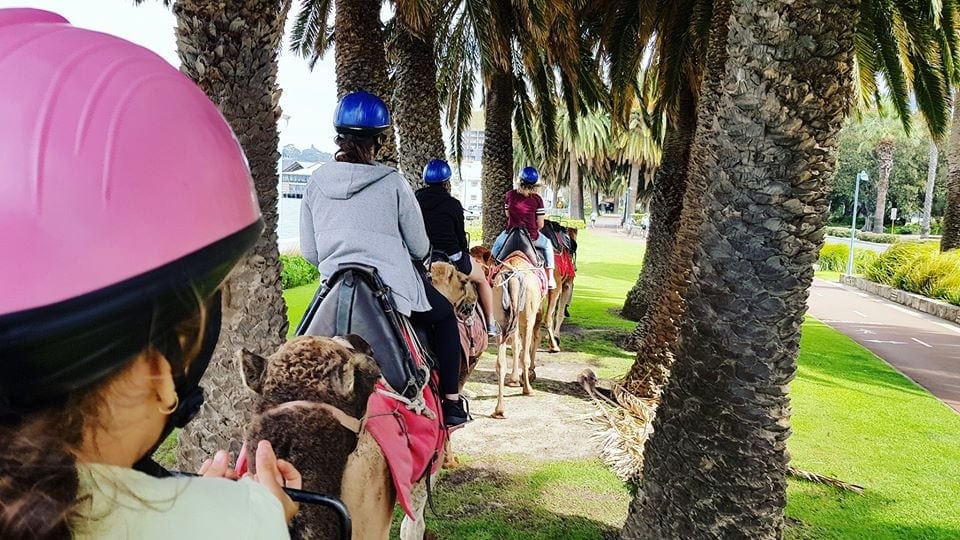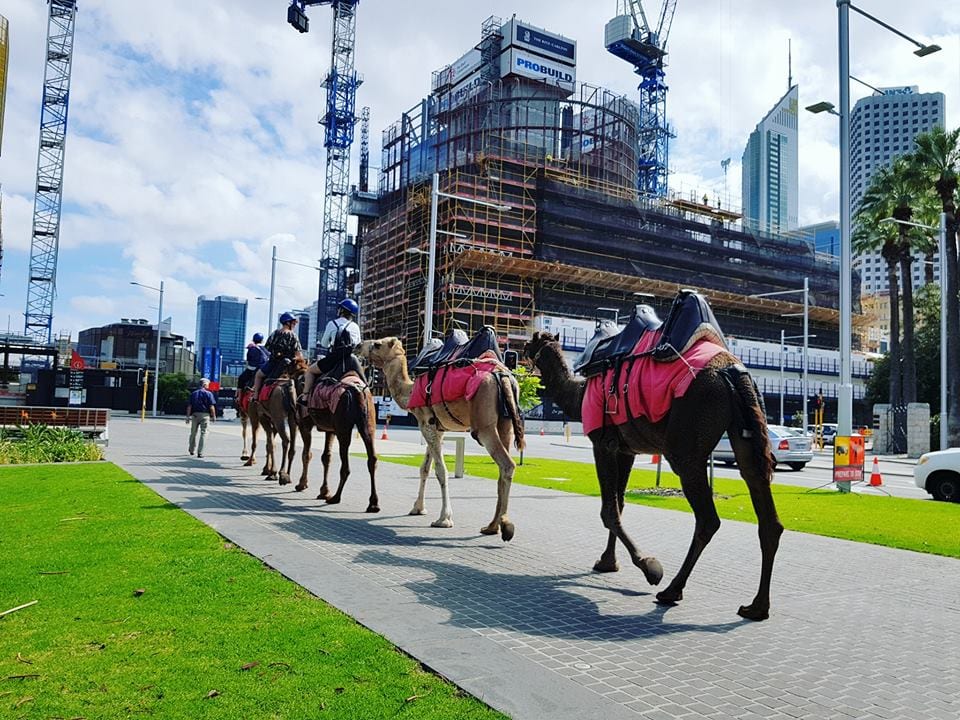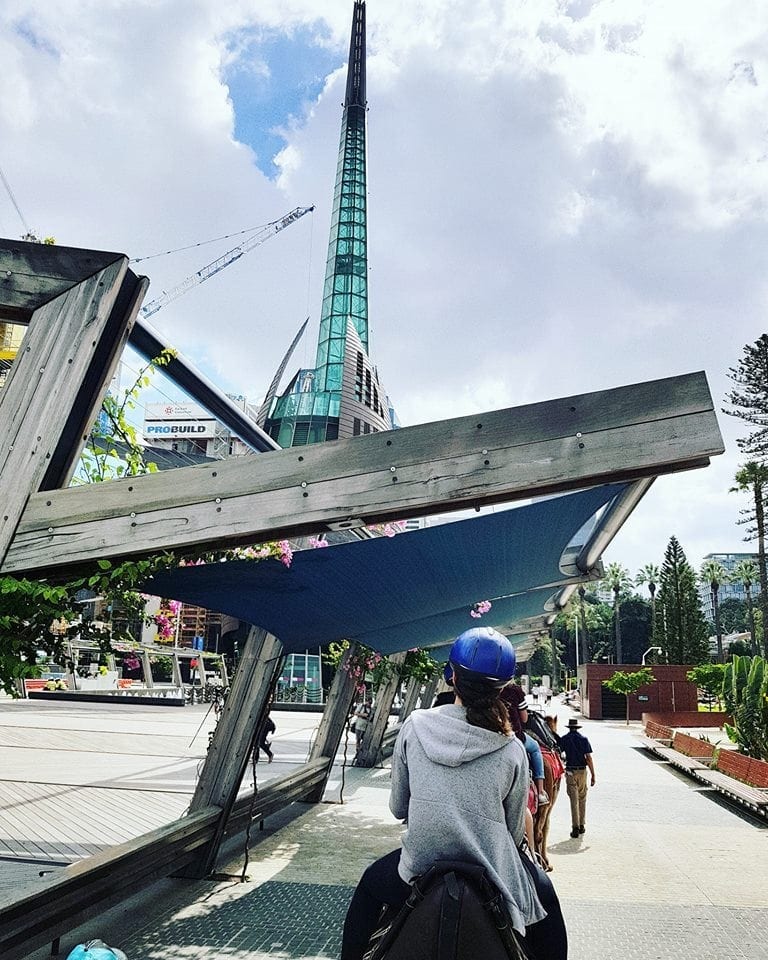 As my 7 year old daughter and I arrived we were greeted by owner Jon and his team. Jon introduced my daughter to his very friendly camels before fitting us both with riding helmets. Being the youngest in the group Jon let my daughter choose which camel she would like to ride, she chose Black Jack at the end… because he is short like her.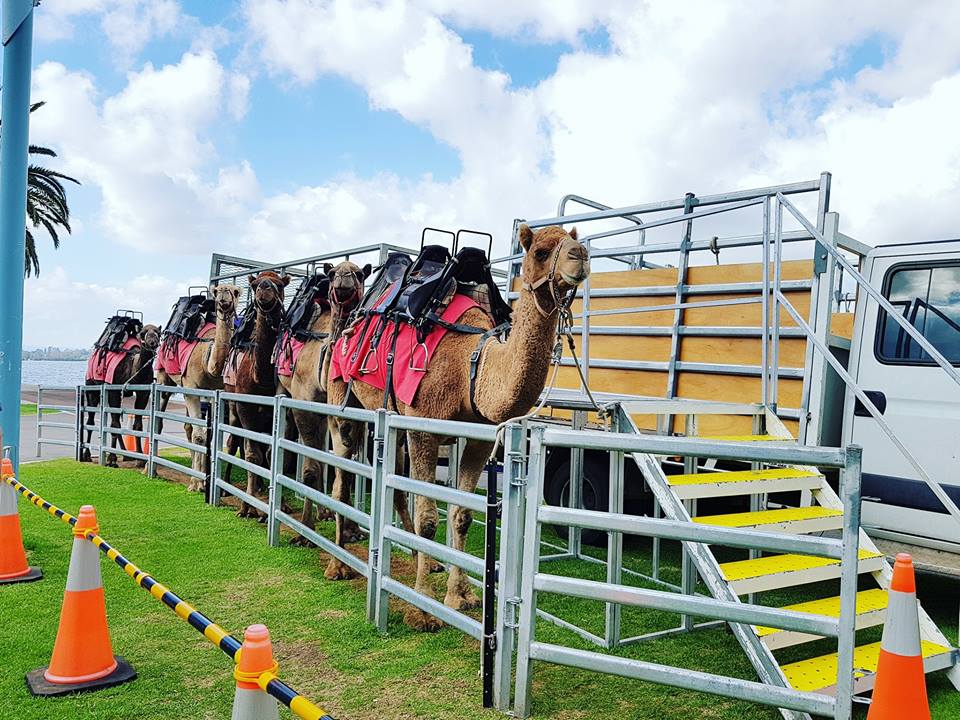 Once everyone in our group was ready we easily mounted the camels from the specially designed platforms.
As we strolled along the Swan River heading towards East Perth taking in the amazing view, Jon proudly discussed the background of camels in Australia and answered any camel related questions.
During the ride one of the guides took photos, I received our photos the same day via email, I was expecting to get 2 or 3 photos but was pleasantly surprised to receive 15 photos – they make for a great keepsake and are easy to download and share on social media.
Jon's camels are well loved and looked after, during our 30 minute ride the camels were calm and relaxed the entire time, even as people walked or cycled passed. After our ride we even got to feed Black Jack a carrot.

Camel West is easily accessible from Elizabeth Quay train and bus stations, we opted to drive into the City and parked at CPP Terrace Road car park.
Camel rides operate Wednesday to Sunday, half-hourly from 10.30am – 1pm. Bookings can be made online. Minimum age to ride unaccompanied is 6, minimum height is 1.15m, younger riders (2-5) may ride sitting on the lap of a parent or guardian.
Adult $45.00
Child $30.00
Infant $15.00
My daughter and I absolutely loved our camel ride, and highly recommend it for other Perth families.
Camel West Inner City Camel Riding Tour
www.camelwest.com.au
www.facebook.com/camelwest.com.au
cameleer@camelwest.com.au