Cake 2 the Rescue is an online business that aims to help mums cope with the pressure of baking a cake for their kid's birthday or any occasion. The DIY cake kits make it fun and more affordable to do exciting themed cakes for your little darlings. Simply choose from hundreds of cake designs on their website, place your order, and your box will arrive in the post with everything ready for you to begin the baking fun.
I decided to give the Snow Princess cake kit a go – of course she looks like Elsa from Frozen, so this is a perfect choice for a Frozen Party.
The sturdy box of supplies arrived intact and inside I found everything neatly arranged for me, with plenty of clear instructions and care taken to wrap each item individually (so that it's all hygienic).
The cake kit comes complete with step-by-step instructions and the following:
Templates for the design
Disposable Baking Tray
Silver Cake Board
Silver Cake Slice
Premixed Dry Ingredients for the cake
Icing Mix & colouring
Pre-coloured Fondants
Small Rolling Pin
Disposable Gloves
Snowflake stamp
Glitter & a small tiara
Candles (a lovely extra touch)
Additional decorations needed for your chosen design
All you need to add is fresh eggs, milk and butter for the cake mix, and a bit of butter and milk for the icing. The Snow Princess cake is iced partly with fondant and partly with butter icing.

The first step is to familiarise yourself with the contents and read over the steps that you need to take to achieve the end result. It's best to do this a few days before you intend to start so that you can organise yourself. For example, you can precut the templates. A useful tip is to bake the cake on one day and then decorate it in another session the following day (or even up to 48 hours later if you store it in an airtight container). The cake can be completed up to 24 hours before it is needed.
The cake baking itself couldn't be easier – what a pleasure. You simply pour the packet of dry ingredients into your mixer, add your fresh ingredients and mix for 3 minutes. The disposable baking tray is already greased so you can pour the cake mix straight into it, and pop it into your preheated oven to bake. When your cake is cooked, simply fold down the sides to easily remove the cake and throw away the tray.
I must admit I was a tad nervous about how effective this disposable tray would be, but it worked a charm without any sticking – no mess, no fuss and no cleanup either! The cake took 60 minutes exactly in my oven and about 45 minutes to cool completely. It had risen slightly so I needed to slice off the dome to flatten it for decorating. This is quite easy with a large sharp knife.
The template of the princess shape needs to be cut out with scissors and placed on top for you to cut the basic shape out of the rectangular cake. The offcuts can then be discarded (or nibbled on).
Transferring it to the silver board was a touch tricky as the sponge started to split, but I could rescue it! And the icing covers any flaws like this anyway.
While the cake was cooling I mixed the butter icing – also very easy. Simply pour icing sugar packet into the mixer and add butter and milk as instructed. I found the consistency to be perfect according to the instructions.
As I started to ice the cake I felt nervous that there might not be enough butter icing. I'd advise not layering it on too thick to begin with and spreading it evenly so as to make it stretch. The sides of the cake were only just covered with the icing when I was done, so hold back on eating icing as you go too!
I have never attempted fondant icing so I was nervous but the kit provided everything with tips, and I found it very doable and fun! All you need is some playdough skills.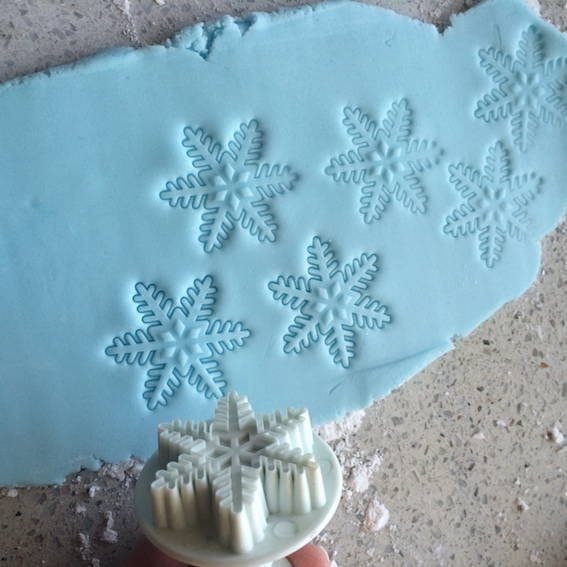 The fondant supplied is already coloured and rolls out very easily.Gloves are provided but although I used them briefly I found that I couldn't handle the fiddly bits well enough, so I went back to bare hands. There was no staining on them or any real mess to worry about.
The instructions were easy to follow using the templates to cut out shapes, and the pictures as a guide, so it wasn't long before a princess started to form before my eyes! It wasn't identical to the one in the picture – it had my personal (clumsier) touches such as larger eyes, fatter arms etc. You can also tweak a few other small details to feel like it is your design – call it a bit of artistic licence…
A lovely final touch is a little pot of glitter that is provided to sprinkle over the dress to give it that icy feel. And a cute little sparkly tiara to complete the design. Birthday candles and a cake cutter (plastic silver with a serrated edge) are also provided, so you really are good to go!
There was a fair amount of leftover fondant that could be used on cupcakes if you have the time and energy. You also get to keep the snowflake punch used on the dress detail and the cute roller for the fondant. All in all it's a great value kit!
The final cake really impressed my daughters, and as professional tasters they declared that the vanilla cake was delicious! It was light and spongy – perfect to accompany the sweetness of the icing. Although the cake seemed on the small side, it was actually plentiful and definitely enough to feed a hungry party crowd of Frozen fans (20-25).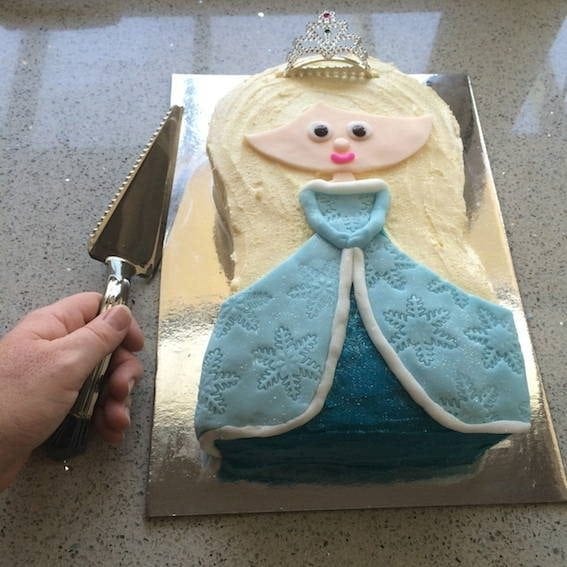 I highly recommend this Cake 2 The Rescue Snow Princess cake kit. It took me 3½ hours from start to finish (including the cooling time), and I felt a huge sense of achievement especially as my first thought had been "I can't bake a cake like that!". And VOILA, I did!
TIP: Keep the box that the cake kit arrived in for you to transport the cake safely to another venue if you need to!
Check out www.cake2therescue.com.au for prices and other great product ranges such as cupcake kits, party décor kits and even cake ideas for twins and triplets. Their Pinterest Page also has inspiring Party Theme Idea boards.