At AQWA children over the age of 12 years can participate in their latest interactive experience Try Diving. This 45-minute activity which takes plae in the Adventure Bay aquarium is the perfect "taster" to SCUBA diving for capable swimmers.

The cost $95.00 which includes free entry into all AQWA's marine exhibit and full equipment hire, including wetsuit & mask and a fantastic introduction to SCUBA diving from one of AQWA's qualified divers. Diver Deb was the instructor for Matt & Josh. She was brilliant and explained everything clearly and was happy to answer any questions from the boys (or from their sisters on the sidelines). Before putting on the vest and going under, Diver Deb had the boys use the regulators on the surface to get used to the breathing.
Once they were comfortable with the breathing, the vests went on it was time to descend the steps to the bottom of the tank.
Once on the bottom, the boys equalised and it was time to explore and check out the resident marine life.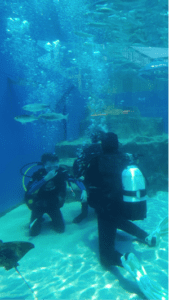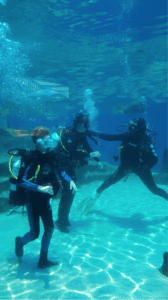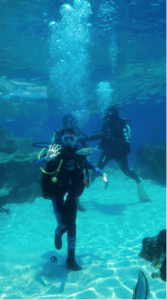 The Adventure Bay aquarium is very active, there are different schools of fish swimming around, a few puffer fish and of course the stingrays.
It is the perfect size tank with plenty to see for this adventure activity.
The boys explored all around the tank, testing out their buoyancy by jumping and running. They also knelt still for the fish life to approach them.
The large viewing window allows family and friends to watch all the action, AQWA encourages photos and videos to be taken as well to capture the moment.
Matt and Josh felt like celebrities with groups of kids waving at them during the dive. It added to the enjoyment of the experience. So if you see the divers in the tank during a visit to AQWA, give them a wave.
All up the duration of the experience was about 45 minutes with about 25 minutes of that was in the water. They absolutely loved it and wanted to back it up with a dive in the shark tank!
Diver Deb was fantastic, she was close at hand at all times pointed out marine life and generally helping them around. They said they felt safe at all times and I felt they were safe as well, there are only 2 divers per session which allows for greater supervision and more time in the water.
After the dive the boys had a lovely warm shower and received a participation certificate. The cost of the Try Diving also includes free entry in all AQWA's marine exhibits so we were able to have a look around at all the other displays as well which is always fun.
It was a fantastic and very well run activity. If you have a child 12yrs or older who is a competent swimmer and already loving snorkelling or just not 100% sure on SCUBA, we highly recommend the Try Diving adventure experience.
For more information and to book online visit aqwa.rezdy.com/try-diving-12-years
Find more things to do in the School holidays