Glamping" is camping with benefits and it has come to Amblin Holiday Park on the beach at Busselton. The only no fuss, trouble-free camping experience in Western Australia south of the Tropic of Capricorn. Just imagine, no setting up camp, your own en-suite bathroom, fully self-contained kitchenette, digital TV and DVD and real beds. And when it's time to leave, just go. Call us now to experience your 'camping with benefits'.
Glamping is all about rocking up to a wonderful destination where the hard work has been done for you and all the comforts of home await. Amblin Holiday Park in Busselton has their own version of this with the very awesome "Safari Tents".
Not to knock traditional camping, which our family loves, however with an unpredictable toddler and a preschooler without a volume control our previous camping trips had been a test for the nerves. So we were looking for a similar experience, but without having to share those "special" moments of madness with an entire campsite full of people.
At the age and stages of our kids, the Safari tents were a fantastic option and we really could not have asked for more. The inside is spacious and even with the crazy storms outside, we never felt claustrophobic or boxed in. It's cosy but still roomy. The ensuite was clean, modern and extremely convenient, especially with little ones. Not having to traipse everyone to the ablutions in the freezing cold fifteen times a day was worth every penny.
The bunk beds were a novelty especially for my son who got the top, which thankfully had a safety guard attached. Our bed was like a cloud with the loveliest bedding and plenty of it for warmth. We stayed smack bang in the middle of Winter and in typical South West style it was bitterly cold. The reverse cycle system was amazing, we'd put it on after a day out and it would heat the room up in minutes. We even turned it off a few times as it worked a little too well and the kids started sweating and peeling layers of clothes off.
The Safari tents have been designed with families in mind and it was nice to all snuggle up in bed and fall asleep to the telly. There is a good sized fridge, stove top and microwave for simple cook ups and most things are provided for 4 people (though I was surprised there were no wine glasses, so we bought some cheapies at the IGA and left them there).
When the weather permitted our favourite thing to do was have our meal on the deck and watch the local wildlife come visit us. My husband and I would finish off the day with a quiet wine and listen to the ocean before the frostbite set in and then swiftly retreat to the heater! But this would be ideal in the warmer months and the air-con would be a nice touch for those steamy mid Summer nights.
As far as the actual park goes it seemed to have nice spacious sites with plenty of grass. I didn't visit all of the ablutions but the one I did enter seemed clean and well stocked. Besides the proximity to the ocean, Amblin does have a wonderful feature in its indoor heated pool. As previously mentioned, we went in the middle of Winter and it was bitterly cold so we avoided it until the last few days of our trip when we could no longer ignore the nagging requests of our son. We actually had the whole pool to ourselves and it was super warm and the kids had a ball.
There is also a playground near the entrance which was great to burn some energy and of course plenty of beach combing and sunset watching which was a real highlight for all.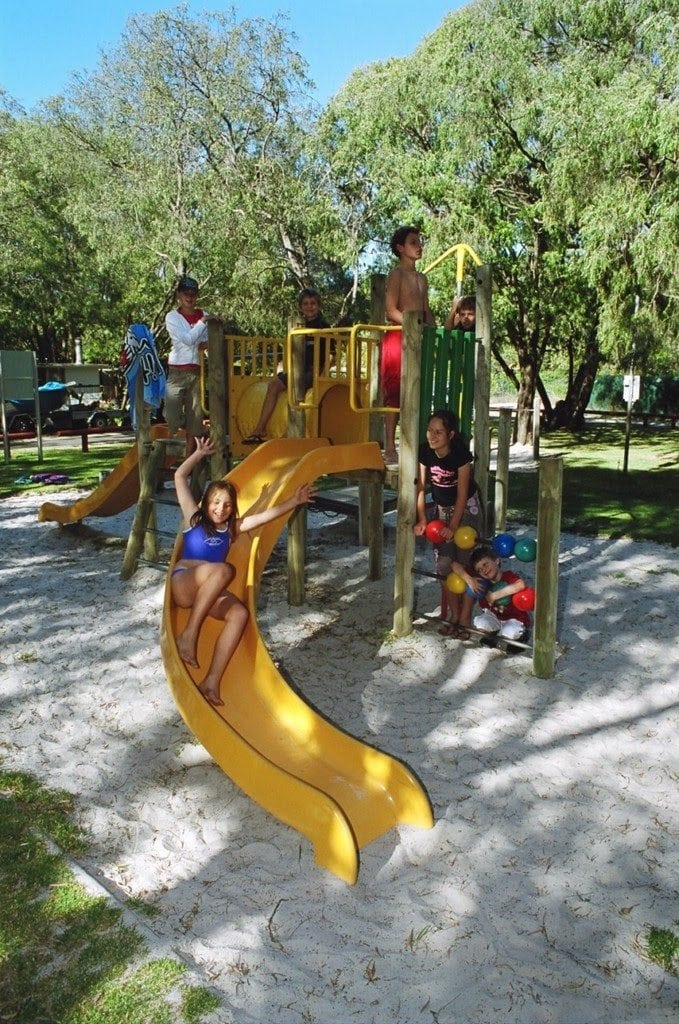 We also went on plenty of road trips and were amazed at how many wineries and breweries have gone kid friendly in Busselton, Dunsborough and Margaret River. Win win for us all!
This was an amazing experience to share with our kids and a great reminder of the gems we have on our doorstep. My family spent many a summer camping trip at Amblin Holiday Park in the 1980's and I have wonderful memories of running across to the beach early in the morning, swimming all day and returning when we were hungry!
The Safari Tents are definitely worth the cost, though we would be keen to return in the warmer months and try some traditional tent camping too.
For more information visit www.amblin-holidaypark.com.au/
Read the reviews on Tripadvisor
Find more places to visit in Busselton and Bunbury