Alex Junior is a hip little cafe attached to Padbury Pharmacy. Though it's only small, they've made great use of the space, and the food and coffee is amazing.
On entering, we were greeted warmly by the staff behind the counter. These men were friendly, explaining the different products, and engaging in friendly banter with regular customers. They are great with kids too. When we placed our order, Miss 3 ordered her choice, and one of the guys came out to bag it up and give it to her, complimenting her on her choice of outfit. Because you can't go wrong with a glittery pink unicorn shirt, can you?
Our order for this visit was a 12oz takeaway latte, an M&M cookie and Bounty donut. This was very reasonably priced at just over $12.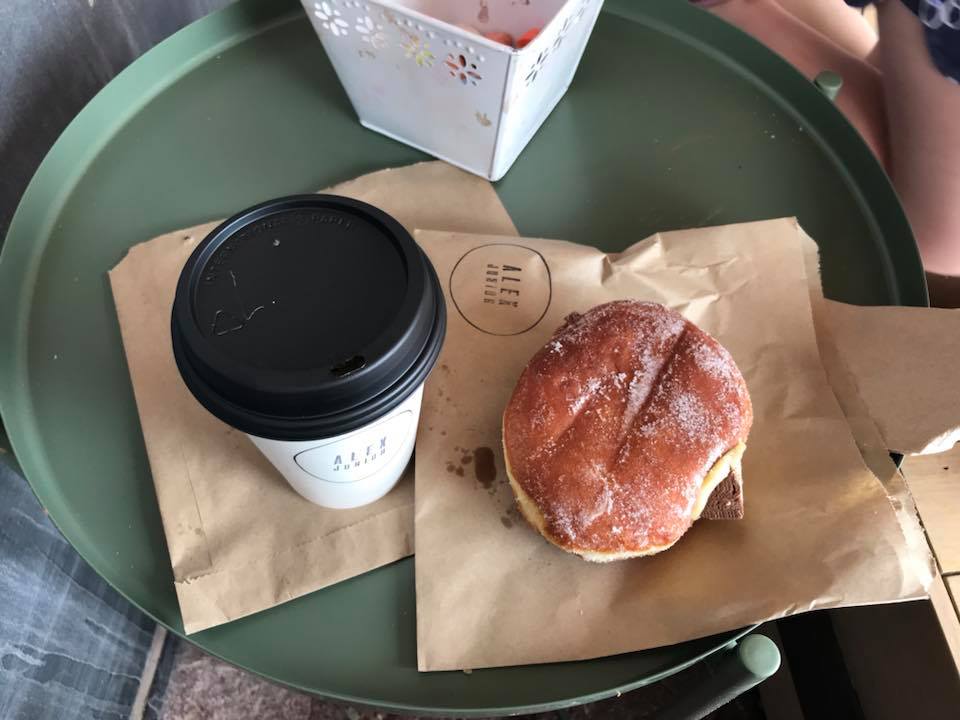 Friday's at Alex Junior are celebrated as Donut Friday, with the most delicious donuts, and with extra large donuts called Bombzillas, which are the size of a small football! The Bombzillas are filled with rich vanilla custard. These are definitely a donut for sharing! The regular donuts come in jam, Nutella, lemon meringue, Bounty and Mint Aero flavours. These are huge too, and packed full of flavour. My Bounty donut ended up being enough for lunch! It was full of vanilla and coconut custard with pieces of real coconut. The donut itself was light and fluffy, with just the right amount of crunchy sugar on the outside.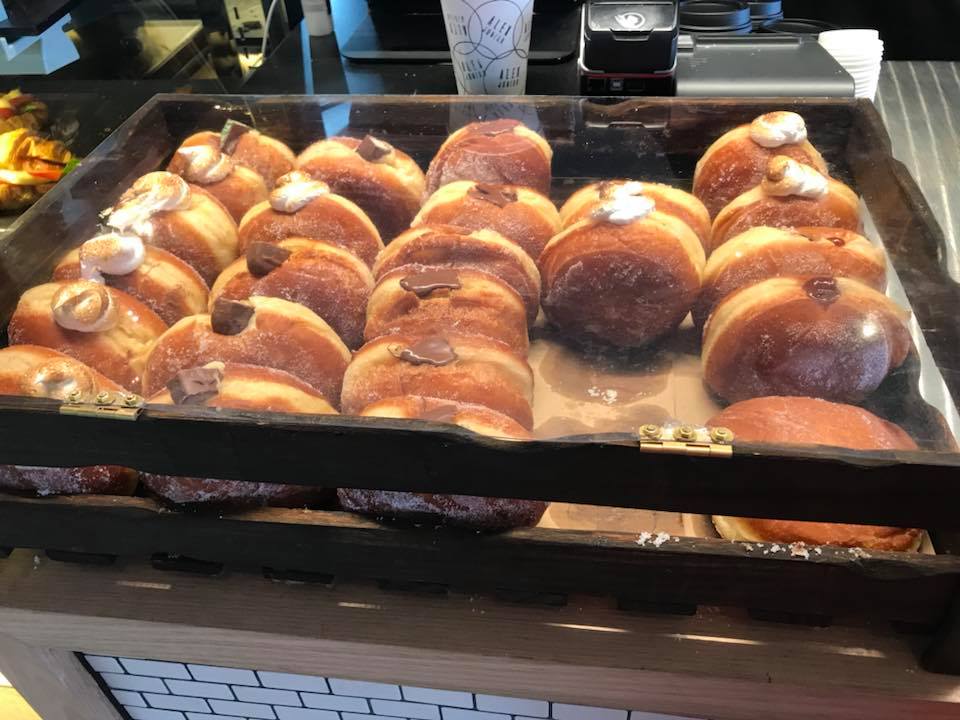 In addition to the donuts and cookies we tried, a glass case beside the counter stocks a range of savouries including wraps, toasties and bagels. These come in flavours like beef rendang, Cajun chicken and pumpkin, and roast beef with caramel iced onion and cheddar. There are also sweets such as slices, brownies and desserts in a jar to tempt your tastebuds.
To keep little ones busy while you enjoy your coffee, there is large chalkboard wall and seating at the front of the cafe The seating is comfortable low wooden stools with a metal tray table for all your goodies. Miss 3 had a wonderful time drawing and practising her writing with large chalks in between devouring her cookie.
This area at the front of the cafe also includes bar-style seating with a long table for adults and big kids. This is also a dog friendly area with a water bowl available for visiting pooches.
A limited amount of indoor seating is also available. This consists of bar stools opposite the counter, and a large dining table just behind the cafe, adjacent to the Pharmacy.
As well as making delicious coffee and food, Alex Junior also sells a selection of gift wares. These include potted succulents, books and children's products such as clothing, toys and lunchboxes. Miss 3 was particularly interested in the silicone placemats and the animal lunchboxes.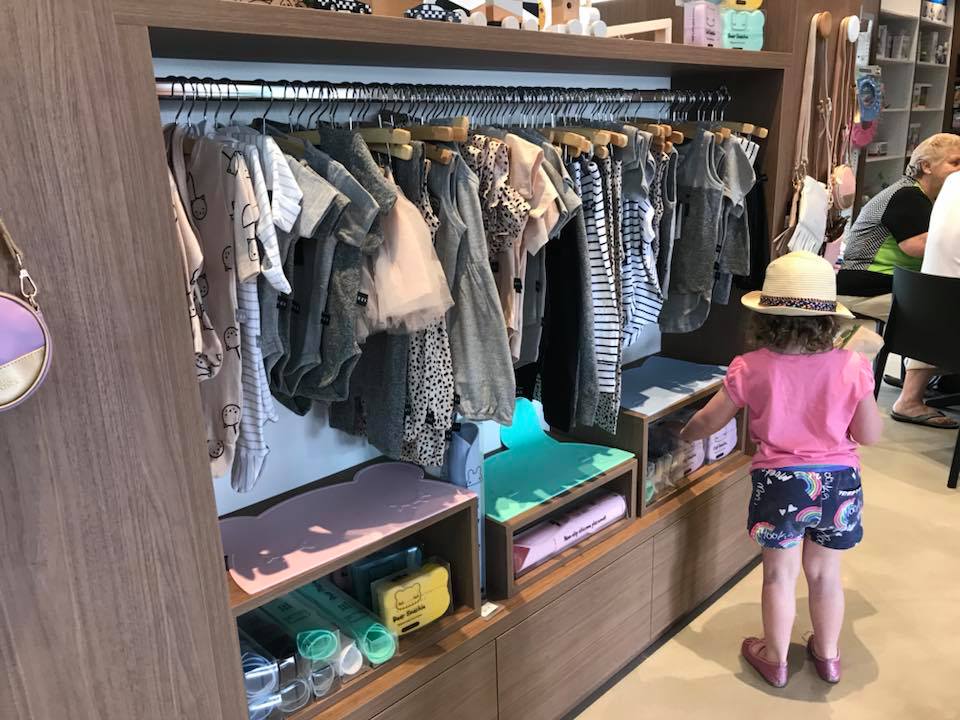 Alex Junior is located at Padbury Shopping Centre, adjacent to Padbury Pharmacy, on the corner of Warburton and Leichhardt Avenues, Padbury.
Alex Junior is open from 6am to 4pm Monday to Friday, and 7am to 1pm Saturday and Sunday.
www.facebook.com/alexjuniorespresso
Find more family-friendly restaurants in Perth