Rain, hail or shine, a fun time is sure to be had at Albany Indoor Adventures. Kids and adults alike will find plenty to do here. There's ninja obstacle courses, climbing walls, an Albany and Aussie Movie themed mini golf course, kid's adventure playground and much more. It's amazing what's been packed under one roof!
The 18 hole mini golf course is made up of a nine hole Albany themed course, and the back nine is a homage to iconic Aussie movies. I loved the Albany Landmarks – particularly the Wind Farm hole!
The holes are small, but challenging nonetheless. There's plenty of obstacles like boulders and tight angles to navigate around.
The movie themed holes are great fun too and you're sure to spot some favourite flicks like Babe, Muriel's Wedding, Strictly Ballroom, The Castle, and even Kenny!
Unhinge the Ninja is a custom designed course for adults and kids aged 10yrs and up.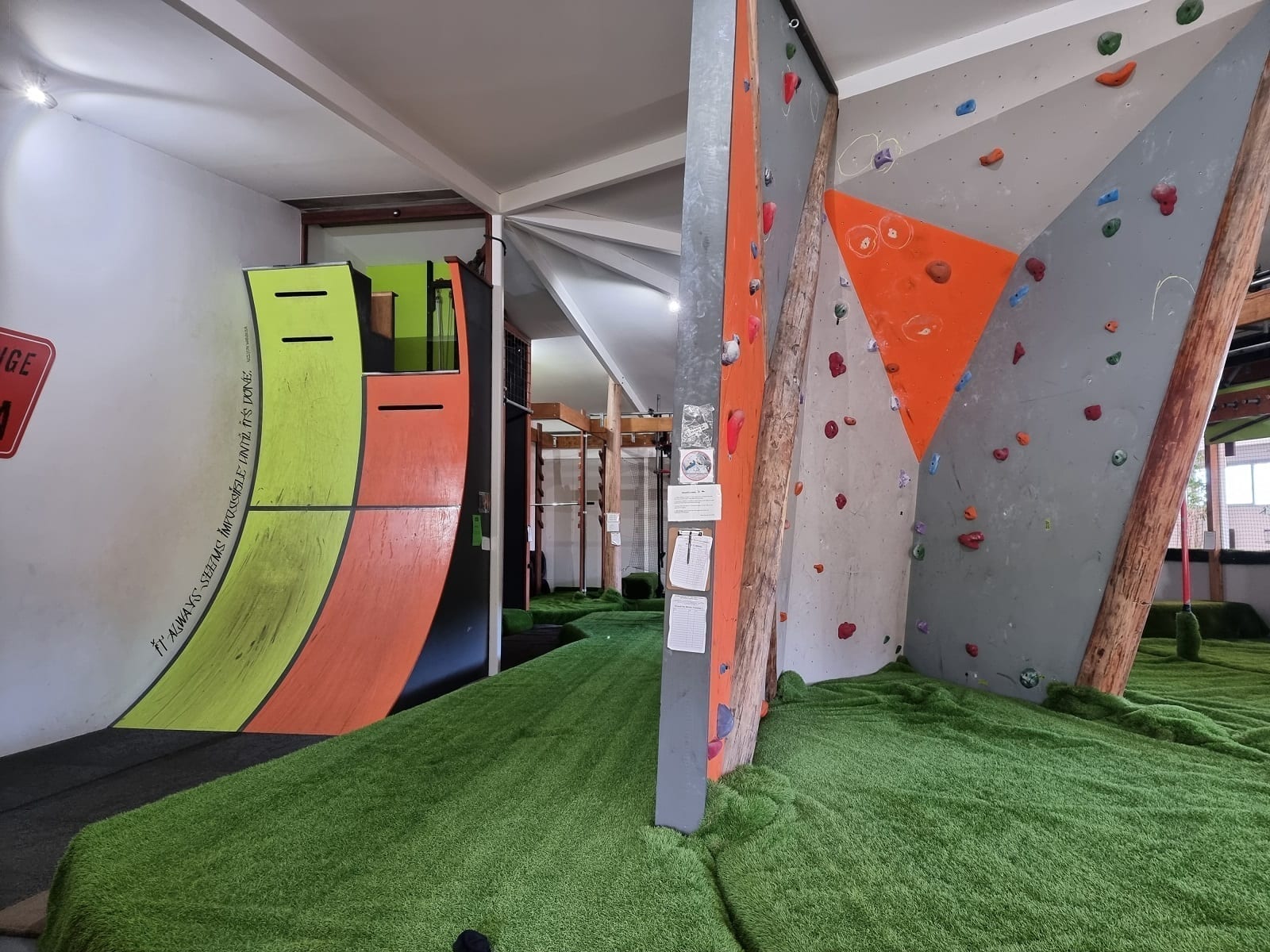 The two level course has been designed and built by Australian Ninja Warrior Sam Goodall, aka Tradie Ninja. The course has ninja obstacles such as a warped wall, chimney climb, peg board, salmon ladder, cliffhanger and many more.
Younger climbers (aged 5 and up) can enjoy Boulder Island, a multi sided freestyle boulder climbing wall.

The Monkey Bunker is a junior ninja course, climbing wall and huge wooden submarine play area for kids aged 12 and under. Kids will love to pretend they're captain, flipping switches and pressing buttons inside the submarine.
And there's even a unique, creative play space in the form of The Workshop. Just like Pop's garage, this spot is a fantastic idea and I've never seen anything like it in Perth.
There's lots to keep little hands (aged 5 and up) occupied. Tinkering around with tools (with adult supervision) is encouraged.
You can save lots of time by booking online, where you can complete the waiver for ninja course. Drinks and snacks are available for purchase. The staff are really welcoming and we will most definitely be back!
Find Albany Indoor Adventures at 140 Albany Highway, Albany.
Get more info on their website.
Discover more things to do in Albany with kids here.